Pope Francis: Abuse of Canada natives was genocide
He called his visit that focused on his begging forgiveness for the wrongs perpetrated in churchrun residential schools that used Christianity as a blade to separate kids from their families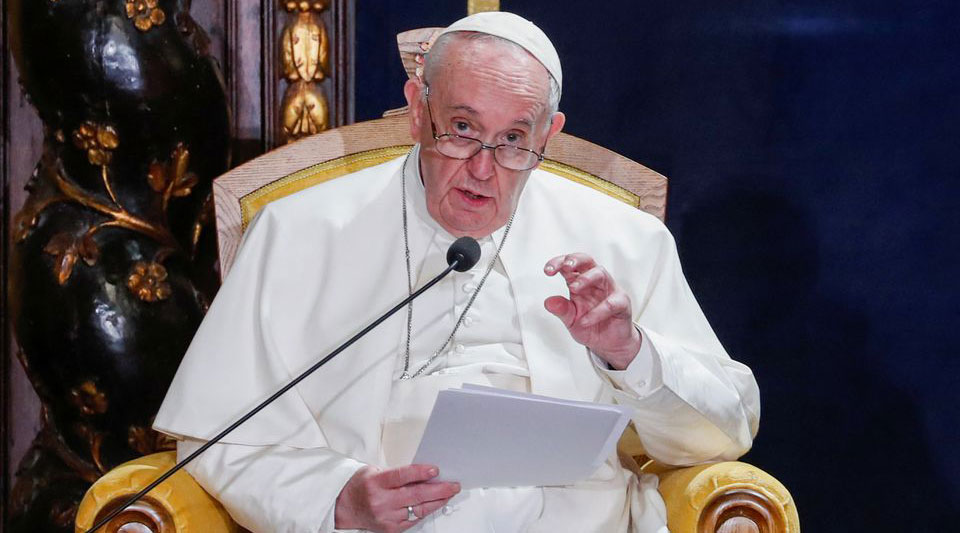 ---
Aboard the papal plane
|
Published 31.07.22, 01:54 AM
|
---
Pope Francis has called the devastation visited on generations of indigenous people in Canada by European colonisers — carried out with the blessing of the Roman Catholic Church — a "genocide" as he returned to Rome after a six-day trip to the North American country.
As well as again denouncing the abuse against indigenous people, which he had previously called "evil", the pope noted that the Canada visit had shown that the limitations of his mobility and the advancement of his age would force him to slow down and possibly reduce the tours that have been a hallmark of his papacy.
"I don't think I can go on with the same rhythm of previous travels," Francis said during comments to reporters on the papal plane on Friday, after limping to a wheelchair. Although the pope used a wheelchair throughout the trip, it was his first time using one during his traditional inflight news conference.
The pope had called his visit to Canada a "pilgrimage of penance" that focused on his begging forgiveness for the wrongs perpetrated in churchrun residential schools that for generations used Christianity as a blade to separate children from their families.
Children in the schools suffered physical, sexual and emotional abuse. Many died, and many languages died, too. Survivors of the schools, their relatives and advocates blame the church for its role in seeking to assimilate those indigenous cultures.
Francis spent a week fulfilling a demand by Canada's Truth and Reconciliation Commission that he travel to the land of the indigenous and apologise.  On the plane, he said he had not used the words cultural genocide only because the technical term had not come to mind. But, he added, "I described the genocide and asked for forgiveness for this 'operation.'" "It is true," he added, "it was genocide." 
New York Times News Service