Pakistan a 'priority' in China's neighbourhood diplomacy
President Xi Jinping willing to strengthen all-dimensional practical cooperation with Islamabad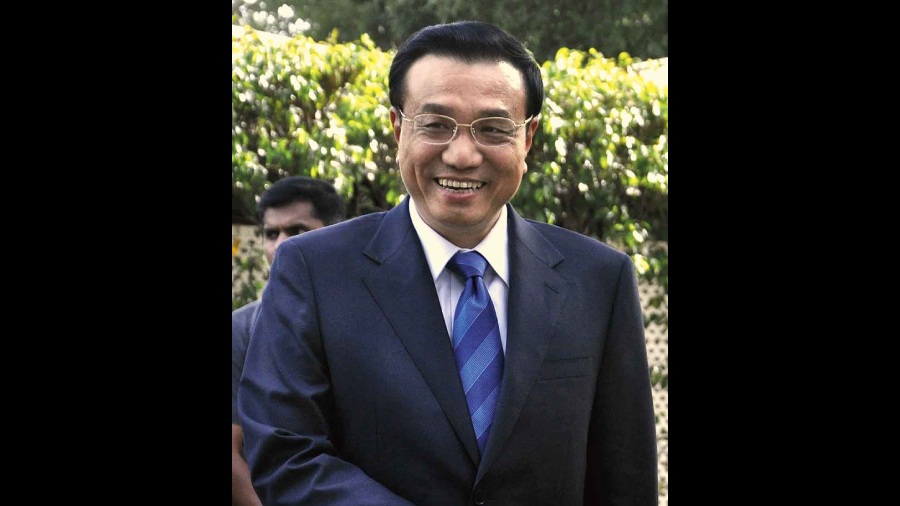 Chinese Premier Li Keqiang
---
Beijing
|
Published 07.02.22, 03:05 AM
|
---
Chinese Premier Li Keqiang on Saturday said Pakistan was a "priority" in China's neighbourhood diplomacy as he met his Pakistani counterpart Imran Khan who assured him that his government would do its utmost to ensure the safety of Chinese nationals and projects in his country.
Li, the second-ranking leader of the ruling Communist Party of China after Chinese President Xi Jinping, has expressed China's willingness to strengthen all-dimensional practical cooperation with Pakistan, the state-run Xinhua news agency reported.
China always takes Pakistan as a "priority" in its neighbourhood diplomacy and supports Pakistan's pursuit of prosperity, Li said, highlighting the importance China attaches to its close strategic ties with Pakistan.
Khan is here at the invitation of the Chinese government and attended the opening ceremony of the Beijing Winter Olympics on Friday.
Exchanging views on regional security, Khan highlighted the "serious situation" in Jammu and Kashmir, Pakistan's state-run APP news agency reported. However, the Xinhua news agency did not mention the Kashmir issue in its report on the meeting between Li and Khan.
Khan highlighted that the strategic ties between Pakistan and China served the fundamental interests of the two countries and were a factor of peace and stability in the region.
Li said China supports its enterprises to invest in Pakistan and appreciates the Pakistani government's efforts to safeguard the safety of Chinese firms and personnel in the country.
Khan said the "all-weather" strategic cooperative partnership with China was the cornerstone of Pakistan's foreign policy.
Pakistan is firmly committed to the flagship project of the China Pakistan Economic Corridor (CPEC) and will continue strengthening cooperation in multiple fields, he said, adding that the country will do its utmost to ensure the safety of the Chinese people and projects in Pakistan. Khan appreciated the transformational impact of the CPEC on Pakistan's infrastructure, energy, socio-economic development and improvement in livelihoods of the people.
Khan is also expected to meet President Xi during which he may discuss the state of "all-weather ties", the problems faced by the President's pet initiative, the $60 billion CPEC, and Chinese loans and investments to shore up Pakistan's sagging economy.
India has protested to China over the 3,000km-long CPEC as it is being laid through Pakistan-occupied Kashmir (PoK).
Earlier, Khan met the heads and representatives of leading Chinese think tanks, universities and the Pakistan Study Centre in Beijing.
In his address, he thanked China for its unwavering support to the Kashmir issue, emphasising the importance of Pakistan-China relations and ensuring regional stability and prosperity.
"In view of myriad global challenges, the world did not need another Cold War. Divisions could result in mounting sufferings and prevent common benefits. Pakistan was, therefore, of the belief that the key driver in international politics should be cooperation, rather than confrontation," he was quoted as saying by Pakistan's Geo News.