In Maldives, Modi and Solih agree to renew close relations
This was Modi's first visit to the atoll nation and came in the wake of the restoration of democracy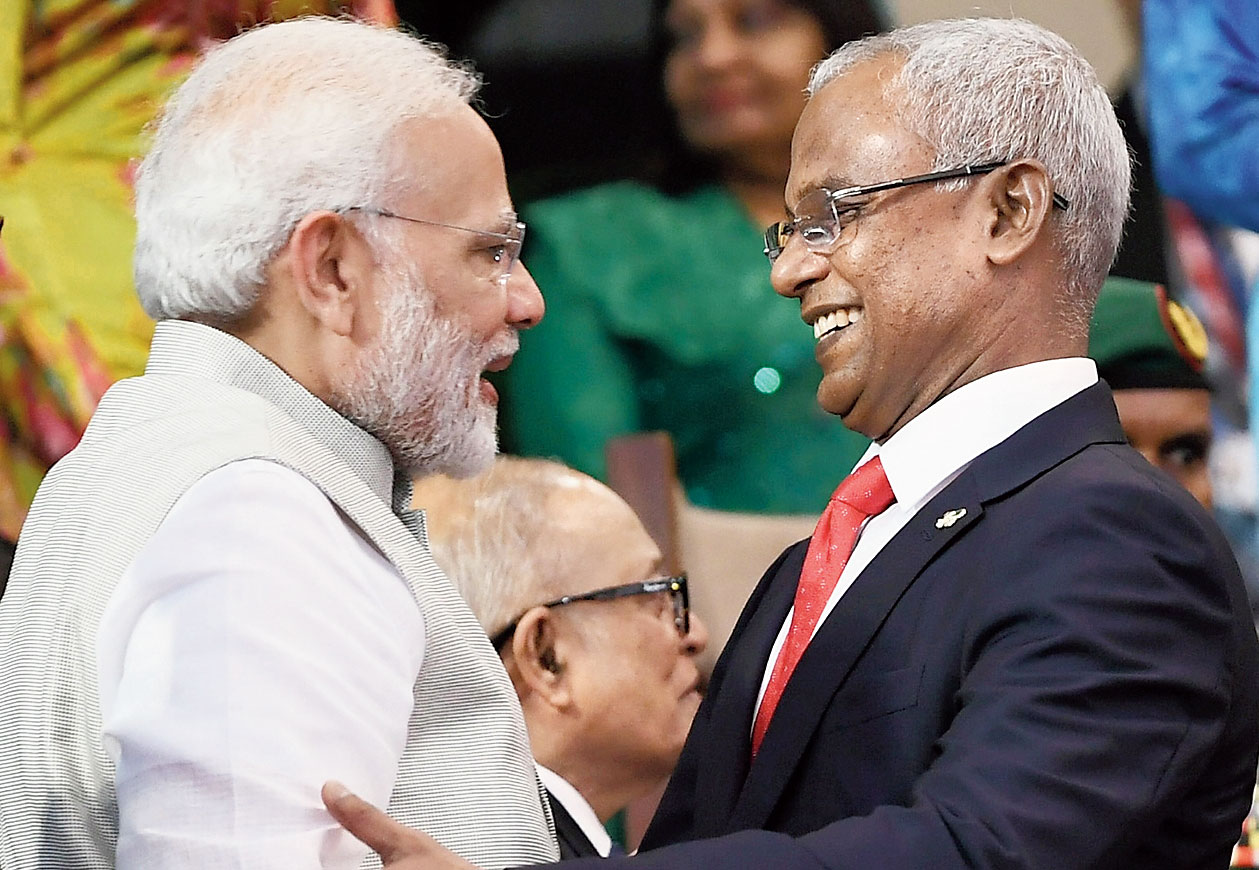 Prime Minister Narendra Modi with President Ibrahim Mohamed Solih in Male on Saturday.
(PTI)
---
New Delhi
|
Published 17.11.18, 07:50 PM
|
---
India and the Maldives on Saturday agreed to work towards renewing their close bonds of cooperation and friendship, keeping in mind each other's concerns and aspirations, and put back on course their somewhat derailed bilateral relationship.
The resolve came through in a joint statement that was issued after Prime Minister Narendra Modi had a brief bilateral engagement with President Ibrahim Mohamed Solih immediately after the Maldivian leader was sworn in this afternoon in Male.
This was Modi's first visit to the atoll nation and came in the wake of the restoration of democracy after Solih's predecessor Abdulla Yameen tried to game the system to his advantage in every way.
Given India's ties with many in the Maldivian Opposition, which had joined hands to vote Yameen out, New Delhi is hopeful of Maldives setting right its pro-China tilt of the immediate past and somewhat restore the balance in the region. Solih briefed Modi on the dire economic situation facing the Indian Ocean country as he takes office. The two leaders discussed ways in which India could continue the development partnership, particularly to help the new government meet its promises to the people.
Solih highlighted the pressing need for increased housing and infrastructure development as well as establishing water and sewerage systems in the outlying islands.
According to the joint statement, the Prime Minister conveyed to Solih India's readiness to extend help in every possible way and suggested that both sides meet at the earliest to work out details according to the requirements of the Maldives.
In a reflection that both countries want to hit the ground running, they agreed that the Maldivian foreign minister would travel to New Delhi on November 26 to prepare for Solih's state visit to India.
Modi raised the issue of visas for Indian professionals that had been stopped by the previous regime in recent months. Recognising that nationals of both countries travel extensively between the two countries, they agreed on the need for facilitating easier visa procedures.
India is also hoping that a friendly government in the Maldives will provide opportunities for Indian companies to invest in the archipelago nation. For Male, however, the immediate concern remains whether New Delhi can match Beijing's deep pockets.