MH17 jail for trio tied to Russia
Accused tried in absentia; nearly 300 died in crash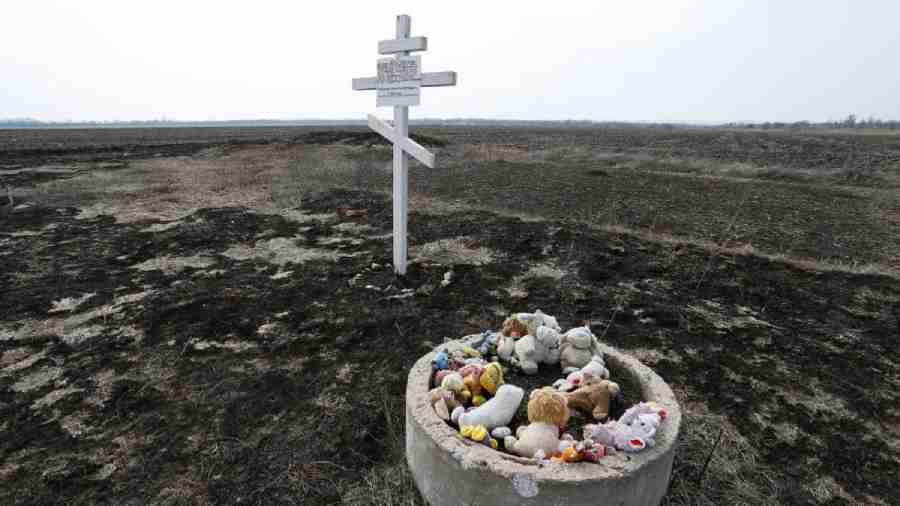 Toys are placed in the memory of victims of the Malaysia Airlines Flight MH17 in the village of Rozsypne, Donetsk region of Ukraine.
Reuters file picture
---
Amsterdam
|
Published 18.11.22, 01:07 AM
|
---
A Dutch court on Thursday convicted three men with ties to the Russian security services and sentenced them to life in prison over the shooting down of a passenger jet above eastern Ukraine in 2014 during a Moscow-backed separatist uprising that foreshadowed Russia's full-scale invasion of the country.
A fourth suspect was acquitted.
The verdict offers a bare measure of justice for the 298 people killed in the downing of the jet (commonly known as MH17) a scheduled Malaysia Airlines service to Kuala Lumpur, Malaysia, from Amsterdam: The men — three Russians and one Ukrainian — were never arrested, are believed to be in Russia or Russian-controlled territory, and were tried in absentia.
Yet the war in Ukraine has given the case greater significance. Support for separatists in eastern Ukraine was a key part of President Vladimir V. Putin's pretext when he gave the order to invade in February this year, and many bereaved relatives have drawn a direct connection between the downing of the flight and the war.
The verdict may also set an example for possible prosecutions of Russian crimes during the current war.
Two Russians — Igor Girkin, a former colonel in Russia's Federal Security Service and Sergey Dubinsky a former Russian military intelligence officer — was found guilty of murder and downing a plane.
A Ukrainian citizen — Leonid Kharchenko, who led a Russian-backed military unit — was found guilty of the same charges.
The fourth man, Oleg Pulatov, also a former Russian military intelligence officer, was acquitted because he was considered insufficiently involved in the episode.
The trial opened more than two years ago as an attempt at assigning accountability for what had long seemed a crime without punishment.
On July 17, 2014, an anti-aircraft missile provided to separatist forces by the Russian military shot down Malaysia Airlines Flight 17 at cruising altitude over eastern Ukraine. Everyone aboard was killed.
The MH17 crash scattered bodies and wreckage across fields, causing global outrage and prompting Western nations to seek to hold Russia accountable. 
New York Times News Service