India to start screening for Iran evacuation
Iran virus toll climbs to 54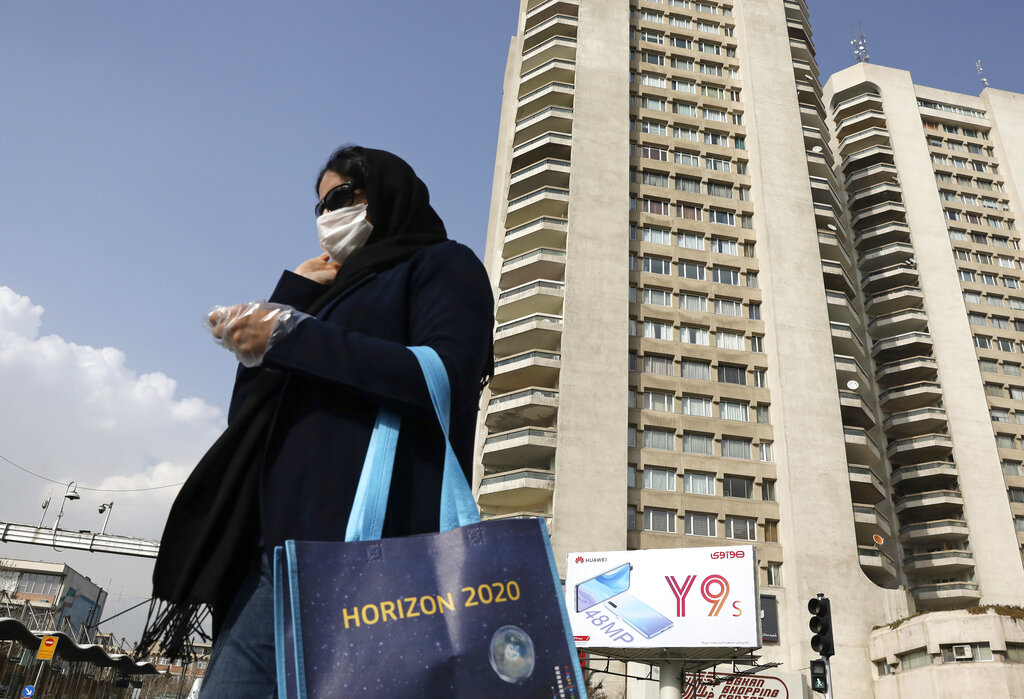 A pedestrian wearing a face mask crosses a street in northern Tehran on Sunday
(AP)
---
Dubai
|
Published 01.03.20, 09:45 PM
|
---
The government is collaborating with the Iranian authorities to set up a screening process for the return of Indians stranded in Iran in the wake of the coronavirus outbreak, external affairs minister S. Jaishankar said on Sunday.
His assurance came after appeals from several quarters, including Kerala chief minister Pinarayi Vijayan and Congress parliamentarian Shashi Tharoor, for the government's intervention.
"Working on the issue of Indians in Iran anxious to return due to COVID19. Have seen many tweets in this regard. We are collaborating with the Iranian authorities to set up a screening process for return of Indians," Jaishankar tweeted.
"Am asking our ambassador Gaddam Dharmendra to keep all those concerned updated of the progress. Am also tracking this personally," the minister added, tagging the Kerala chief minister's office, the office of Tamil Nadu chief minister E.K. Palaniswami, Tharoor, NCP leader Supriya Sule and junior external affairs minister V. Muraleedharan.
Tharoor, the MP of Thiruvananthapuram in Kerala, had earlier on Sunday urged Jaishankar to take urgent action and explore all channels with Iranian authorities for the evacuation of the Indians. Kerala chief minister Vijayan has also made the same appeal.
In a letter to Jaishankar, the CPM leader said the state government had received information that more than 100 people, including around 60 from Kerala, were trapped at Azalur in Iran.
Tharoor wrote: "Based on information I have received from concerned family members of the affected fishermen as well as the SOS video that has been posted by this group on social media, it appears that around 30 fishermen from Kerala, including those belonging to the fishing hamlets of Poonthura, Vizhinjam, Kovalam and Pozhiyoor in my constituency, are currently stranded in Iran and are confined to their rooms with limited access to food and water," Tharoor wrote.
Some reports have suggested that as many as 23 people are being forced to stay in a single room, the Congress MP said.
Several political leaders in Jammu and Kashmir have also appealed to the Centre to evacuate the people of the Union Territory, including students, who are stranded in Iran.
Iran health ministry spokesman Kianush Jahanpur told state TV on Sunday: "There were 385 new cases of infected people in the last 24 hours, increasing the total number to 978. The death toll is 54."
Iran has had the highest number of deaths from the coronavirus outside China, where the outbreak originated.
34 dead in Italy
The death toll from an outbreak of coronavirus in Italy has risen to 34, five more than a day earlier, officials said on Sunday, as the government prepared to boost spending to help the fragile economy.
Now in Czech
The Czech Republic has confirmed its first three cases of coronavirus, health minister Adam Vojtech said on Sunday. Health officials said at a news conference the three patients showed mild symptoms and had travelled from places in northern Italy.
Britain's 12
Britain announced a jump in coronavirus cases on Sunday, with 12 new infections taking the total to 35.
2 new cases in Qatar
Qatar's health ministry announced on Sunday two more cases of coronavirus. The two Qatari individuals had been evacuated from Iran on February 27.
Malaysia infections
Malaysia reported four new cases of coronavirus on Sunday, bringing the total number of infections in the country to 29.
3 more in Lebanon
Lebanon's health ministry said on Sunday three more people had tested positive for coronavirus after arriving from Iran, bringing the total in the country to 10.
US screening
President Donald Trump on Sunday said travellers from countries at high risk of coronavirus would be screened before boarding and upon arrival.