Hooray! Capt Tom is set to be a knight
Under ministry of defence protocol his official title will be Captain Sir Thomas Moore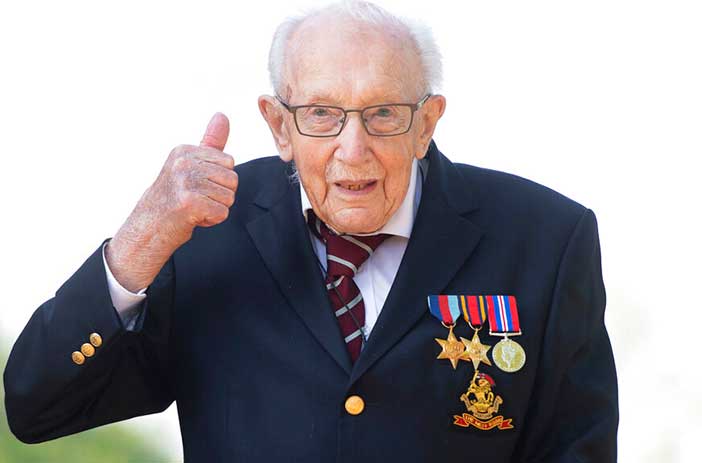 ---
|
London
|
Published 20.05.20, 11:32 PM
---
Captain Tom Moore, the knight in shining armour who has raised almost £33 million for the NHS by walking round and round his garden at the age of 100, is now set to become a knight in real life.
The knighthood for the British army officer who was stationed in Calcutta during World War II was fast tracked just three weeks after he was made an honorary colonel to mark his centenary on April 30 and his fundraising efforts - and given an England cricket cap by former skipper Michael Vaughan.
Under ministry of defence protocol his official title will be Captain Sir Thomas Moore -though to the nation he has come to be known affectionately as 'Capt Tom'.
Given the social distancing required by the coronavirus pandemic, the Queen is unlikely to summon him to an investiture at Windsor Castle, tap the kneeling Moore on the shoulder with a sword and command, 'Arise, Sir Thomas.'
But no doubt some virtual gesture will be made by a member of the Royal Family.
Moore initially set out to raise £1,000 by walking round his garden in Marston Moretaine in Bedfordshire but media coverage transformed him into a national hero and ensured the money just kept rolling in.
And now Prime Minister Boris Johnson has listened to newspapers, who have been clamouring for Moore to be knighted, and announced the honour: 'Colonel Tom's fantastic fundraising broke records, inspired the whole country and provided us all with a beacon of light through the fog of coronavirus.
'On behalf of everyone who has been moved by his incredible story, I want to say a huge thank you. He's a true national treasure.' New mother Carrie Symonds responded to the news by tweeting the word 'Hooray!'
Labour leader Keir Starmer, who also has a knighthood, said 'Sir Tom' had brought 'inspiration to millions and helped all of us to celebrate the extraordinary achievements of our NHS. In his actions, Tom embodied the national solidarity which has grown throughout this crisis, and showed us that everyone can play their part in helping build a better future.'
Singer Michael Ball, who released a charity single with Moore which reached number one in the charts, tweeted: 'A fitting honour for a true British hero. So well deserved and bloody marvellous. Well done and thank you for everything Sir. Xxx.'
When the veteran set out to walk 100 laps of his garden in Marston Moretaine , he was aiming to raise a humble GBP 1,000. But his bid to complete the challenge while using a walking frame captured the public's imagination.