Death penalty awaits me: Roman Protasevich
The prominent Belarusian Opposition journalist who had been living in exile since 2019, started to panic as the plane was about to land in Minsk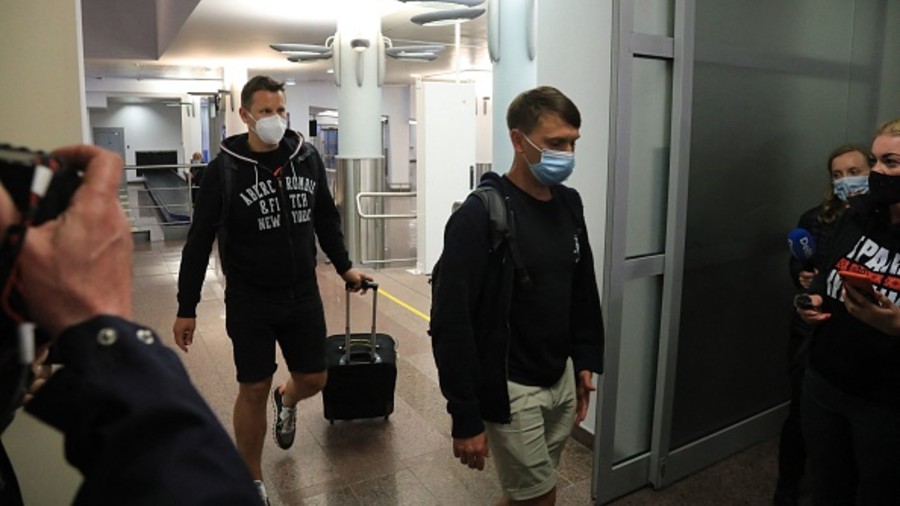 Ryanair passengers arrive at Vilnius airport
Getty Images
---
New York
|
Published 25.05.21, 02:01 AM
|
---
The tray tables were being raised and the seat backs returned to the upright position as passengers on Ryanair Flight 4978 prepared for the scheduled landing in the Lithuanian capital, Vilnius. Then, suddenly, the plane made an abrupt U-turn.
There was no explanation given.
It would be roughly 15 minutes before the pilot came over the intercom and announced that the plane would be diverting to Minsk, the capital of Belarus, according to those on board.
For many passengers, it seemed, at first, it was most likely just one of those unexpected delays that can be part of airline travel — perhaps a technical problem, some speculated.
For one passenger, however, the situation was clear. And frightening.
Roman Protasevich, a prominent Belarusian Opposition journalist who had been living in exile since 2019, started to panic. "He panicked because we were about to land in Minsk," Marius Rutkauskas, who was sitting one row ahead of Protasevich, told the Lithuanian broadcaster LRT upon arrival in Vilnius. "He said: 'I know that death penalty awaits me in Belarus.'"
Once in Belarus, Protasevich's worries appeared more real than ever. The plane was surrounded by Soviet-looking officials in green uniforms, along with dogs, fire crews and technical workers from the airport.
Saulius Danauskas, a passenger who spoke to Delfi, a news website, after arriving safely in Vilnius, said it quickly became apparent to him that the notion of a bomb threat was all a ruse.
"When we landed people were standing around the plane doing nothing, looking pleased with themselves," Danauskas said. "They didn't let us out for half an hour," he added. "If there was a bomb on the plane, why would they not let us out?"
New York Times News Service