Documenting rights violations even before war
Since Russia's full-scale invasion of the country this year, Center for Civil Liberties has worked alongside national and international partners to document potential Russian crimes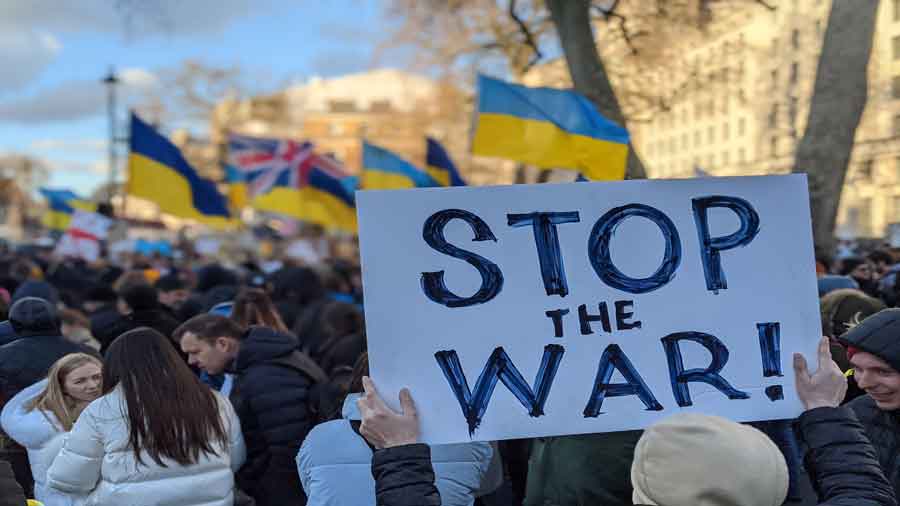 An anti-war protest in London, condemning Russian aggression in Ukraine.
Twitter
---
Kyiv
|
Published 08.10.22, 01:53 AM
|
---
While Russia's invasion of Ukraine added greater urgency to their work, the Center for Civil Liberties, which was awarded the 2022 Nobel Peace Prize on Friday, has been monitoring and documenting rights violations and potential war crimes in Ukraine for years.
One of Ukraine's leading rights organisations, the Center for Civil Liberties was founded in 2007 with the goal of pressuring the authorities to make Ukraine a full-fledged democracy and ensure that it was governed by rule of law.
When a conflict with Russian-backed forces erupted in eastern Ukraine in 2014, the group began documenting rights abuses and the disappearances of Kremlin critics, journalists and activists.
And since Russia's full-scale invasion of the country this year, it has worked alongside national and international partners to document potential Russian crimes.
"It's a big honour for us to receive this prize and also for our partners," Oleksandra Romantsova, the organisation's executive director, said. "It's very important for the establishment of human rights and for the affirmation of human dignity." Oleksandra Matviychuk, the head of the group's board— who was on a train from Warsaw to Kyiv at the time of the announcement — said she was "delighted that the Center for Civil Liberties I lead has received the Nobel Prize today along with our friends and partners".
"All of my 20 years of experience in the fight for freedom and human rights has shown me that ordinary people have far more influence than they think," she said. 
"Mass mobilisation of ordinary people in different countries of the world and their joint voice can change world history faster than UN intervention."Under the group's Euro-maidan SOS project, which was restarted this year, several local volunteers have been gathering civilian testimonies of rights violations.
New York Times News Service