Britain uses Queen's funeral to put on a show to remember
There were large screens erected all over the world, one of them in Stratford-upon-Avon by the Royal Shakespeare Company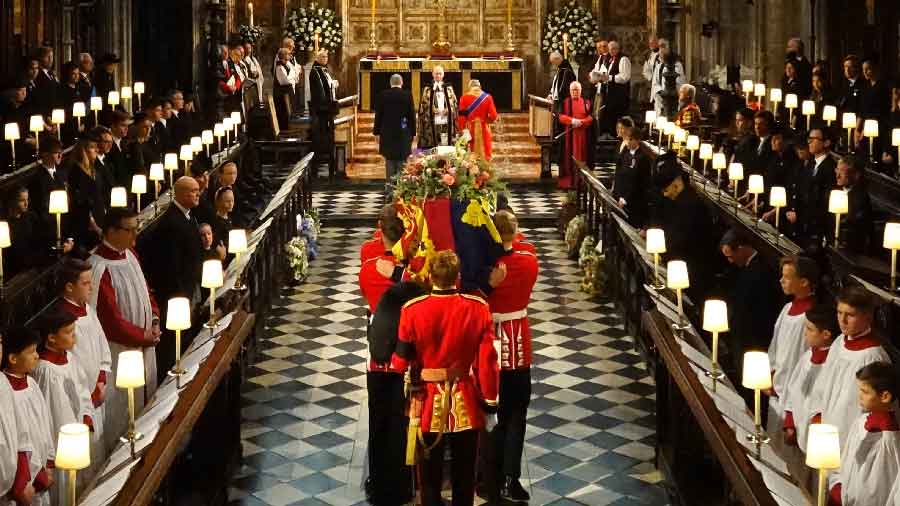 In among blooms of gold, pink and deep burgundy was a hand-written card which read, "In loving and devoted memory, Charles R."
File Photo
---
London
|
Published 20.09.22, 12:58 AM
|
---
Britain may not be an imperial power any more but it used the unmatched pomp and ceremony of the Queen's state funeral at Westminster Abbey on Monday to reassert its unique position on the world stage. 
Stage is in some ways an appropriate word because there was a strong element of theatre to the farewell, with her coffin shifted from Westminster Hall on a 123-year gun carriage that was pulled not by black horses but by scores of naval ratings.
There were large screens erected all over the world, one of them in Stratford-upon-Avon by the Royal Shakespeare Company, of which the Queen was the patron.On her coffin covered with the royal standard was the Imperial State Crown, orb and sceptre, bringing to mind James Shirley's Death the Leveller, "Death lays his icy hand on kings: Sceptre and Crown/ Must tumble down,/ And in the dust be equal made/ With the poor crooked scythe and spade."
In among blooms of gold, pink and deep burgundy was a hand-written card which read, "In loving and devoted memory, Charles R." After the hour long service at Westminster Abbey, where Princess Elizabeth married Prince Philip in 1947 and where she was crowned Queen Elizabeth II in 1953, her coffin was taken to St George's Chapel in Windsor.
There, in a private interment in the evening attended only by family members, she was buried in a deep underground vault alongside her husband who died last year.Close by are the tombs of her parents, George VI and Queen Elizabeth the Queen Mother, and her grandparents, George V and Queen Mary.
Among those buried nearby are Henry VIII and his third wife Jane Seymour, and Charles I, who was executed in 1649. In some ways the more the old order changes the more it remains the same. After the service, the congregation sang, "God save our gracious King, long live our noble King, God save The King. Send him victorious, happy and glorious, long to reign over us."But Charles III is 73. Across the aisle from him was his eldest son, William, 40, who has taken over from his father as the new Prince of Wales. He and his wife, Catherine, had brought two of their children, nine-year-old Prince George – he will become heir to the throne when William succeeds Charles – and Charlotte, 7.
The children were made to walk behind the coffin as it was carried into Westminster Abbey, which was packed with over 2,000 people. They included European royals and world leaders – Joe Biden (placed 14 rows back behind Polish president), Emmanuel Macron of France, and also President Droupadi Murmu of India, who wore a deep blue sari. She had a little chat before the service with the Bangladesh prime minister, Sheikh Hasina, who wore a black sari.
Most dignitaries were brought in by bus. The Indian president had witnessed the Queen's coffin lying in state in Westminster Hall, signed a condolence book in Lancaster House, and chatted to Charles at a Buckingham Palace reception.
Among the religious leaders invited to the service were Nemu Chandaria, a "representative of the Jain Community"; Lord Singh of Wimbledon, representing Sikhs; Rajnish Kashyap, General Secretary, Hindu Council UK; and Shaykh Dr Asim Yusuf, Muslim Scholar.
There was also a contingent of charity workers. In fact, the first to arrive at 8am when the doors of the Abbey were opened was Pranav Bhanot, from Chigwell in Essex, who "helped deliver 1,200 free meals during the pandemic".
Although Charles is known to want to acknowledge Britain is now a multi-racial, multi-ethnic and multi-religious society, radically different from the white country when Elizabeth became Queen 70 years ago, the service itself reasserted the traditions and beliefs of the Church of England.
For example, thanks were given by Stephen Cottrell, Archbishop of York, "to God for Queen Elizabeth's loyalty to the faith she inherited through her baptism and confirmation, and affirmed at her coronation; for her unswerving devotion to the Gospel; and for her steadfast service as Supreme Governor of the Church of England".
Tribute was also paid to the Queen's service to the Commonwealth. Vincent Nichols, Archbishop of Westminster, said, "Let us give thanks for Queen Elizabeth's commitment to the Commonwealth throughout her reign, for her service and dedication to its peoples, and for the rich bonds of unity and mutual support she sustained.
Almighty and everlasting God, hear our prayer for the Commonwealth, and grant it the guidance of thy wisdom. Inspire those in authority, that they may promote justice and the common good; give to all its citizens the spirit of mutual honour and respect; and grant to us all grace to strive for the establishment of righteousness and peace; for the honour of thy name."One of the readings was by the Commonwealth Secretary General, Patricia Scotland.
Another reading was by the prime minister, Liz Truss, who had once wanted to abolish the monarchy. It would have been problematic if Rishi Sunak, a Hindu, had won. Some conservatives would have made a fuss if he had been given a starring role in the proceedings.
A bit of politics came into the service. Camilla is now called "the Queen Consort". Some people continue to think she has usurped the role that was rightfully Diana's. Sarah Mullally DBE, Bishop of London, slipped in a little line, "Almighty God, the fountain of all goodness, we humbly beseech thee to bless our most gracious Sovereign Lord King Charles, Camilla The Queen Consort, William Prince of Wales, and all the Royal Family."
Tuesday will seem a bit strange without the Queen, taken for granted for so long. The archbishop of Canterbury, Justin Welby, recalled the Queen's promise on her 21st birthday to dedicate her life to service. "Rarely has such a promise been so well kept. Few leaders receive the outpouring of love we have seen." 
He told the great and the good gathered in the abbey: "People of loving service are rare in any walk of life. Leaders of loving service are still rarer. But in all cases those who serve will be loved and remembered when those who cling to power and privileges are long forgotten."
The Queen's family were "grieving as every family at a funeral … but in this family's case doing so in the brightest spotlight. May God heal their sorrow, may the gap in their lives be marked with memories of joy and life."Welby ended his sermon by echoing the Queen's words in her Covid lockdown address to the nation. "We will meet again" were words of hope, he said.