Biden and Putin remain divided over cyberattacks, human rights after first in-person summit
The high-stakes diplomatic engagement came at the end of a whirlwind week-long European tour for the US president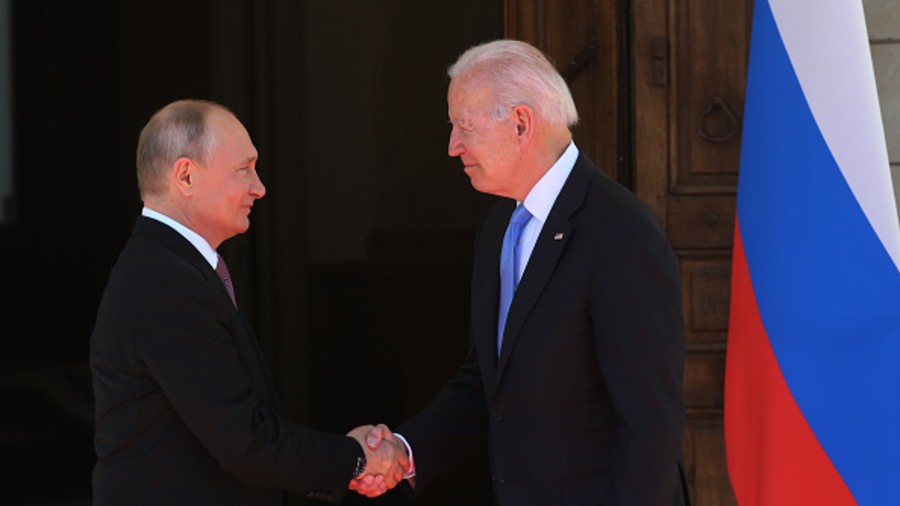 Russian President Vladimir Putin (L) greets President of USA Joe Biden (R) during the US - Russia Summit 2021 at the La Grange Villa near the Geneva Lake
Getty Images
---
Geneva
|
Published 17.06.21, 01:30 AM
|
---
President Joe Biden and President Vladimir V. Putin of Russia emerged from their first in-person summit Wednesday and offered broad claims of good will, but it was clear that on issues ranging from cyberattacks to human rights, the two countries remain profoundly divided.
"There has been no hostility," Putin declared as he met reporters after the summit in Geneva. "On the contrary, our meeting took place in a constructive spirit."
Biden said, "The tone of the entire meeting was good, positive."
But the tensions remained evident.
Putin denied that Russia has played a role in a spate of increasingly bold cyberattacks against US institutions and said it was the US that is the biggest offender.
The Russian leader also suggested that he was not interested in discussing what Biden had said was a key objective of the talks: to establish some "guardrails" about what kinds of attacks on critical infrastructure are off limits in peacetime.
Biden said that he had pressed the Russian President on a variety of issues — and that he would not stop doing so.
"I made it clear to President Putin that we'll continue to raise issues of fundamental human rights," he said.
"I did what I came to do," Biden said.
And he expressed optimism that Putin would not seek to escalate the tensions between the two nations.
"The last thing he wants now is a Cold War," Biden said.
Putin did suggest that there had been some kind of agreement to establish expert groups to examine these issues, but US officials fear it is little more than a ploy to tie the matter up in committee.
The high-stakes diplomatic engagement came at the end of a whirlwind week-long European tour for Biden in which he sought to rebuild and strengthen the traditional alliances that often bolstered the US's position during the Cold War. It was a meeting freighted with history and fraught with challenge.
Biden has argued that the world is at an "inflection point", with an existential battle underway between democracy and autocracy. And with Putin at the vanguard of the autocrats, the American leader faced criticism from some quarters for even taking part in the summit.
In a reflection of the sensitivities of symbolism, the White House insisted that the leaders hold independent news conferences, with Putin speaking first.
"I don't think there was any kind of hostility," Putin said even as he then went on to note that there were "divergent opinions" on fundamental issues. The two sides, he said, were determined to work "to understand each other" and find areas of convergence.
The Russian leader said the nations had agreed that the ambassadors to their respective countries should return to their posts in the near future. He said they would also begin "consultations" on cyber-related issues. "We believe the sphere of cybersecurity is extremely important for the world in general — including for the US, and for Russia to the same degree," he said.
New York Times News Service