'Asians' dead in US firing
The motive and number of assailants were unknown, and no arrests had been made, the police said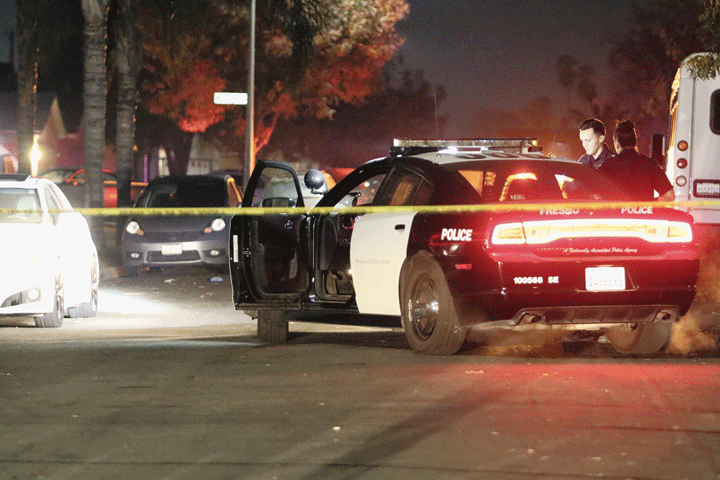 A police car at the scene of the shooting in Fresno.
(AP)
---
California
|
Published 18.11.19, 08:32 PM
|
---
Four people were fatally shot and six others wounded after at least one gunman opened fire on a backyard party in Fresno, California, on Sunday, then fled, the authorities said.
All 10 of the victims were Asian men between 25 and 30 years old, Michael Reed, a deputy chief of the Fresno police department, said.
The Fresno Bee newspaper reported that at least two of the victims had been identified as famous Hmong singers, including Xyy Lee, relying on online news source Hmong Talk. The paper also identified as second victim as J.N. Vang.
The motive and number of assailants were unknown, and no arrests had been made, the police said.
About 35 friends and family, including several children, at the home were watching a football game in the backyard when an unknown number of gunmen opened fire into the crowd, said Michael Reed, a deputy chief of the Fresno police department. The authorities received reports of the shooting around 8pm local time.
"Thank God that no kids were hurt," Reed said.
The officer said three of the men died in the yard, and one died after being taken to a nearby hospital. Six others were taken to hospitals with non-life-threatening injuries, he said.
"This is senseless violence," Reed said. "We're going to do everything we can to find out who the perpetrators are and bring them to justice."
Detectives were "canvassing the area searching for witnesses and anyone with surveillance cameras," said Lt. Bill Dooley of the Fresno police department.
The shooting occurred on the 5300 block of East Lamona Avenue, just south of the Fresno Yosemite International Airport.
On Thursday, a 16-year-old student killed two of his classmates and wounded three others in a shooting at a high school in Santa Clarita, California.