330 hurt in Jerusalem clashes, rockets fired
The escalation, which followed months of relative calm on the Gaza border, left residents of both Gaza and Israel bracing for further violence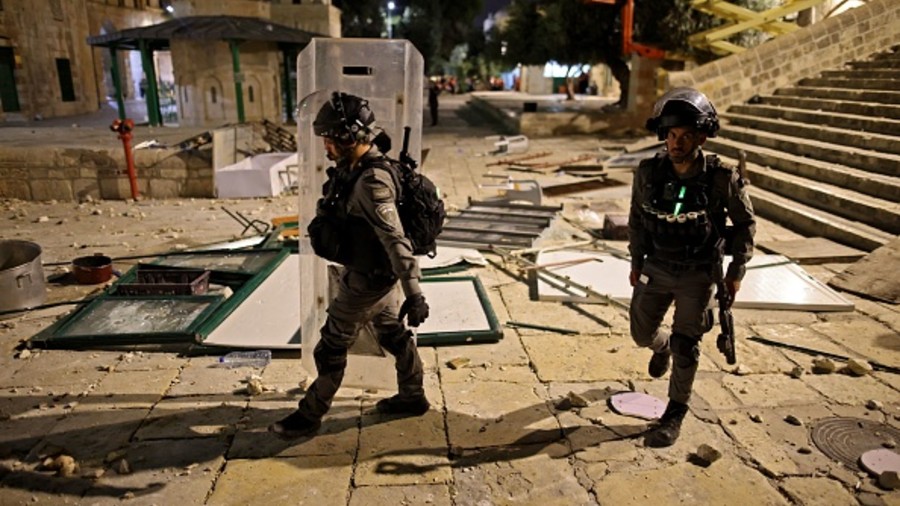 The escalation, which followed months of relative calm on the Gaza border, left residents of both Gaza and Israel bracing for further violence
Getty Images
---
Jerusalem
|
Published 11.05.21, 02:49 AM
|
---
In a sudden crescendo of violence on Monday evening, militants in Gaza fired rockets towards Jerusalem after a police raid that morning on the Aqsa Mosque, one of Islam's holiest sites, left hundreds of Palestinians and a score of police officers wounded, capping weeks of unrest in the city.
The escalation, which followed months of relative calm on the Gaza border, left residents of both Gaza and Israel bracing for further violence.
Seven rockets were fired from Gaza shortly after 6pm (local time), one of which was intercepted by a missile defence system, the Israeli Army said. At least one landed in a village in the hills west of Jerusalem, causing damage to houses but no casualties.
Separately, militants fired an anti-tank missile along the Gaza perimeter towards an Israeli vehicle, wounding the driver.
Hamas claimed responsibility for the rockets, saying that it had acted to protect Jerusalem after the police raid on the mosque compound in Jerusalem. Islamic Jihad, a separate militant group, claimed the anti-tank missile attack, as well as scores of other rocket attacks that were not immediately confirmed by the Israeli government.
Bomb sirens sounded across the regions closest to the Gaza perimeter, as well as in the Jerusalem area.
The attacks capped a day of violence in Jerusalem, which began when police entered the mosque compound around 8am and fired rubber-tipped bullets and stun grenades at stone-throwing Palestinians. The Palestinians had stockpiled stones at the site in expectation of a standoff with the police and Jewish far-Right groups.
By the afternoon, more than 330 Palestinians had been injured, with at least 250 hospitalised, according to a representative of the Palestinian Red Crescent. One person was hit in the head by a bullet and was in critical condition.
New York Times News Service