Youth dies as tree falls on him in Ballygunge
At more than five places, branches snapped from trees, said sources in the civic body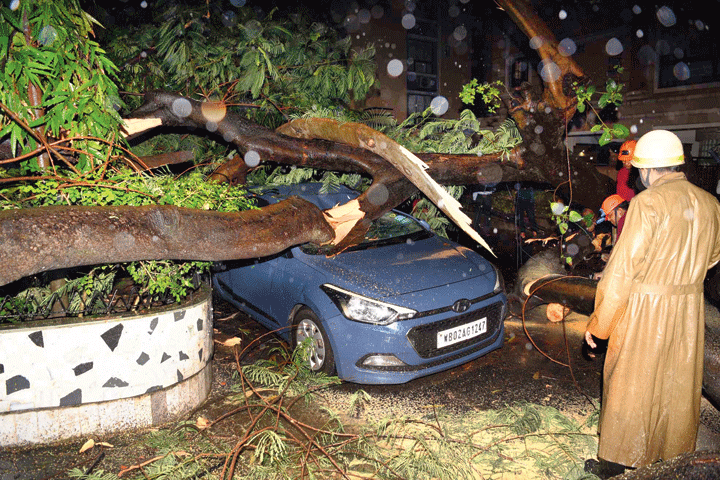 A tree that fell on a car in Sunny Park on Saturday evening
Gautam Bose, Pradip Sanyal, Bishwarup Dutta
---
Calcutta
|
Published 09.11.19, 08:12 PM
|
---
Even before Cyclone Bulbul made its landfall, six trees were uprooted in the city with one cedar tree killing a young Tangra resident, who worked as an assistant in a Ballygunge club's kitchen, around 9.50am on Saturday.
Colleagues pulled out Mohammad Sohail, 28, from under the tree but he was bleeding from his head and face. Some of the club employees rushed him to a nearby nursing home on Broad Street. The doctors there declared him dead.
His father, Seikh Suleman, had asked Sohail if he could skip work because of the weather. Sohail, working in the club for the last two-and-a-half years, had told him he would return early. Eyewitnesses said Sohail was busy signing the attendance register when the tree suddenly fell, the trunk landing on his head.
Some of the guards present at the gates in the morning told police that there were two cedar trees on the left side of the main entrance. The tree that fell on Saturday morning was the older of the two trees. A fun-loving jovial youth, Sohail was supposed to join his duty from 10am. "Sohail was a temporary staff of the club and has been working for the last two-and-a-half years," said an officer of Ballygunge police station. "We have sent his body for post-mortem." Some of his colleagues said Sohail used to work as a kitchen-assistant who would help chefs in preparing dishes, mostly Chinese ones. "It is a very unfortunate incident. A tree next to the in-gate got uprooted in the storm. He was taken to hospital where he succumbed to his injuries," the club management said. "The club, while mourning his sudden demise, stands by his family and will provide all necessary assistance."
Cars smashed
At Sunny Park, a large tree fell on two cars — a Maruti Ertiga and a Hyundai i20 — around 5pm extensively damaging both, the police said. Two more trees were uprooted on Northern Avenue in Paikpara, one in Tollygunge and one at Gobinda Khatik in Tangra, said an official of Calcutta Municipal Corporation.
At more than five places, branches snapped from trees, said sources in the civic body.
"It's a great financial loss for us, but I would say we are fortunate that no one got hurt," said Priti Parasrampuria, the businesswoman who owns the damaged Ertiga.
A little later in the evening, a man who was riding a two-wheeler had a last-minute escape as he left his scooter and ran away realising that a tree was toppling.
"I saw some sparks and then I could see the tree falling slowly. I left behind my two-wheeler and ran away," the man said.