Fishermen grapple with survival basics
Yaas blow: Only 40 per cent trawlers venture out to catch hilsa
Sources estimate at least 30 per cent of boats will not be able to set sail this year owing to the disruption of lives and livelihoods of fishermen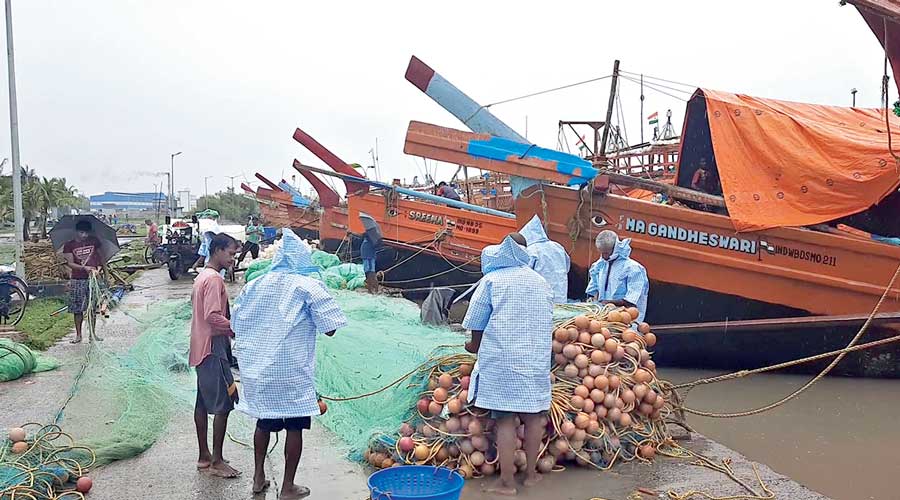 Fishermen with rolled-up nets waiting to be loaded on their vessels at Kakdwip, South 24-Parganas, on Tuesday.
Mehaboob Gazi
---
Tamluk(EastMidnapore), Calcutta
|
Published 16.06.21, 01:11 AM
|
---
Cyclone Yaas, which lashed the coastal districts of the state on May 26, has dealt a severe blow to fishermen in East Midnapore and South 24-Parganas as only 40 per cent of trawlers could venture out to catch the prized hilsa on Tuesday, the first day of government-permitted fishing this season.
Sources estimate at least 30 per cent of trawlers will not be able to set sail this year owing to the disruption of lives and livelihoods of fishermen after the recent cyclone amid the pandemic.
Sources in the fisheries department said in normal times 8,000 trawlers and boats would have sailed on June 15, the formal end of the yearly three-month ban (April 15 to June 14) on fishing in the east coast to allow unhindered breeding.
But on Tuesday, merely 3,500 boats and trawlers went out to catch hilsa. Fisheries department officials said more than 30 per cent of trawlers would venture out in the next two weeks as many fishermen were too busy grappling with survival basics to do their job.
"Only 40 per cent of trawlers and boats could sail on the first day and the figure may increase in the days ahead, but many fisherman who have lost their homes to Yaas are still too busy trying to rebuild their lives to fish," said a district official and added that the probable outcome would be a third consecutive year of low hilsa yield in Bengal.
Akhil Giri, the state fisheries minister, held a meeting on Saturday with members of the fishermen's association to address potential problems.
"According to the survey of our department, 30 per cent of the boats will not sail this time owing to (the impact of) Yaas and other reasons. But we will try to get them back and running soon, that is important," he said.
Fisheries department officials said they feared a poor catch of hilsa this year owing to "low morale" and "infrastructure handicap".
"Many fishermen have suffered the impact of Cyclone Yaas. Many fishermen have lost their homes to inundation. If a person has three boats, he is likely to sail only one this time. As a result, we can't expect sufficient hilsa production at the start of the season. However, we are hopeful that many more fishermen and trawlers will join the fleet as the season progresses," said Jayanta Pradhan, an assistant director of fisheries (marine) in South 24-Parganas.
Sources said the impact of Cyclone Amphan that hit the state last year was not as severe for the fishing community as Yaas. Flooding was more rampant after Yaas.
Several association members also pointed out that hundreds of fishermen were currently putting up in makeshift shelters following the cyclone, which made them reluctant to leave their families.
"My home has been washed away by Yaas and I am spending sleepless nights under a tarpaulin with my family. How can I think about sailing a boat for days on end, leaving my family members in such a situation?" asked Prabhat Bar, a fisherman from Shankarpur in East Midnapore.
Officials in the fisheries department and the fishermen's associations of South 24-Parganas and East Midnapore said Yaas apart, last year's low hilsa catch also discouraged many fishing teams this year.
In 2019, fishermen caught 25,000 metric tonnes of hilsa during monsoon. The figure dropped to 5,000 tonnes in the corresponding 2020 season.
"Yaas has hit the coastal region badly and many fishermen don't want to sail immediately as they are busy repairing their homes. We also faced a severe loss in hilsa catch last year as yield was very low," said Satinath Patra, a secretary of the Sunderbans Samudrik Matsyojibi Shramik Union, suggesting morale among fishermen was low.
Some trawler owners, however, chose optimism.
"Odisha's fishermen are getting hilsa in good quantities. So, we think this time we can catch more fish. True, production will be low initially as many trawlers won't be at sea. But hilsa's annual production will depend on the number of boats that sail in the second phase," said Shyamsundar Das, a secretary of the Digha Fishermen and Fish Traders' Association.