Writing on the wall
For half a century he has been emblazoning walls with political messages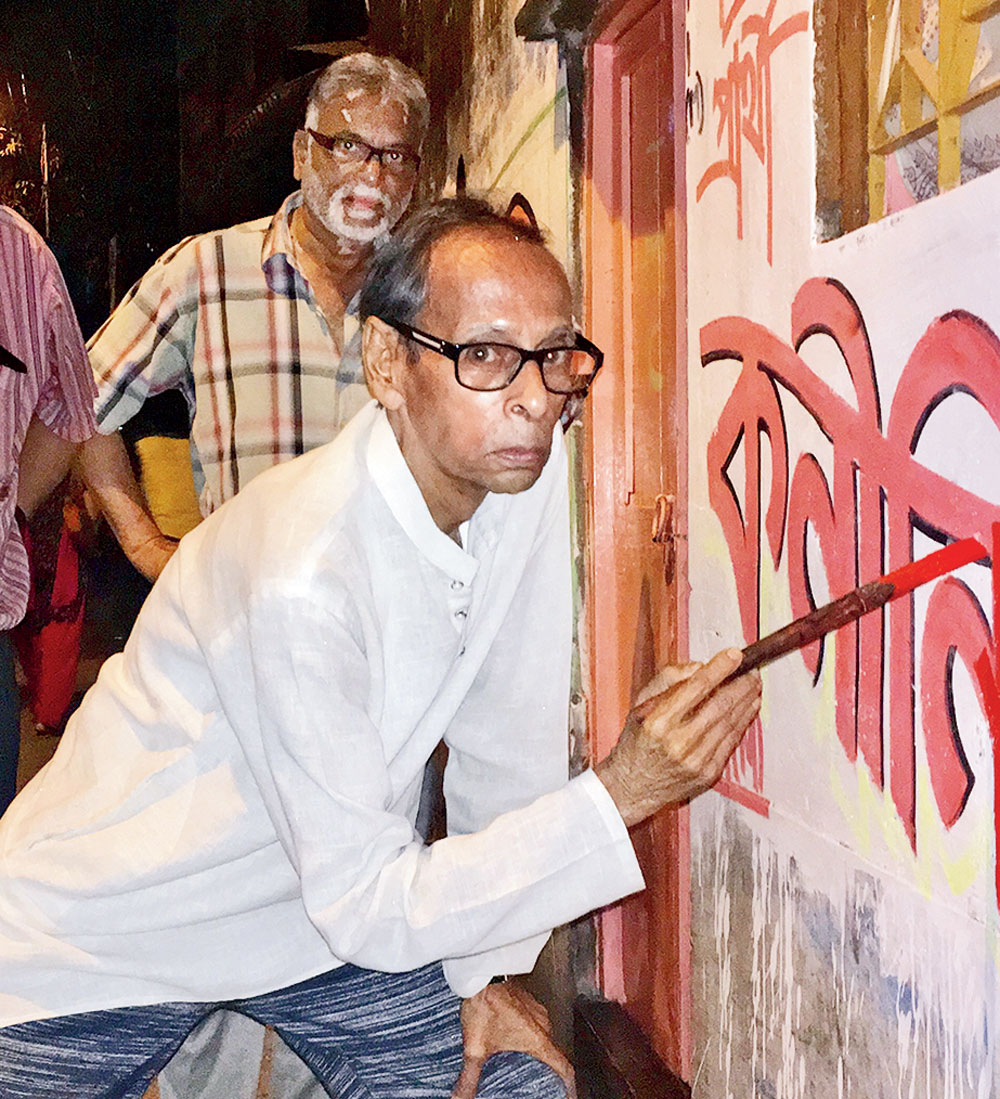 ---
---
Swapan Ghosh has just returned from giving the final touches to the hammer, sickle and star painted on a wall in Bagmari in northeast Calcutta. "This is just a small wall — eight feet by ten feet — that our boys managed to grab with some difficulty," says the 69-year-old with some despair. Ghosh hasn't been keeping well lately, refuses to be confined to his apartment though. "It's a passion," he says stolidly.
Ghosh has been working on political graffiti for the CPI(M) for the past 51 years. He had started out as a 17-year-old, when he became a member of the Centre of Indian Trade Unions or Citu — the trade union wing of the CPI(M). "Wall writing was considered a subversive activity in those days. We had to do it secretly, often after dusk," he reminisces. That was 1968. Those days, the United Left Front government — a political coalition of communists and socialist parties — had been dissolved.
President's rule had been imposed in the wake of the Naxalbari movement.
The Naxalite movement gave an impetus to wall writing in Calcutta and its suburbs. Pictures of Mao Zedong and graffiti calling for an armed struggle would adorn walls: "Chin-er Chairman amader Chairman", "Bonduker nol-i khomotar utso".
In The Routledge Companion to Art and Politics, Swati Chattopadhyay writes, "By the 1960s, it [political wall writing] had been turned into a sharp instrument of political critique by the Naxalbari movement, a mode soon adopted by the mainstream political parties."
Says Ghosh, "In the old days we would make posters with alta [the red liquid used by Bengali women to decorate their feet] and ink on newspapers."
He recalls the late Citu leader and his mentor, Sunil Sengupta, who initiated him into graffiti writing. "Sunilda was a dynamic force at the factory where I worked. During the day we made radio switches and at night he groomed us on the art and science of wall and poster painting." CPI(M) cadres would fight bitterly with Congress partyworkers over walls. "Our boys would grab the wall and write 'All wall for CPIM'. The next day we would find them whitewashed and captured," says Ghosh. This often led to skirmishes.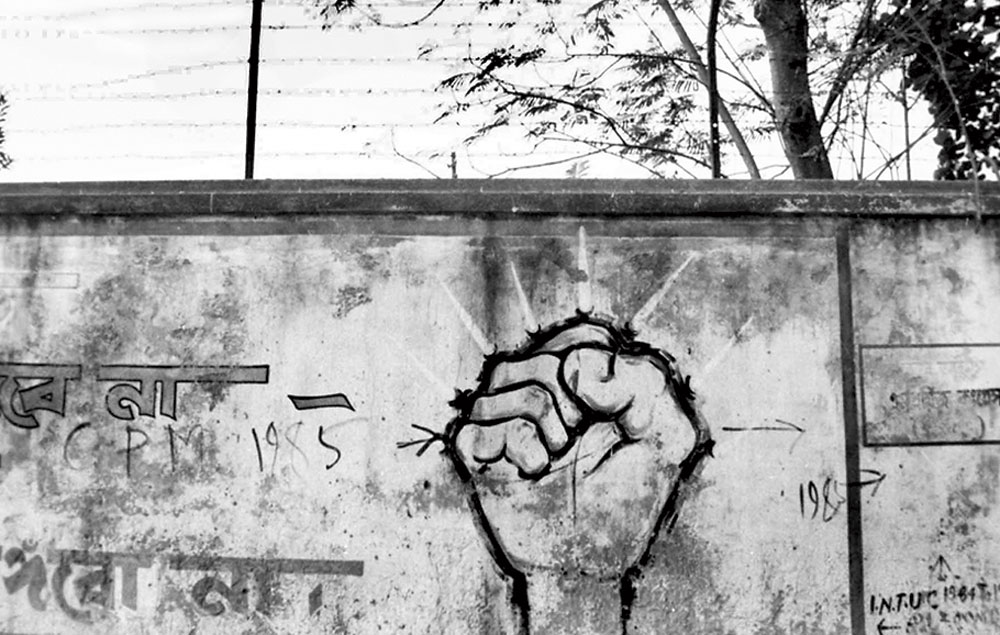 In the middle of all this, Ghosh had to go underground for some time when his mentor was brutally murdered. When he resurfaced a couple of years later, he became a member of the local committee of CPI(M) and built a team of wall writers.
Through the 70s and 80s, wall writing was emphasised as an important form of mass communication by the Left Front parties. It was dynamic too. Recalls Ghosh, "On one occasion in the late 1980s, we were informed at night that the party had called for a Bharat Bandh. We rushed to write the party message on the walls." Ghosh was known as Badalda in the party ranks. Even the top leaders knew of him, he makes it a point to say.
Ghosh takes pride in the fact that unlike other parties, Leftists never hired professional signboard painters for this job. He says, "We wrote for the sheer passion. It was our mission to reach out to the masses who did not have access to other media."
By the turn of the century, with the advent of flex boards and vinyl panels, wall writing started to lose its sheen. In fact, they came to be dubbed by certain civil society groups as "visual pollution". And now — in social media times — the old wall has had to yield place to the new virtual wall. Even the CPI(M) would rather create posters, teasers and graphic design for the new media.
Ghosh, who is well aware of the change, complains, "This year we couldn't get access to many walls as they have permanent paintings of manishis, or great men and women, from the pages of history."