WHO chief scientist stirs debate on school closure
Swaminathan on Sunday re-tweeted a post by the United Nations urging countries to keep schools open and advising governments to list it as a priority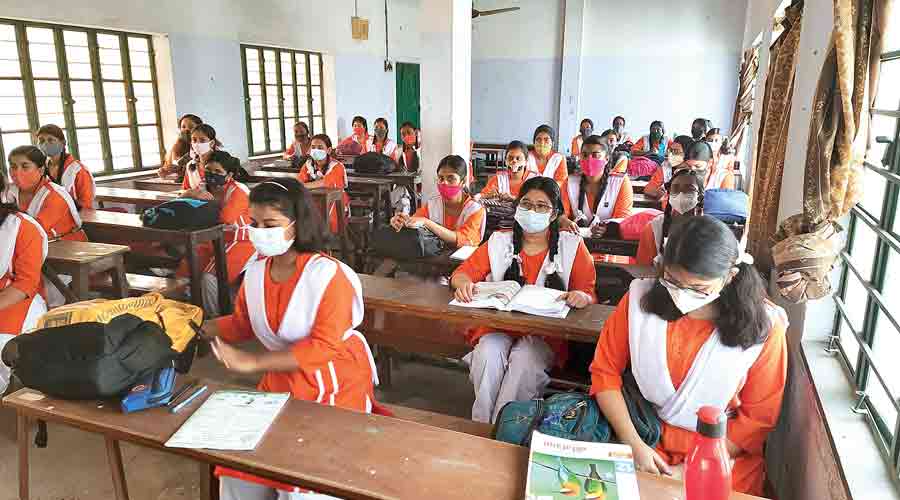 Students at a school in Hooghly's Chinsurah when academic institutions reopened in November last year.
Telegraph photo
---
Bolpur(Birbhum)
|
Published 13.01.22, 03:09 AM
|
---
World Health Organisation chief scientist Soumya Swaminathan's recent tweet advocating the need to keep schools open has reignited the debate on the need to resume offline classes in order to prevent arguable damage being caused to a generation of young children.
Swaminathan on Sunday re-tweeted a post by the United Nations urging countries to keep schools open and advising governments to list it as a priority.
"The #COVID19 pandemic has resulted in lost learning for children worldwide. 2022 cannot be yet another year of disrupted education," the UN tweet reads, with a tagline by UNICEF that reads "Schools must be the last places to close and the first to open".
While re-tweeting, Swaminathan added: "The loss of learning for a whole generation of young children will be irreversible if we continue to close schools. Keeping schools open must be a priority and can be safely done."
Academics, researchers and psychiatrists from various parts of Bengal have been arguing that schools should be kept open by following Covid-19 protocols.
Schools in Bengal were first reopened on November 16 last year, with a focus on students of Classes IX to XII. However, amid the threat of a third wave, the state government closed all educational institutions from January 3 following an increasing trend in numbers of Covid infections.
"Keeping the schools open with protective measures should be the first priority. We have already faced a huge loss in learning during the closure of schools in the past two years. After an effort of seven decades, we were able to reach the 100 per cent benchmark of enrollment. Now we are at
the danger of reversal of the achievements," said Kumar Rana, a researcher from Calcutta.
Rana, who played a key role in a recent study to find out the impact on school education during the lockdown, found 28 per cent students of primary schools had almost disconnected from the academic activities.
Teachers from several schools said they discovered many students, mostly from the underprivileged sections of the society, have either quit their study and joined hands in the family trade for additional income, or turned into migrant workers during the school closure, causing certain schools to launch awareness drives for parents.
"We had brought a dozen students of Classes IX and X who had already left their study during the closure. The disconnection from schools may lead them to regress to a previous stage," said a teacher in Burdwan.
Academics said keeping schools open was urgent because students were going beyond the discipline of education and the practice was needed to build their further careers.
"Education is a practice that is done through schools. There are many special things that the students learn from direct physical classes by their teachers, which can't be replaced through online platforms. Our priority should be to keep schools open by following all measures against the pandemic. The government's duty is to fulfill the requirement for smooth running of educational institutions," said Surajit Mukhopadhyay, a professor of Sociology at Amity University, said.
SFI, the CPM's student wing, has already hit the roads demanding that schools reopen after recent restrictions by the government. "We support what the WHO's chief scientist had tweeted. We found many school and college students who left their study during the closure of schools," said Souvik Das Bakshi, the SFI secretary in Birbhum.
The SFI is conducting a survey to find out the dropout students in both schools and colleges across Bengal since the past two months, and the members of the students' union met many who left their studies and have become migrant workers.
"We have a set of examples who are students in the records of colleges and schools but not with their studies as they started working for several food delivery companies or shifted to states like Kerala or Bangalore as migrant workers," said Anirban Roy Chowdhury, SFI district secretary in East Burdwan.