Bengal polls 2021: SKM campaigns against BJP in Cooch Behar which will vote on April 10
Farm leaders questioned the saffron party's promise of 'Sonar Bangla' by citing examples of states where the party is already in power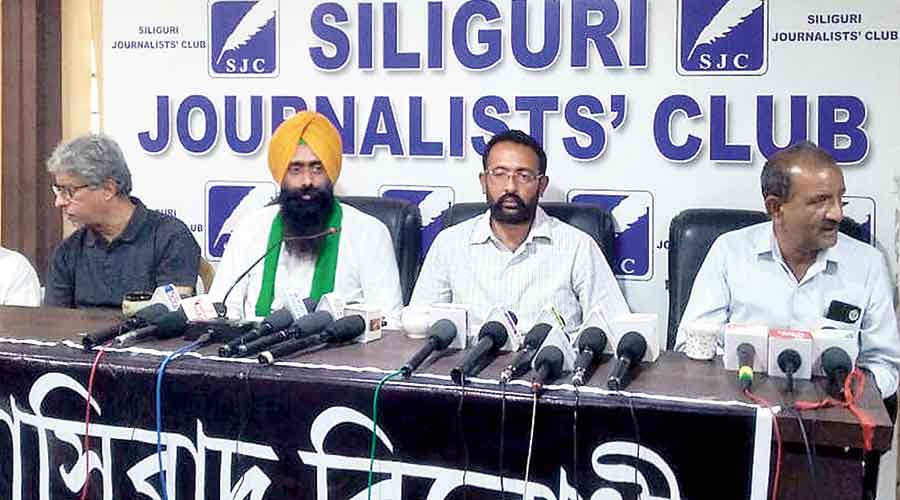 Samyukta Kisan Morcha leaders in Siliguri on Friday
Passang Yolmo
---
Siliguri
|
Published 03.04.21, 01:27 AM
|
---
A delegation of the Samyukta Kisan Morcha, leading the protest against the three new farm laws at Delhi's borders that has entered its fifth month now, is campaigning against the BJP in the agrarian district of Cooch Behar which will vote on April 10.
The farmer leaders, who have toured differed parts of the state since March 10 and reached north Bengal on Monday, questioned the BJP's promise of "Sonar Bangla" by citing examples of states where the party is already in power. Prime Minister Narendra Modi and other BJP leaders have made the promise again and again in their campaign speeches.
"The BJP leaders are promising a 'Sonar Bangla' ….. but if one visits Madhya Pradesh, he will find that the farmers there do not get proper prices for their produce. In Uttar Pradesh, there is complete lawlessness, goons are ruling everywhere and unemployment ratio is high. These people (BJP leaders) should be questioned as to what they have done in the states where they are in power," Guramneet Singh Mangat, a Morcha representative, said on Friday.
"Not only in Bengal…… we are campaigning in all five states where Assembly elections are on. Our representatives are approaching people, especially farmers, and urging them not to support the BJP while explaining to them the evils of the farm laws which the Centre has passed," Mangat added.
Thousands of farmers have been living on the roads at Delhi's borders since November 26 to push for the repeal of the three laws that they believed will be their "death warrant". More than 300 protesting farmers have lost their lives since the agitation began. But the BJP-led government at the Centre has been unmoved, refusing to roll back the laws. Since January 22, the government has not even held talks with the farmers.
"The Prime Minister says he is just a phone call away from the farmers. But even after 300 of them lost their lives, he did not even bother to make even a tweet," Mangat said.
Around 65 per cent people in India are directly or indirectly linked to agriculture, Mangat said.
"It is the support of farmers which has helped the BJP form the government in Delhi with absolute majority. If we farmers can contribute in forming the government, we can also bring it down. We felt it necessary to launch this campaign to prevent the BJP from coming to power in these states. In Bengal, we will try to reach out to the maximum number of people," another Morcha representative said.
The delegation has visited Calcutta, Nandigram, Singur and Asansol so far.