Bengal polls 2021: Mamata to take oath as CM on May 5th
Along with the TMC supremo, some key members of her new cabinet are likely to be sworn in on Wednesday, while others could take oath on Thursday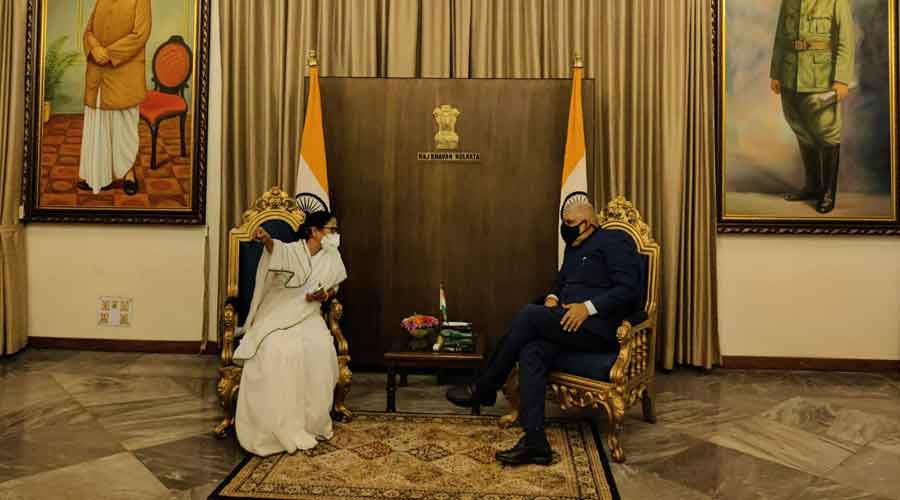 ---
|
Calcutta
|
Published 04.05.21, 02:02 AM
---
Mamata Banerjee will take oath as the chief minister of Bengal for the third consecutive term at 10.45am on Wednesday in the Raj Bhavan.
The decision was announced in a tweet by governor Jagdeep Dhankhar on Monday evening after Mamata had called on him to submit her resignation as chief minister.
Taking note of communication @AITCofficial electing @MamataOfficial as leader of 17th WB Legislative Assembly have invited her to take oath of office of Chief Minister on May 5 at 10.45 am at Raj Bhawan.

In view of current Covid situation function will be with limited audience. pic.twitter.com/OuvzI46oLd

— Governor West Bengal Jagdeep Dhankhar (@jdhankhar1) May 3, 2021
Along with Mamata, some key members of her new cabinet are likely to be sworn in on Wednesday, while others could take oath on Thursday. In view of the Covid-19 situation, all such events will be conducted with limited audience.
"She met the governor in the evening, submitted her resignation… and a list of victorious candidates of the party that has over two-thirds majority in the House, thereby establishing her indisputable claim to form the next government in Bengal," said a senior Trinamul leader.
Mamata reached the Raj Bhavan around 6.45pm — she was invited on Sunday evening by Dhankhar after the results showed a thumping majority for her party — and stayed for over one-and-a-half-hour meeting with him.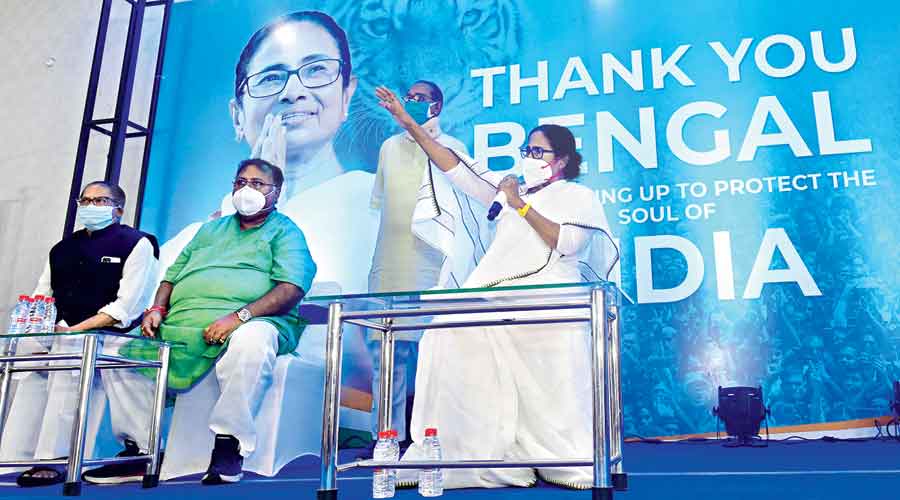 In the Assembly, the 212 Trinamul Congress MLAs — Khardah's Kajal Sinha, the 213th MLA, succumbed to Covid-19 — would be sworn in during the course of the week. It was decided by the Trinamul legislature party to re-elect Biman Banerjee as the Speaker for the third consecutive term.
"Sadly, because of the pandemic's second wave, there will be nothing by way of celebration or grand events now. So, it will be a very basic programme this time, despite its historic and national significance," said Subrata Mukherjee, a senior Trinamul leader.
"She had already said there would be mega celebrations later at the Brigade Parade Grounds with all prominent national (non-BJP) leaders once the pandemic is behind us," he added.At an afternoon meeting in Trinamul Bhavan, the winners unanimously elected Mamata as the leader of the legislature party, thereby paving the way for her to take oath as chief minister.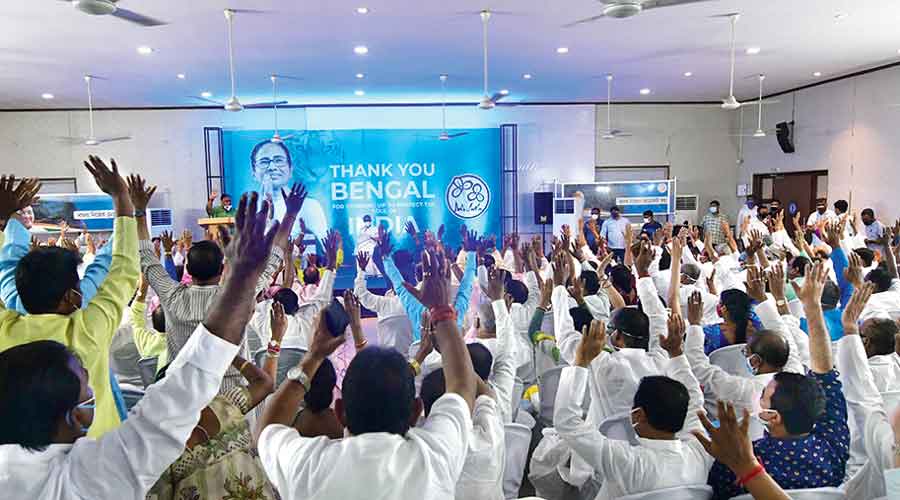 Since Mamata lost to her former protégé Suvendu Adhikari, now in the BJP, in the Nandigram seat, she would have six months to get elected to the Assembly.
In the meeting, Mamata's main instructions to the newly elected members were regarding three main areas of priority now, said several attendees.
"She said we must go all-out in the war against the pandemic now as everything else has become secondary in the second wave of Covid-19," said Uttarpara MLA Kanchan Mullick, an actor.
"Second, we must honour this humbling mandate and give it back to the people by way of tireless service," he added.
The third area, said Barrackpore MLA Raj Chakraborty, the filmmaker, was the importance of ignoring provocation.
"She said there would be an immense lot of incitement by the BJP in a bid to foment tension and unrest… she explained how crucial it was not to get ensnared by that," he said.