Bengal Polls 2021: Mamata Banerjee swipes at BJP over Matua candidates
The chief minister didn't name the section of the Thakur family close to the saffron party while she was addressing an election meeting in Gaighata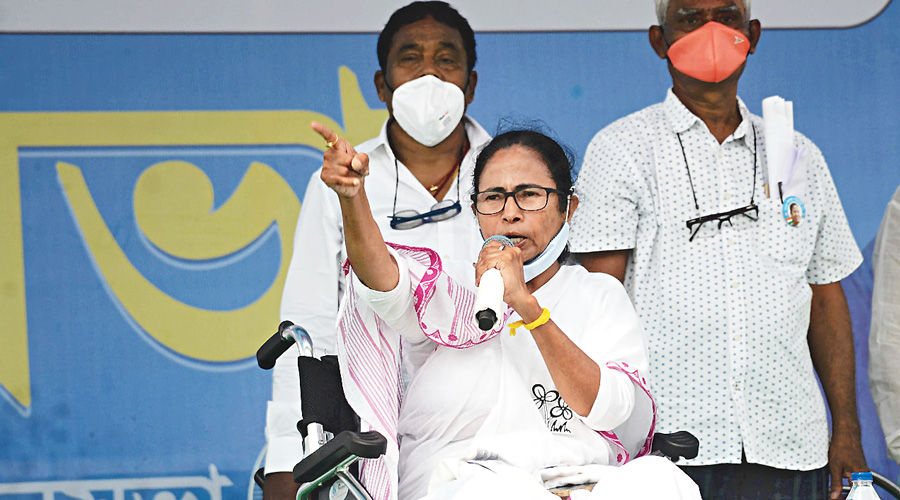 ---
Gaighata
|
Published 19.04.21, 12:48 AM
|
---
Mamata Banerjee on Sunday criticised the BJP for selecting members of a section of a particular family while nominating Matuas for the Assembly polls.
The chief minister didn't name the section of the Thakur family close to the saffron party while she was addressing an election meeting in Gaighata, a known Matua bastion. Mamata was campaigning in support of Trinamul's Gaighata candidate Narottam Biswas, a Matua leader who is pitted against the BJP's Subrata Thakur, the elder brother of party MP Subrata Thakur and grandson of community matriarch 'Baro Maa', Binapani Devi. Gaighata is also where Thakurnagar is located.
"The BJP pretends to be very concerned about the welfare of the Matua community. They are making spurious offers of citizenship to them (Matuas). Their concern about the community suddenly comes up during the election, whereas throughout the year, they show little concern about how they (Matuas) are leading their lives," said Mamata.
Matuas, a lower caste (mostly Namasudra) migrant Hindu community, are decisive voters in at least 32 Assembly constituencies in North 24-Parganas and Nadia.
The community has also strong influence in parts of East Burdwan, Birbhum and a few north Bengal districts.
Accusing the BJP of preferring only members of Thakur family, she said: "To get votes, sometimes brothers get the nomination, sometimes the wife's name is offered, but the BJP never bothers to issue a ticket (nomination) to a gosain or a dalapati and even never asked a Matua sympathiser to fight the poll."
Explaining the difference in concern for the Matua community between the BJP and the Trinamul Congress, Mamata claimed that her party had tried casting the kind of nomination she was describing. "I have nominated Matuas for community representation. I have nominated Aniruddha Biswas in Kalyani, who is the son of our former MLA Ramendra Biswas. In Gaighata, I have also nominated Narottam Biswas, who
are known old faces of the Matua community. I had earlier nominated Mamatabala Thakur also," Mamata said, advising the BJP to nominate people from the community who had been active in fighting for their representation.
However, a few members of the Sarba Bharatiya Matua Mahasangha close to Trinamul refused to support Mamata's claim. SBMMS chief Mamatabala Thakur had openly expressed her anger for denial of nomination to a sufficient number of Matua members.
"Mamatabala sacrificed her nomination and demanded that other members of the community be fielded in polls. But Trinamul practically nominated only Narottam as a Matua member. But he is not popular owing to several allegations of corruption and pending cases against him," said an SBMMS leader on condition of anonymity. Significantly, Mamatabala also skipped Mamata's meeting on Sunday.
All India Matua Mahasangha leader and BJP's Ranaghat Dakshin candidate Mukutmani Adhikari said: "Matuas know who are really concerned about them. The BJP has nominated at least eight candidates in Nadia and North 24-Parganas, whereas she (Banerjee) nominated only two. The difference in concern is clear enough."
Mamata, however, claimed: "It is the Trinamul Congress which is truly concerned for the welfare of the Matuas. We have constituted the Matua Bikash Parishad and have allocated a fund of Rs 10 crore for the Harichand-Guruchand University and other things. I will do the rest of the job by getting these people elected. But the BJP is only trying to mislead them with fake promises of citizenship."