Bengal Polls 2021: How Mamata rehabilitated former KLO militants
Over 700 former radicals and linkmen (untrained insurgents who used to work for the organisation) have been employed as home guards in northern districts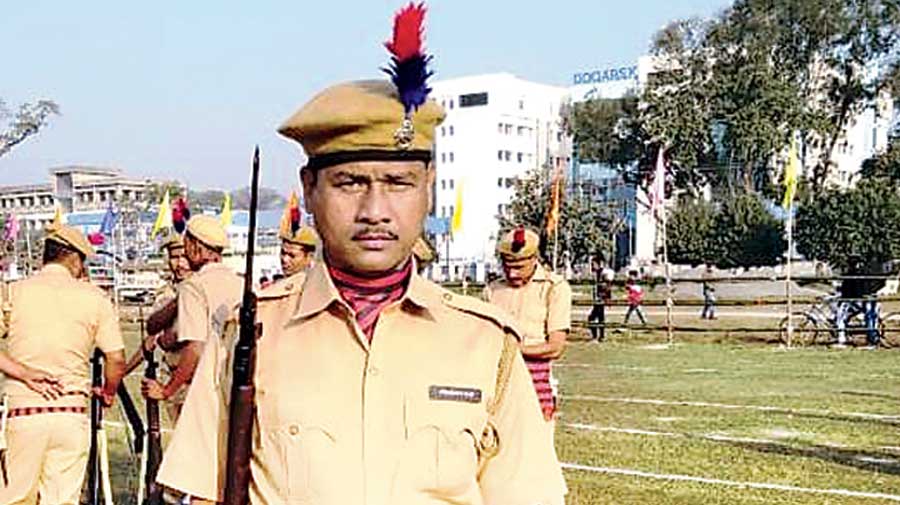 A former KLO militant, who has joined the state police, during this year's Republic Day Parade in Alipurduar
Telegraph picture
---
Alipurduar
|
Published 12.04.21, 12:25 AM
|
---
Two decades ago, Milton Burma used to trot along the mountainous terrains of Bhutan in chequered fatigues, carrying an AK-series rifle on his shoulders. 
It was a part of his regular regime to keep himself fit like hundreds of other Rajbanshi youths who had walked out of their homes and joined the armed struggle over the demand for statehood under the banner of the Kamtapur Liberation Organisation (KLO). The outfit wanted a separate Kamtapur state that would include six north Bengal districts and three contiguous districts in Assam.
Today, Milton Burma — a name given to him by KLO leaders, his real name being Mihir Das — is equally fit. His morning routine has remained the same but the place and purpose have changed.
Earlier, he was an armed rebel, now Mihir is a khaki-clad home guard in the Bengal police force. He is posted in Kumargram — his home block in Alipurduar that was once a hotbed of the KLO.
In 2002 and 2003, when the Royal Bhutan Army launched Operation Flushout, most KLO militants had been nabbed from the training camps the outfit had set up in remote locations. Some others who could evade arrest later surrendered.
The Left Front government then took the initiative to rehabilitate the former militants but the plan failed. Former rebels like Mihir and hundreds of others had to struggle for years to earn a living.
"While a section of us started working on a daily-wage basis in agricultural fields, the others left to work at construction sites and stone quarries elsewhere," said Bhupesh Das, another former militant.
However, things started changing in 2019 when chief minister Mamata Banerjee took the initiative to induct them into the state police as special home guards.
"It was our longstanding demand, which the chief minister met. It is because of Mamata Banerjee that we got a new lease of life. Most of us work as home guards now and earn around Rs 17,000 a month. It is like a dream come true," Mihir said.
According to sources, over 700 former militants and linkmen (untrained insurgents who used to work for the KLO) have been employed as home guards in different districts of north Bengal.
Another 500-odd former militants are awaiting appointment, the sources said.
Bhupesh, who was known as Kalia among KLO cadres and was famous for his expertise in traversing different terrains with firearms and ammunition, said it gave them a sense of pride wearing the khaki.
He said that even after they returned to the mainstream, their neighbours had some reservations about them.
"Some of us had to even confront unpleasant comments. But after we began working as home guards, the perception of the people has changed. It has also helped us to regain our confidence and self-respect," Bhupesh said. 
The rehabilitation of the former KLO militants and linkmen could help Mamata to win the support of sections of the Rajbanshis, observers said.
The observers said that even three-four years back, there had been indications that some of the former militants could embrace insurgency again to protest the "apathy" of the government.
"The KLO disintegrated years ago but even today, Jeevan Singha (the outfit's self-styled chief) and some others continue to elude the police. The chief minister's initiative to induct former militants as home guards has helped to address the grievances of these people. It has also staved off the possibility of the KLO reorganising," a retired police officer said.