Most high-profile contest in 8-phase Bengal polls
Bengal polls 2021: Mamata ends Nandigram campaign, stands up to National Anthem
With seven Lok Sabha and two Assembly poll victories to her credit, the TMC chief admitted that she had never campaigned as extensively in an election as now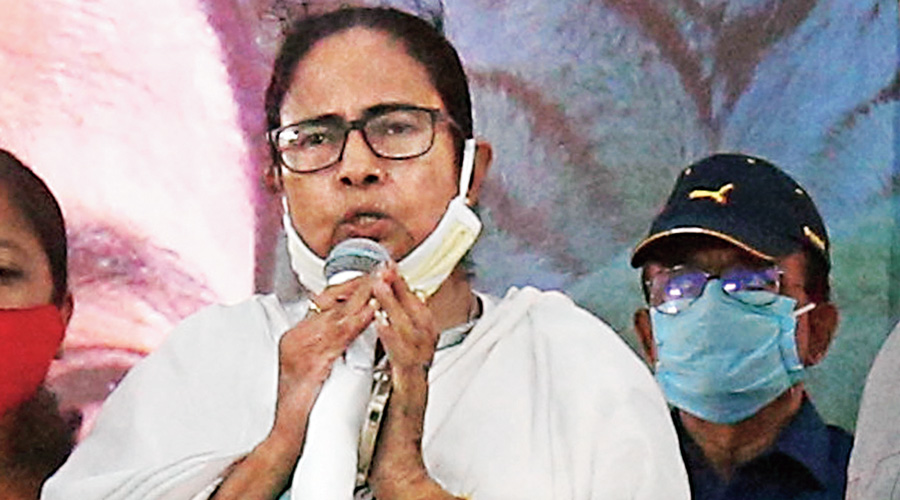 Mamata Banerjee on her feet while singing the national anthem at Tengua in Nandigram on Tuesday.
Telegraph picture
---
Nandigram(Bengal)
|
Published 31.03.21, 01:56 AM
|
---
Mamata Banerjee was on her feet in full public view on Tuesday, 20 days after she suffered an injury in her left leg, as she sang the national anthem to wrap up her campaign for Thursday's poll in Nandigram.
The image captured her resolve — as well as the challenge confronting her — to take on the might of the BJP in the most high-profile contest in the eight-phase Bengal elections.
"I am ending my campaign for the April 1 poll.… We should end it with the national anthem. I will somehow try to stand on one leg and with help," said Mamata at the end of her third and last rally on Wednesday at Tengua in Nandigram.
The chief minister criss-crossed Nandigram on the last day of campaigning, holding two road shows and covering at least 6km on a day the mercury hovered around 40 degrees Celsius and discomfort peaked because of high humidity.
A veteran of Bengal politics with seven Lok Sabha and two Assembly poll victories to her credit, Mamata admitted that she had never campaigned as extensively in an election as now.
"In the case of Bhowanipore (from where she contested and won in 2011 and 2016), I used to address at best two rallies. Here I started my campaign on March 8 and went around meeting people and holding meetings on March 9 and 10 till I got injured. I came back again on March 28 and since then I have been going to the people. Yes, I gave more time to Nandigram as I think it's my responsibility," said Mamata, who looked relaxed as the curtains came down on campaigning for the April 1 poll.
After explaining how she was giving extra attention to Nandigram, Mamata elaborated on why she decided to contest from the East Midnapore constituency, the epicentre of the anti-land acquisition movement that she had led in 2007, in an apparent attempt to answer Trinamul turncoat and BJP nominee Suvendu Adhikari, who has called her an "outsider" and accused her of contesting from the seat to "finish" his "political career".
"I have a special place for Singur and Nandigram in my heart and I always wanted to contest from any of these two seats. Actually, I had considered contesting from Singur in 2016 but could not by replacing an aged person like Rabindranath Bhattacharya (who has recently switched to the BJP)," said Mamata.
"But when I decided to contest from Nandigram, the sitting MLA had resigned by then," she added.
In a departure from her fiery speeches against the BJP and the Adhikari clan that the people of Nandigram had heard in the past three days, Mamata chose to be humorous and sarcastic. Some of her salvos:
⚫ Thank God, the traitors left the party before the elections. And they got tickets as BJP candidates.
⚫ But I feel so sad for those who have been with the BJP for years as they haven't got nomination. Even Jayprakash (Majumdar), who abuses me through the day, didn't get nomination.
⚫ The old-timers in the BJP, who have been denied tickets, don't have any option other than donning saffron robes and singing "Hare, Hare".
⚫ Mukul Roy was not as bad as Suvendu Adhikari. But look at his plight, instead of giving him nomination from Bhatpara-Jagaddal where he grew up, he has been pushed to Krishnagar.
⚫ I compliment Amit Shah on his chubby looks. He has such glowing cheeks.
After leaving the audience in splits, Mamata returned to the basics as she rolled out a list of welfare schemes she had launched as chief minister.
Addressing the audience — the majority of whom belonged to the Muslim community — she accused the BJP of fanning communal hatred to polarise voters in Nandigram.
"The entire world came to know of Nandigram during the anti-land acquisition protest days as the Hindus and the Muslims fought shoulder to shoulder.… But the BJP is now trying to divide the people here. Please do not let that happen," said Mamata in her last appeal before the most important battle of her life on Thursday.
Many in Trinamul believe that Mamata's repeated pleas to maintain harmony are underscoring the BJP's agenda of polarisation along communal lines.
"Suvendu had been successfully polarising people with his communally loaded speeches.… With her steady presence in the area and multiple programmes in the past three days, Didi has partially defused that bomb and we have made significant recovery of the ground initially lost to the BJP," claimed a Trinamul insider.