Sheltered around 15km from his home, 60-year-old Shukur Ali has no idea when he will be able to return to his native Jhaukuthi village in the Tufanganj subdivision of Cooch Behar district.
Meghu Das, his neighbour and a farmer, has been staying with him at Ranpagli M.V. School at Jhapusabari in Dhubri district of the neighbouring Assam for the past four days. Das is equally perturbed.
"After the election results were announced, we were attacked by armed groups and fled to save our lives. The attackers didn't identify Hindus or Muslims but indiscriminately went on attacking our houses. We really don't know what made them organise such attacks on petty villagers like us," said Ali.
Altogether, over 600 residents from Tufanganj — the subdivision that shares border with Assam — have abandoned their houses and crossed over to Assam. Around 100 Muslims were among them.
While around 250 of them are staying at the school in Ranpagli, the remaining 400 are sheltered at a similar camp in Pokalagi, another hamlet in Dhubri.
After reports came in that some people from Cooch Behar district had entered Assam, the saffron brigade tried to play the polarisation card.
The BJP said the attacks had been organised on people who had voted for the party which won seven of nine Assembly seats in Cooch Behar.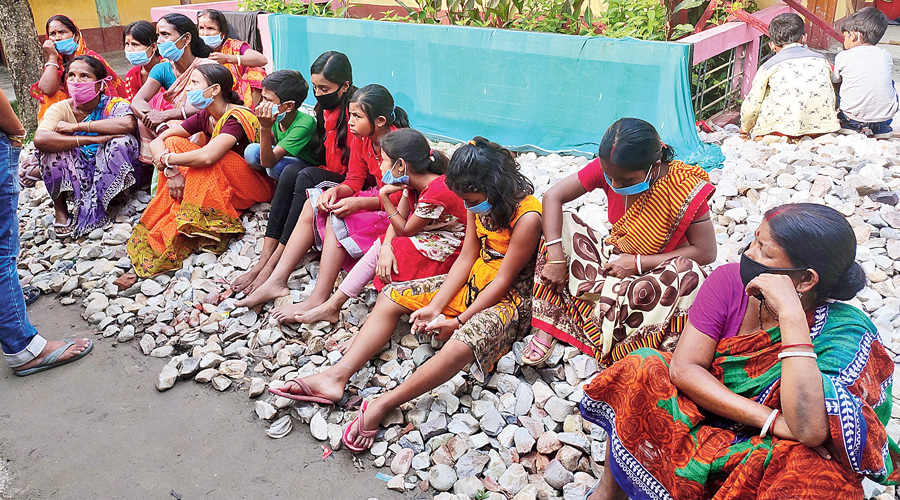 Some Cooch Behar residents who are staying at Ranpagli MV School
However, those who have fled their homes, narrate a different story.
"It is not about any religion…….those who are strong at a village attacked the other side. It is not that only BJP supporters were beaten up…. A number of Trinamul supporters have also left their homes," said Abdul Halim Mondal, who is staying at a camp.
Pabitra Kumar Roy, a BJP supporter at Balabhut of Tufanganj, said: "On May 2, as the day rolled, there was a simmering tension at our village. Jahirul Haque, a prominent face of Trinamul at the village, came to my house. He requested me to leave and said anti-socials, who are not residents of our village, are attacking houses of BJP supporters. As I moved out with my family, he accompanied me till I crossed the interstate border."
The affected residents also pointed out that while the saffron brigade had tried to build a narrative on religious lines, nothing as such had happened in Cooch Behar.
On Thursday, the Cooch Behar district police led by Pankaj Thapa, the inspector-in-charge of Baxirhat police station, visited the camps twice, along with vehicles.
Thapa spoke to the affected residents and asked them to return homes, while assuring security.
The residents, however, did not respond. "We need some more time. Even today, there were clashes in Dinhata," said Nanibala Burman, an elderly woman who is from Nakkatigach of Tufanganj.
Malati Rava, the newly-elected MLA of Tufanganj and also the Cooch Behar district president of BJP, also visited the camps.