Bengal Polls 2021: All that glitters is not Sonar
A look at the golden age BJP has promised the state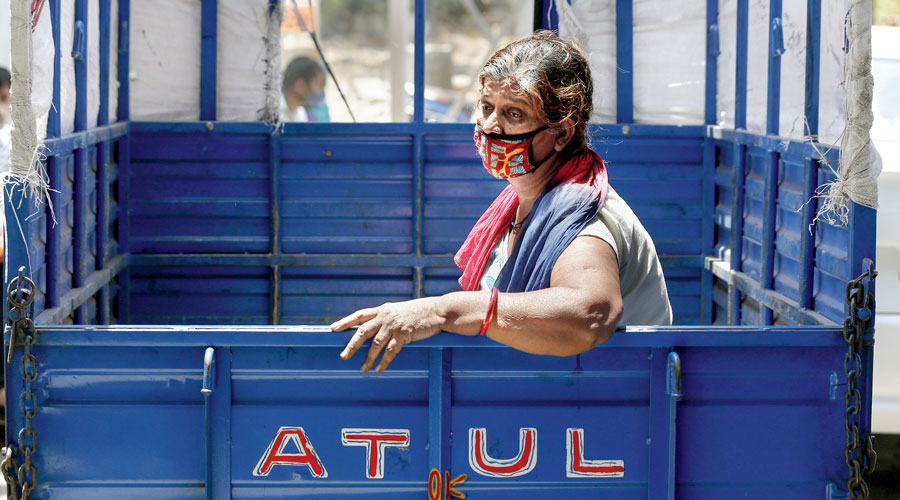 ---
---
Prime Minister Narendra Modi has promised in his many election meetings to transform Bengal into Sonar Bangla. To understand what this might mean The Telegraph looks for clues in the states where the BJP is already in power, the states that in Modi's words have a "double-engine sarkar".
Since there can be no better test of governance at this time than the Covid pandemic, this newspaper decided to look at the performance of two BJP-ruled states in handling the surge.
The first is Gujarat, which selected itself, not merely because Modi and his home minister Amit Shah hold it up as the model for the country. Gujarat was governed for 13 years by Modi himself as chief minister. He retains a keen interest in the state, and has shown it off to two of his best friends, Donald Trump and Xi Jinping. The BJP has been in power there for more than two decades.
The second is Uttar Pradesh, home to the Prime Minister's Lok Sabha constituency Varanasi. It is also a state whose chief minister is the rising star in the BJP and is seen by many as Modi's natural successor.
"The opinion in the state is that Modiji should remain Prime Minister for as long as he wants and that when he steps down, Yogiji should take over from him," a BJP supporter from Varanasi told this newspaper.
Along with Modi and Shah, Adityanath has been a key campaigner for the BJP in the Bengal election.
An important reason for picking the two states was that the Congress has not been in power in either for the past two decades, so there is no way it could have played spoiler in their development.
Also, there are no roads blocked by farmers in either Ahmedabad or Lucknow that the BJP can blame for hindering supply of life-saving oxygen to the hospitals.
Bengal can decide which model it would prefer should the BJP come to power here:
The Gujarat Model
Hospitals: The dominant image from Gujarat's cities this month has been of ambulances queued up: outside hospitals and crematoriums.
A long line of ambulances is parked outside Ahmedabad Civil Hospital every day, carrying patients awaiting admission. Those not fortunate enough to get an ambulance arrive in any vehicle they can afford and wait at the hospital gates — in cars, autorickshaws and even tempos. Families try to provide oxygen support as the patients lie gasping for breath for hours inside the vehicles.
A related and recurring image is that of patients who are stable being led out, oxygen masks still in place, to make room for those whose condition is worse. The state government told Gujarat High Court this month that in seven districts, there were no hospital beds.
Two patients died in Banaskantha district this week when the oxygen stocks ran out at a hospital. In Rajkot, an inquiry has been ordered after family members of two patients who had died said oxygen shortage was the cause.
Crematoriums: The queue outside crematoriums is long, with many grieving families forced to wait from morning to evening to perform the last rites of their loved ones. PTI quoted a bereaved family member as saying they had to first wait for an ambulance to transport the body and then wait outside the crematorium for their turn. "On average everyone is waiting eight to nine hours," the family member said.
Although Hindus do not normally perform funeral rites after sunset, night cremations are being reported across Gujarat's cities. On one mid-April night in Surat, 25 wood pyres burned simultaneously. Metal structures of furnaces at some crematoriums in Surat started melting or breaking because they were being used round-the-clock.
In Vadodara, crematorium capacity has been increased with 35 new metal pyres. In Surat, two defunct crematoriums have been made functional.
Count mismatch: The state government has been accused of hiding death figures. Media reports claiming the actual death toll in Gujarat is much higher than the official numbers have appeared in conjunction with what one public health expert in the state has described as "gross and strange inconsistencies" in numbers of severely ill Covid-19 patients that suggest either fudging or inefficient data collection.
"The state official bulletin on Thursday, April 22, claimed there are 376 people on ventilators — but the number of ventilators occupied in Ahmedabad alone was at least 403, according to the Ahmedabad Hospitals and Nursing Homes Association," the doctor told this newspaper, requesting anonymity.
On a day the government claimed 55 Covid deaths, figures from crematoriums and burial grounds, collated by media organisations, showed that 480 bodies had been disposed of according to pandemic protocol.
A doctor in the state said any city where crematoriums or burial grounds are inundated with bodies is likely to be experiencing much higher extra deaths.
"If we apply the crude death rate of about 7 per thousand per year on the estimated eight million population of Ahmedabad, the city has roughly 153 deaths per day," the doctor said. "How can 24 extra deaths from Covid-19 as reported yesterday cause a rush in crematoriums or burial grounds?"
Remdesivir: The drug that is believed to cut hospitalisation time for many Covid patients is at the centre of a controversy in Gujarat, after the state's BJP chief C.R. Patil announced that he had 5,000 vials that would be distributed free in Surat.
Asked how such a large stock of the medicine had landed in the BJP chief's hands, chief minister Vijay Rupani said: "I don't know. Ask Patil."
Not only is remdesivir in short supply across the country, there are restrictions in place on its retail sale.
A local daily, Divya Bhaskar, published Patil's mobile number as a front-page headline and wrote: "This number belongs to the 'government' of injections".
Court's views: Gujarat High Court has said the state government had failed to prepare for the second wave. "People now think that they are at God's mercy," it added.
Lending weight to allegations of data fudging, the court has asked the government to be transparent on infection and death counts. "The state should not feel shy of publishing the correct data," it said.
The UP Model
Hospitals: The Adityanath government made a referral from the chief medical officer mandatory for securing a hospital bed. The result: precious time lost. A son recounted to Reuters how they had tried in vain to get a bed, and how the call telling them one was available came a day after his 70-year-old father had died. Television channels showed footage of a man lying down on the road in the path of the CMO's car to get a referral. The system has been scrapped now after an uproar, but the decision came too late for many families.
A journalist with Covid, Vinay Srivastava, 65, begged for help on Twitter to get a hospital bed, even tagging chief minister Adityanath. Srivastava posted that his oxygen level had dipped to 52 and died without treatment on April 17, a day after he had started tweeting.
Oxygen: Hospital after hospital in Lucknow has taken the extraordinary step of putting up notices saying they are running out of oxygen and have not received supplies despite requests to the state government and the Centre. The notices further ask families to move their patients elsewhere because in the absence of oxygen, they won't survive.
Images of family members queuing up to refill oxygen cylinders and of hugging a cylinder tight when they can find one are being widely shared.
Crematoriums: Bodies lined up on the pavement outside a crematorium gave the lie to the state's claim of zero deaths in Ghaziabad on April 15. Bodies have also been piling up on the steps of Varanasi's ghats and into the lanes leading to them. A tin wall was installed to hide from view the large number of pyres burning at Lucknow's most prominent crematorium.
Court's view: "It is a shame that while the government knew of the magnitude of the second wave it never planned things in advance," Allahabad High Court said.
⚫ For those in Bengal not happy with either of these models and looking for a third, there is Madhya Pradesh. The BJP ruled the state for 15 years from 2003, lost power in 2018, but toppled the Congress government and returned to the helm in March 2020 — a day later, the nationwide lockdown was announced.
On April 16, 2021, state capital Bhopal officially reported eight Covid deaths. The same day, the number of people cremated in Bhopal with Covid protocol was 108.
"We believe there is large-scale under-reporting of deaths — the state on Thursday reported 75 Covid deaths over the previous 24 hours, but I know a single hospital in Bhopal had earlier this week with 15 deaths in a day," said Shankul Dwivedi, a medical practitioner in Bhopal and spokesperson for the Federation of the All India Medical Association, a network of resident doctors nationwide.
The daily Dainik Bhaskar has described the state's data on deaths as a lie. "These burning pyres are telling the truth," the Bhopal edition of the paper said, with an aerial view of many funeral pyres burning together.