Bengal Assembly Elections 2021: 22 companies for Nandigram voting
Chief minister Mamata Banerjee is contesting from the seat where the BJP has fielded her former protégé Suvendu Adhikari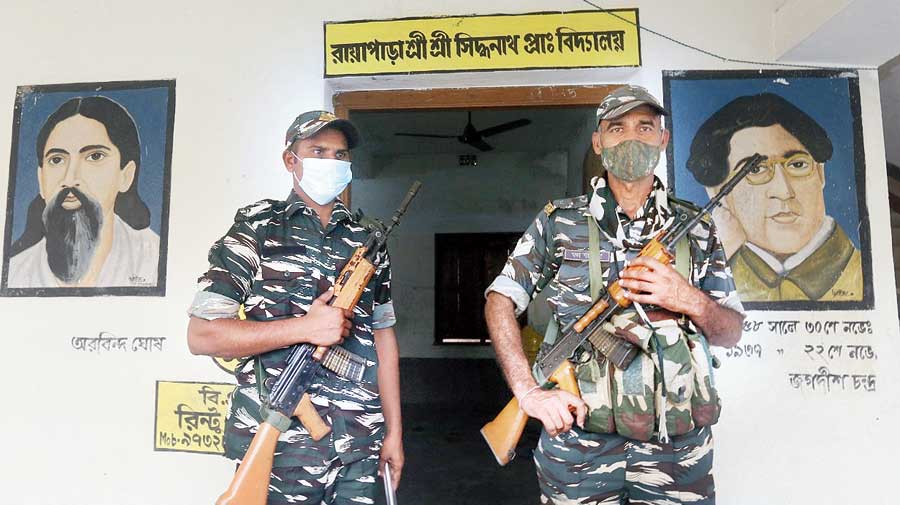 ---
---
Twenty-two companies of central forces were deployed for area domination and Section 144 was imposed to avert any law and order problem in the Nandigram constituency which will go the polls on Thursday.
Chief minister Mamata Banerjee is contesting the seat where the BJP has fielded her former protégé Suvendu Adhikari.
Sources said the forces were being guided by the East Midnapore district administration to watch sensitive areas of Gokulnagar, Haripur and Boyal, all of which, according to the chief minister, were "overrun by outsiders".
Ensuring a free and fair election in Nandigram has become a top priority for the Election Commission as Mamata Banerjee, following a visit to Balarampur in East Midnapore where she was heckled, has lashed out at the BJP for "widespread voter intimidation". Trinamul has alleged that bike-borne criminals are roaming around Nandigram to intimidate party voters and accused the BJP of bringing in outsiders to create trouble in the area. "All land routes are being monitored and vessel movement from Haldia has been shut off since afternoon. Central forces have been directed to keep an eye on the homes of 62 Trinamul leaders, excluding election agent Sheikh Sufian, as they are not allowed to vote," said a source, referring to the most recent blow suffered by the ruling party in the area when investigations against 63 leaders in connection with the 2007 land agitation were reopened.
Sheikh Sufian was later exempted from the same owing to his appointment as the election agent prior to the case's reopening.
"The family members of these leaders, who are absconding, have been informed that they are not to be seen in the area as they can be arrested on sight," said a police officer, explaining that all presiding officers of the area's 355 booths had received a list of names.
From Wednesday morning, no outsider was allowed into Nandigram, which has had a history of violent agitation and has been in the throes of communal sentiment last week owing to incendiary BJP rallies.
Government officials had also completed installing CCTVs and microphones at several "sensitive" booths, with sources saying the rest would be provided with "micro observers". State police were also monitoring drones deployed over forested areas as of Wednesday evening.
"We are going to be observing the live webcast from a few booths. If there are any signs of trouble, we will act immediately," said district magistrate Smita Pandey.The Election Commission replaced the sub-divisional police officer of Haldia and the circle inspector of Mahisadal late on Tuesday.
IPS officers
The Election Commission has attached two IPS officers — Praveen Tripathi and Nagendra Tripathi — with the newly appointed ADG (western zone) Rajesh Kumar for better coordination and supervision of the second phase of elections.
EC officials said Praveen had been given the charge to supervise the election in the entire East Midnapore district on Thursday, except Nandigram where another IPS officer Nagendra has been deployed separately.
The choice of officers has gained significance given the fact that a few months ago, the Union government had recommended central deputation for Praveen Tripathi as an alleged act of punishment after allegations of negligence had surfaced against him in supervising a road show by BJP leader J.P. Nadda in Bengal.
The convoy of Nadda had been attacked during the road show.
Following the recommendation of the central deputation, the state government transferred Praveen from the post of DIG (presidency range) to a relatively lesser significant post of DIG (provisioning).
Senior officials in the state home department said Nagendra Tripathi's deployment to monitor election in one of the most sensitive seats was also considered significant because five years ago, when he was a deputy commissioner in the Calcutta police, the Mamata Banerjee government had shunted him as officer on compulsory waiting following allegations of police excess during the 2016 Assembly elections in Calcutta and made him to wait for months before he was reinstated in a policing post.
PHASE 2
Total constituencies: 30
Districts: 4 — East Midnapore, West Midnapore, Bankura and South 24-Parganas
Number of booths: 10,620
Central force: 697 companies
Key contests: Nandigram, Haldia, Sabang, Kharagpur (Sadar), Sagar and Bankura