Weaver crafts sari with Hasina image
Tribute to motherland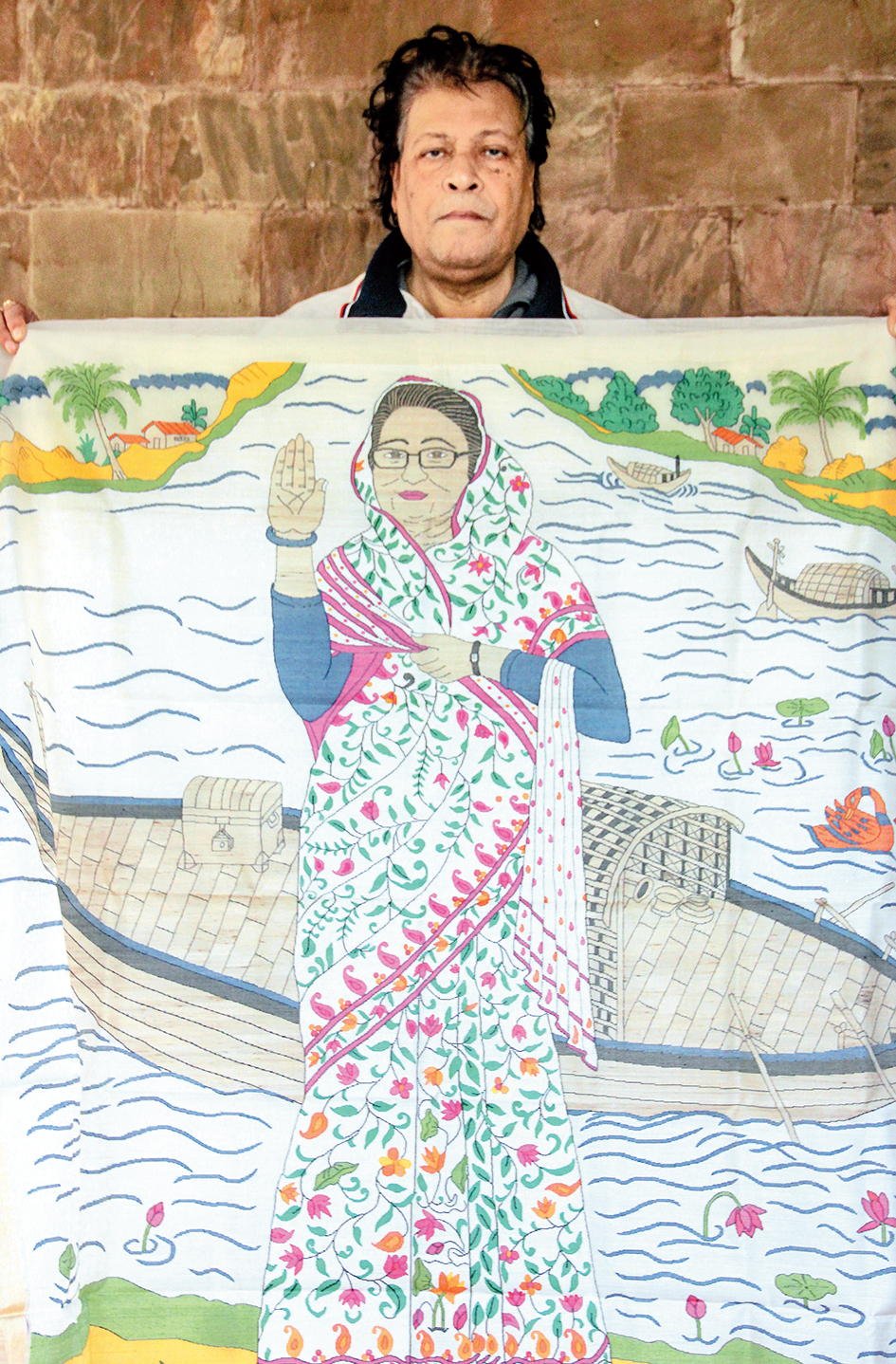 Biren Basak shows the sari with the images of Sheikh Hasina and a boat.
Picture by Abhi Ghosh
---
Nadia
|
Published 27.01.20, 09:41 PM
|
---
Master weaver Biren Basak of Nadia's Phulia has handcrafted an image of Bangladeshi Prime Minister Sheikh Hasina on a piece of Jamdani sari as a mark of his tribute to the woman who has been at the helm in the neighbouring country since 2008.
"It is made for the sake of art and can be used as a wall hanging item," the elderly weaver, who has been honoured by the Union ministry of textiles, told The Telegraph.
According to Basak, who was born in Tangail in Bangladesh in 1951, it took him six months to complete the handcrafted image of Hasina with fine muslin yarn (Bangalore silk) on a piece of Jamdani. The image includes a natural background of Bangladesh and a boat, which is the symbol of the ruling Awami League.
"I have heard from Bangladeshi people, who visit Phulia to buy saris, and officials of the deputy high commission in Calcutta have told me that their Prime Minister is fond of saris woven in Phulia. That's why I decided to craft this one for her," said Basak.
As the final product is handcrafted — "there hasn't been any use of computer-aided graphical image," he stressed — it took Basak four attempts to produce the final product. "Three of my earlier efforts went in vain," he said.
Now that the weaver is ready with the product, he has a dream of handing it over to Hasina herself on March 17, her father Mujibur Rahaman's birthday, when the grand celebrations of the 100th birth anniversary will begin in Bangladesh.
"This is my tribute to the great leader and also my motherland as I was born in today's Bangladesh," said Basak who came to India in 1962.
Earlier, Basak had made a shawl with Narendra Modi's image and a sari with Mamata Banerjee's image.