We have to accept that maybe people are liking the BJP: Mala Roy
Newly-elected Trinamul MP Mala Roy asserts that the Bengal government is in no danger from the BJP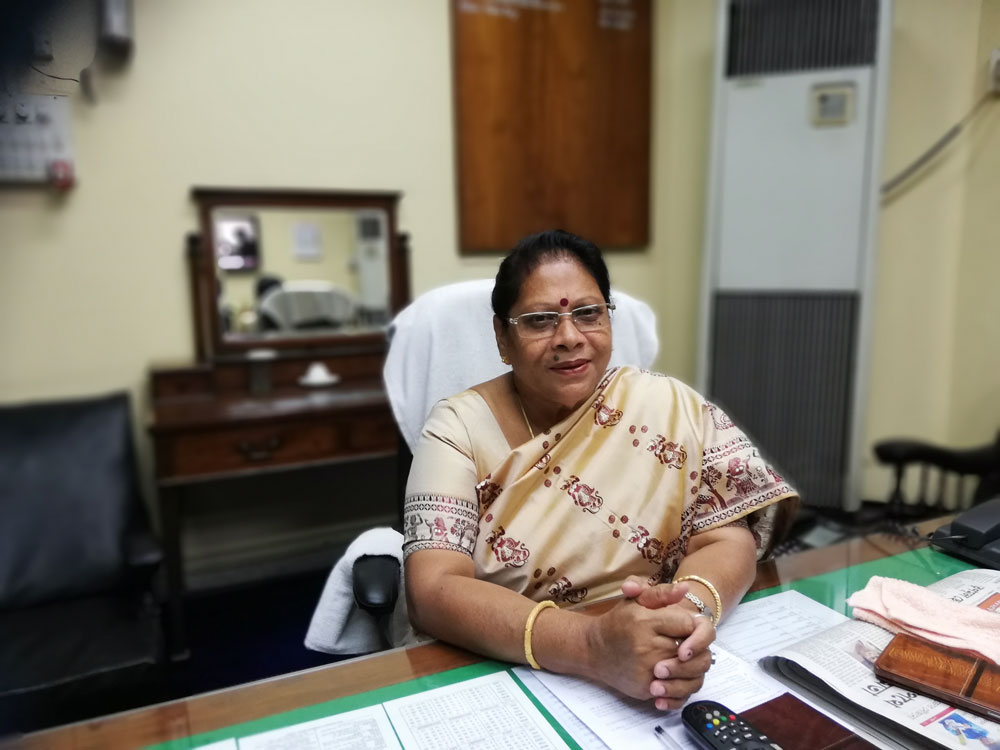 ---
---
Pagol naki! Proshnoi othe na... Am I mad or what! The question does not even arise," exclaims Mala Roy when I ask her if she will switch party should the Bharatiya Janata Party (BJP) approach her with an offer. I am meeting Roy a day after two Trinamul MLAs and 60 councillors have defected to the BJP. Mukul Roy, who was formerly Bengal chief minister Mamata Banerjee's right-hand man and is now with the BJP, has told media that more Trinamul MLAs will quit the party next month.
Mala Roy, who is chairperson of the Calcutta Municipal Corporation, contested from Calcutta South the Lok Sabha elections and won. She got 5,73,119 votes against the BJP candidate, Chandra Kumar Bose's 4,17,927. The last few weeks have been a mixed bag for Roy. First, there was all that rigorous campaigning, which was followed by sweet personal success, though the larger party picture does not look too good even now, and then in the middle of it all there was a sudden bereavement in the family.
I am sitting in Roy's room in the municipal corporation office in Esplanade in central Calcutta. Dressed neatly in a cream silk with kantha work, Roy is calmly but hurriedly going through a file. She had been away in Delhi "for registration (as MP)" and has returned the night before. The brass nameplate on the door still bears her name, though I have heard the staff discuss in hushed tones if she will have to give up her position at the corporation. The interiors of the room seem to have been refurbished not very long ago. There is an old-style wooden dressing table behind the hot seat. On the walls are photographs of Rabindranath Tagore, Maulana Azad, Subhas Chandra Bose and previous chairpersons of the civic body. The flat-screen television has on one of the Bengali news channels; it is reporting the Park Circus fire. From time to time Roy's gaze turns screenwards. Her expression is mostly zen.
Why didn't her party do well in the general elections, I ask her. She shakes her head as if to rubbish my query and replies, "There are several reasons why the BJP got so many seats in Bengal. If you remember there was a meeting between the CPI(M) and the BJP in North Dum Dum just before the elections. It is obvious from the results that the CPI(M) supporters and party workers have voted for the BJP." She continues, "They [the BJP] have spent a lot of money these elections. Even now they are buying out MLAs and councillors. They are dealing in big money."
Has anyone from the BJP approached her? She is dismissive but not annoyed and completely unflustered. She says, "No amount of money is going to make me leave the Trinamul. All the MPs of our party are going to stay together and work for the people of this state."
Roy, who is from Tamluk district, comes from a long line of Congress supporters. It is while talking about those days that for the first time in our conversation she loses some of her reserve. She looks animated as she recounts her childhood days when senior Congress leaders such as Sushil Dhara and Satish Samanta, and CPI leaders such as Biswanath Mukherjee and Geeta Mukherjee, visited their house. She clearly enjoys reminiscing about her father, Amol Kanti Sarkar, who was a senior clerk in a village school. She says, "He was good at teaching too. Those days there were not too many restrictions and often when a teacher requested him, he would fill in happily." During her college days in the 1970s, Roy joined the Congress Chhatra Parishad. Perhaps because of her family's political leanings, no one was unpleasantly surprised. "In fact, my father and grandmother supported me," says Roy.
But after the Trinamul was formed in 1998, Roy quit the Congress, only to return like a homing pigeon in 2005. In 2012, she criticised Mamata Banerjee bitterly for her remarks on the Park Street rape case — the chief minister had called the incident a conspiracy — but in 2015, she rejoined the party.
Back on the topic of the 2019 Lok Sabha elections. Roy says that the CPI(M) conspired with the BJP to corner the Trinamul. But what does she have to say to allegations about the Trinamul party workers voting for the BJP? She says, "I don't think that happened. And if it did, those numbers are negligible." Roy would not be the dyed-in-the-wool politician that she is if she did not protest much and concede a little. Unlike the Trinamul party chief, she admits that the BJP's performance in the state says something about voter behaviour. She is not willing to accept though that the lost vote is a reflection on the Trinamul. She says, "Earlier we used to think that it is the non-Bengalis who vote for the BJP, but now we have to accept that even Hindu Bengalis have voted for them. We have to accept that maybe they have a liking for the party. Maybe it was also because people thought they were voting for a strong and stable government at the Centre. The statistics might change during the Assembly polls."
Have there been discussions within the Trinamul to this effect? Roy shrugs, there have been and that is public knowledge too. And does she also buy into the EVM (electronic voting machine) programming theory that Banerjee had propounded? The Bengal chief minister had said: "I have doubts of EVM manipulation, especially in seats where we have lost with less than one lakh vote margin." Roy tells me, "I will not be able to comment on this [EVM] matter. That is for Didi to say."
But she admits that party workers are demoralised now. "After all, they have worked hard, ignored the heat and worked overtime to connect with the people in my constituency," she adds. Of course, Roy's constituency, Calcutta South, is a Trinamul stronghold. But she ensures I take note of the fact that despite having an army of 52 councillors and seven MLAs, they did not take things for granted, and worked non-stop. "We were not complacent for a minute," she says.
It is said she went campaigning to almost each and every household across the 59 wards of Calcutta South. But more importantly, it is said of her that she has consistently delivered on her work. Old-school politician that she is, she does not make much ado of her track record; she only says, "It does not take much to lend a sympathetic ear to the people around you. It does not cost you any money."
But if she had her ear to the ground, did she not sense people's discontentment with the Trinamul? The voices protesting against the minority appeasement, the "syndicate raj", the political violence? Was she completely oblivious to these grievances? Roy goes straight to the only point that she is prepared to engage with. She says, "When people are talking about Muslim appeasement, how can they overlook the work we have done across communities?" She lists them one by one — the skywalk in Dakshineswar, the development work in and around Gangasagar and Kapil Muni's ashram, the work done in Tarapith, Tarakeshwar, Kalighat... She continues, "We have accommodated everyone. While we take care of those observing Chhath by developing the banks of the Ganges so they can perform their rituals, we have also spent generously on lighting up the streets during Christmas and New Year. How can one say that we have barred people from celebrating Durga Puja when we have spent Rs 10,000 on each of the small Puja committees and have organised the grand carnival."
And yet the BJP has made deep inroads into Bengal. "Not in my constituency," says Roy. "Party workers koi... Where are their party workers? There may be one or two. In this election, the BJP has not been able to appoint polling agents and counting agents in most of the booths. There are no party workers, there is no organisational strength…" But given the recent developments, does she not fear that the BJP will destabilise the Mamata Banerjee government sooner than later. Says Roy matter-of-factly, "I strongly believe they will not go to that extent. It is too far-fetched a thought. The Trinamul MLAs might have left but that is not going to affect the stability of the Vidhan Sabha. It happens all the time after the elections."
And once in Parliament, what will she be telling the Modi government? She smiles and says, "Aage dekhi… Let us see what happens. Let me first observe what line of politics they take, what kind of work they do."