Wait for surgical strike on Jadavpur University: BJP
Dilip Ghosh insinuated that his party would conduct a "Balakot-like surgical strike" on the JU campus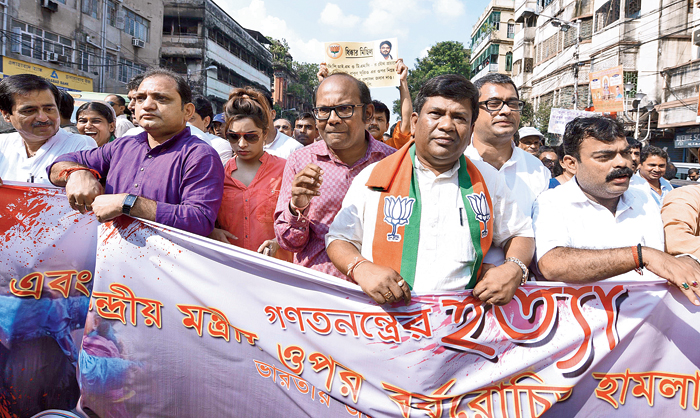 BJP state general secretary Sayantan Basu (in pink), who took part in a party rally to protest the attack on Babul Supriyo, said: "Those who attacked Babul Supriyo will have to face serious consequences."
Picture by Gautam Bose
---
Calcutta
|
Published 20.09.19, 10:25 PM
|
---
Bengal BJP president Dilip Ghosh on Friday insinuated that his party would conduct a "Balakot-like surgical strike" on the Jadavpur University campus to "drive out the communists".
Terming the Left and ultra-Left students of JU "anti-nationals and terrorists", the Midnapore MP said: "People have already wiped out communists from the nation. They are now restricted only to universities like JNU and JU. BJP cadres will conduct surgical strikes — like the one done in Pakistan-occupied Kashmir — to drive all these terrorists out of the JU campus."
Tensions flared on the JU campus on Thursday following an altercation between Union minister and Asansol MP Babul Supriyo — who had been invited by RSS students' wing ABVP to a programme — and Left students, who tried to prevent him from entering the venue.
Asked whether ABVP supporters resorting to vandalism was right, Ghosh said: "I pity those criticising the ABVP for carrying out the rampage in the union room. The ABVP will carry out similar ransacking 100 more times and close down such institutes that produce anti-nationals and Maoists."
Ghosh alleged that the Mamata Banerjee government was sitting idle when JU students were planning to "murder" the central minister on the campus.
"I salute the governor who showed courage and risked his life to save Babul. We have identified all those who had assaulted Babul…. Their hands will be broken once they step outside the campus," he said, asserting that it was a right move by the BJP and ABVP supporters to enter the campus with sticks and bamboos.
Will he seek central intervention? Ghosh said a letter is being drafted with every possible detail about what the nation had watched on television on Thursday and would be sent to Union home minister Amit Shah.
He alleged that the Trinamul students' union, too, was involved in Thursday's incident. "Trinamul Chhatra Parishad leaders too were involved in attacking Babul."