Visva-Bharati forum to oust VC Bidyut Chakrabarty
Students and a section of teachers had already started the movement following the rustication of three students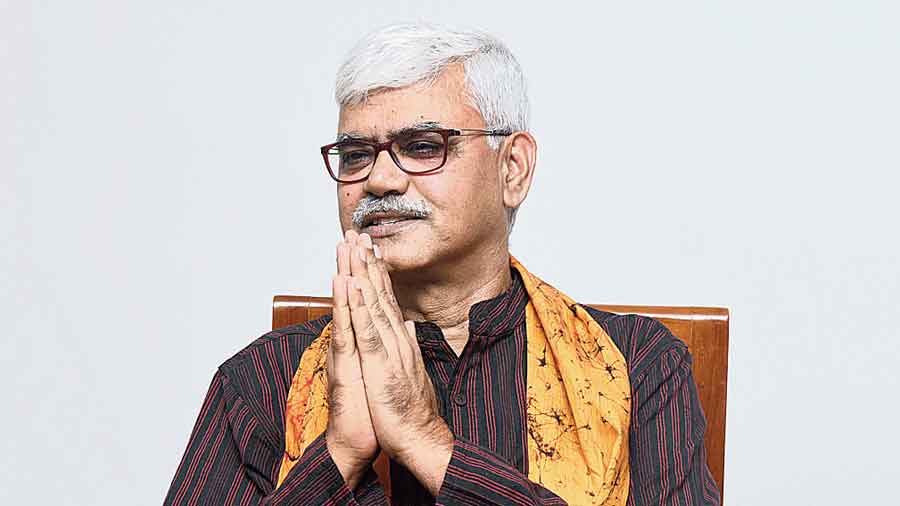 Bidyut Chakrabarty
File picture
---
Santiniketan
|
Published 08.09.21, 12:57 AM
|
---
At least nine different organisations, including those of teachers, students, traders and old-timers, on Tuesday night formed Visva-Bharati-Santiniketan Bachao Joutha Mancha (a joint forum to save Visva-Bharati and Santiniketan) to intensify the movement for the resignation of vice-chancellor Bidyut Chakrabarty.
"Students and a section of teachers had already started the movement following the rustication of three students. Nine different organisations of Santiniketan, including the very old Alapini Mahila Samity and Santiniketan Ashramik Sangha, have joined the forum. We are expecting that others, including non-teaching employees, would join us with the major demand of resignation of the VC who harassed people from all sections during his two-and-a-half years of tenure," said Sudipta Bhattacharyya, a suspended professor and the president of a teachers' body at Visva-Bharati.
A section of the students had first started gheraoing VC Chakrabarty's residence on August 27 and it was withdrawn on September 4 following an order by Calcutta High Court. However, the students continued with the protest, keeping a distance of 50 meters from the residence of Chakrabarty.
On Tuesday night, members of all nine organisations stood on the dais of the protesting students and announced that they would continue their movement till the last to oust Chakrabarty.
"It is very significant to intensify the movement against the VC now as people from all sections have joined the movement. Traders who used to put up stalls at Pous Mela and even elderly women of Alapini Mahila Samity — an association of Tagore's time — suffered because of the VC's whimsical decisions," said Aminul Huda, an office-bearer of Kabiguru Hastashilpa Unnayan Samity — a platform of artisans whom the VC allegedly wants to evict from their present location.
Old-timers of Santiniketan said Chakrabarty had targeted them also.
"The VC put up boundary walls and targeted several old-timers, including Amartya Sen, which was unprecedented in the history of Visva-Bharati. This person is not capable of running a university like Visva-Bharati and so, we joined hands to intensify the movement," said Subir Banerjee, an old-timer.
On Tuesday afternoon, the VC's official car suddenly passed by the dais of the protesting students who allegedly stopped the vehicle for a while. Varsity officials said few students even searched the empty car, which the students denied. The protesters said they stopped the car as they thought the VC had come to talk to them about their demand.