Visva-Bharati e-meeting on 'present situation'
At least 1,100 teaching and non-teaching employees to discuss the circumstances of the varsity grappling with the Pous Mela ground boundary wall controversy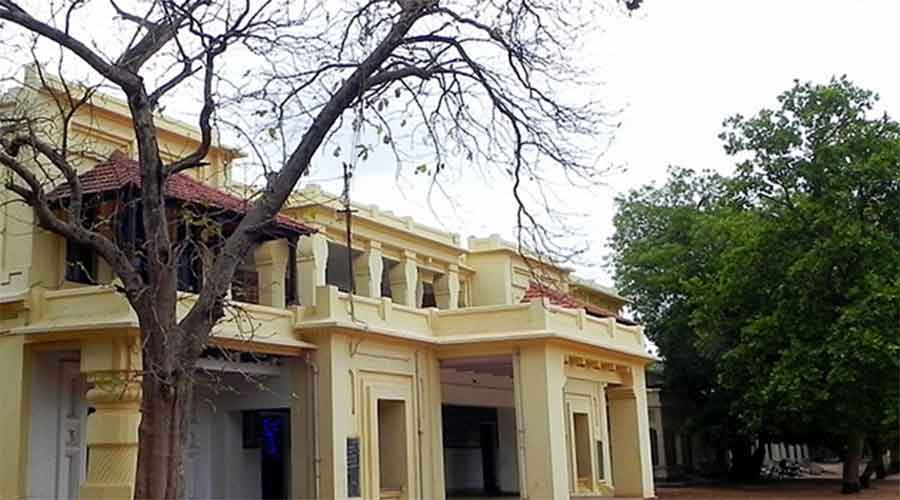 ---
---
Visva-Bharati called two back-to-back meetings, for at least 1,100 teaching and non-teaching employees, on Friday to discuss the "present situation" of the varsity grappling with the Pous Mela ground boundary wall controversy.
The meetings will be held online in view of Covid-19 protocol of physical distancing, varsity authorities announced on Thursday night, deviating from their earlier plan of holding two separate physical meetings for teaching and non-teaching staff at the Bangladesh Bhavan.
Visva-Bharati officiating registrar Asha Chakrabarty had earlier in the day given two notices to this effect, raising eyebrows of varsity employees and the district administration.
Birbhum district magistrate Moumita Godara Basu had asked the SDO Bolpur to tell Visva-Bharati authorities not to hold such a huge gathering amid the pandemic. "I have come to know about the meetings and the SDO has sent a letter to the varsity authorities alerting them to the Covid protocol. If there is any violation of Covid protocol, we will take stern action," Basu had said.
Sources said that this stern stand had prompted Visva-Bharati authorities to go for online meetings.
A senior varsity official had tried to justify the physical meetings, saying: "We will allow 200 people inside the auditorium and rest will sit in the passages and other halls at Bangladesh Bhavan by adhering to the Covid protocol. We will scan all participants with thermal scanners and give them sanitisers."
A senior health department official had said that allowing an assembly of 200 people was not possible as the permissible limit was 50.
Birbhum reported 1,617 Covid positive cases so far, 135 persons were infected on Thursday, the state health department report said. Twelve people have died of Covid in the district so far.
At the meetings, vice-chancellor Bidyut Chakrabarty is expected to seek the support of the varsity fraternity against the campus vandalism on August 17, said sources. The central varsity has already blamed a Trinamul MLA and other party leaders for it.
Chief minister Mamata Banerjee on August 17 had said that walls went against Tagore's philosophy.
Many alumni, faculty members, students and residents have spoken out against walls that to them symbolise the lack of communication between the varsity authorities and larger Santiniketan ecosystem, and alleged bids to saffronise the varsity under VC Chakrabarty's tenure.