Virus scare tells on social ties in Bengal
The pandemic scare is prompting people to ostracise others and adding to the panic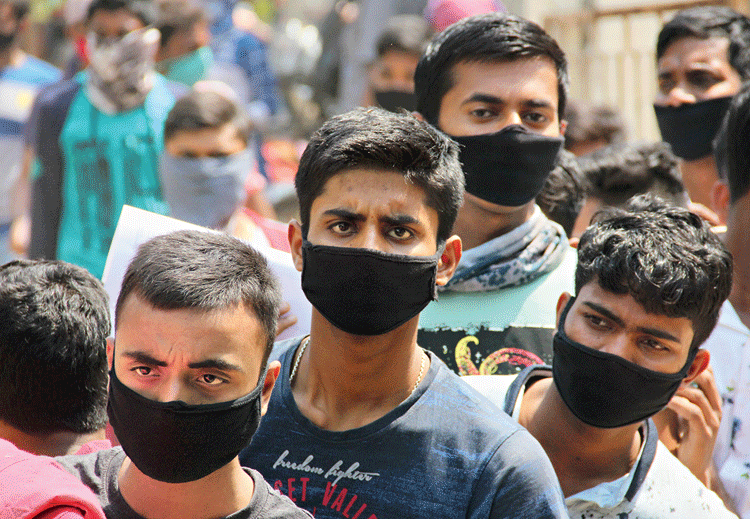 Construction workers who returned from Pune queue up for tests at the Santipur state general hospital on Friday.
Picture by Abhi Ghosh
---
Santipur
|
Published 20.03.20, 08:16 PM
|
---
A retired engineer was subjected to humiliation over Covid-19 fear at his village on Thursday night when residents refused to help him take his son to hospital as the latter had returned from Italy 10 days ago.
The father — who always commanded respect at the village near Chinsurah in Hooghly district over academic achievements of the son, an IIT Mumbai pass-out — finally took out his scooter and carried the youth to Imambara Hospital for a check-up.
"My son returned on March 9 and was screened at the airport and also at local hospital, but he didn't show any coronavirus symptoms. Last night, he developed throat problems because of allergy and was coughing also. His illness made the neighbours suspect that he had coronavirus infection. Then, I decided to take him to hospital, but none came forward to help me," said the farther.
Not only was he denied any help, the retired engineer had to bear snide remarks. The young man underwent tests at Imambara Hospital and the report that arrived on Friday evening revealed that he didn't have Covid-19.
"The report came as a relief, but the gesture of my villagers was a shock. Earlier, my son was like a role model at the village. Last night, people behaved in a manner as if he was a monster," said the father who was upset with "lack of awareness" and "absence of humanity" among his fellow villagers.
Elsewhere in south Bengal also, the pandemic scare is prompting people to ostracise others and adding to the panic, which is resulting in a mob mentality.
On Thursday evening, 45 labourers were denied entry to their villages, Beledanga and Panchpota, when they returned from Pune. The villagers near Santipur in Nadia district blocked their way and refused to let them in unless they produced fitness certificates from the Santipur State General Hospital.
One of the labourers said: "Our only fault was that we came from Maharashtra. During the journey from Pune to Howrah, we had gone through repeated thermal scanning and none of us had running fever. But our villagers treated us like criminals."
Sources in the Nadia district administration said health workers at municipalities and panchayats had been asked to keep a watch on people returning home from other states.
"We have told them to keep tabs on such people and check if they have come with any illness and if required, advise them to visit local hospital. Nevertheless, in many areas, villagers have been showing over-alertness and harassing people," an official of Covid-19 management cell in Nadia said.
Santipur state general hospital's superintendent Jayanta Biswas also said people had been over-reacting out of panic.
"Today, we examined 159 persons who returned home from outside Bengal. None of them had any illness. Nevertheless, they came under pressure," he said.
Biswas said as per the protocol, people returning with illness or fever should be allowed to enter the area and then health workers or local administrations should be informed.
"The person should be kept in isolation until he is medically examined. None has the right to harass a person on sheer suspicion," Biswas added.