Virtual meet on Sept 15 on Durga Puja bonus in tea sector
Planters have urged trade unions to refrain from organising demonstrations in tea gardens as such activities affected production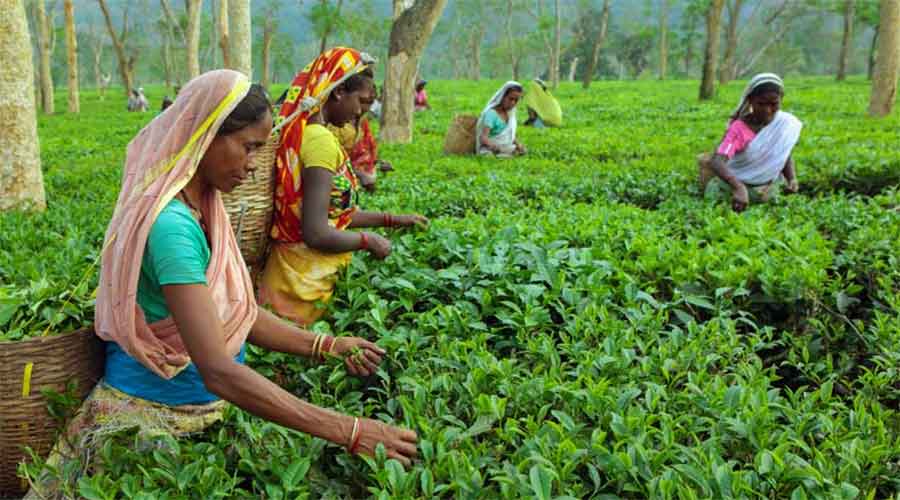 ---
---
Tea planters in the Dooars and the Terai will hold a virtual meeting with trade union leaders on September 15 to discuss the rate of annual bonus to be paid to workers ahead of Durga Puja.
The trade unions, which apprehend that the planters might offer less bonus this year citing losses from the lockdown and inclement weather, have decided to hold talks among themselves ahead of the September 15 talks.
According to sources, the Consultative Committee of Plantation Associations, the apex body of tea planters in the country, wrote to all working trade unions in north Bengal, mentioning that the meeting on the bonus for workers as well as the staff and sub-staff would be held on September 15.
"In view of the Covid-19 pandemic and associated safety protocol, it will not be possible to hold a physical meeting this time. Therefore, the meeting will be held on a virtual platform by way of video conference," said a source.
In the letter, the convener of the CCPA requested the trade unions to nominate a group of 10 to 12 spokespersons collectively for the meeting.
It will enable better interaction and adherence to social distancing norms during the meeting, the CCPA has pointed out.
This is the first time in the history of the tea industry that the bipartite meeting on bonus will be held virtually where only 12 trade union representatives will be present.
The planters also urged trade unions to refrain from organising demonstrations in tea gardens as such activities affected production.
The letter from the CCPA has made the Joint Forum, the apex body of 23 tea trade unions, convene a meeting of the constituents on September 10.
"The spokespersons would be selected and the common stand would be taken at the meeting," said Ziaul Alam, the convener of the forum.