Villagers demand 'concrete' dyke in East Midnapore
Farmers allege that damage caused by Cyclones have 'endangered' homes along the coast and 'salinated' several agricultural ponds and fields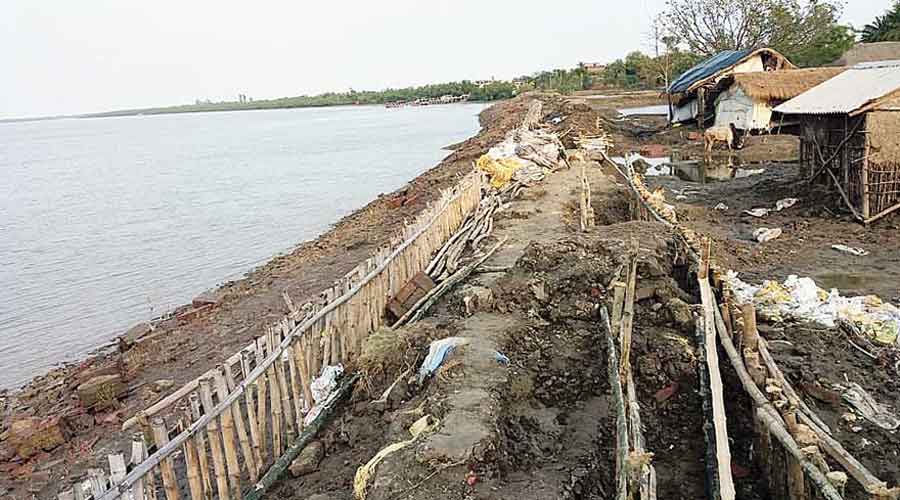 Contai irrigation department executive engineer Uttam Hazra said the blueprints for the embankments were taking time.
File photo
---
Tamluk(EastMidnapore)
|
Published 12.12.21, 12:09 AM
|
---
Delay in repairing a semi-finished 3km stretch of mud embankment between Sankharpur and Tajpur in East Midnapore's coastal zone has prompted some villagers to demand a "concrete" dyke.
Residents and farmers have alleged that damage caused by Cyclone Yaas in May, followed by a squall during Cyclone Jawad, have "endangered" homes along the coast and "salinated" several agricultural ponds and fields.
"We are tired of the same routine of being evacuated to a cyclone shelter and then being shifted back. We want assurance of safety, which can only come in the form of a well-constructed, concrete embankment along the coast," said Sadhan Gorai, 57, a resident of Bashpur village whose home was damaged by Cyclone Yaas. Gorai has been unable to repair his home owing to "constant" flooding "at the slightest spell of rain" and has been staying at a rented accommodation nearby for the past six months.
Earlier this week, a section of villagers led a protest march to the Talgachhari-II gram panchayat office to demand a concrete embankment. Among the protesters were several fishermen whose ponds and fish had been ruined by overflowing seawater.
Panchayat pradhan Biswajit Jena has now requested the irrigation department to conduct an immediate survey.
"Yaas hit our area hard. More than 5,000 homes across 24 villages, and lots of agricultural land.… The villagers' demand is justified," he said, adding that the irrigation department had given an "assurance" to address the problems by December-end.
The protesters, however, are not convinced. On Friday, residents of the area said this was another attempt by the administration to "buy time".
"We are well aware of how long such a project will take. It seems they are in no rush to build a concrete embankment before next monsoon," said Purna Maity from Jaldah. Maity lost over 2.5 bighas of farmland to flood waters this month.
He was among those evacuated before Cyclone Jawad.
"These evacuations are increasingly beginning to look like an eyewash," he said.
Asked, Contai irrigation department executive engineer Uttam Hazra said the blueprints for the embankments were taking time.
"The bank is a little irregular in parts, so initially we thought that land reclamation would have to be done. But we have found out that is not the case. We are hopeful of decisive action in December, itself" he said.
Fisheries minister and Ramnagar MLA Akhil Giri echoed Hazra, saying: "We are aware of the irregularities in this particular beach area. But after those doubts were recently allayed, the irrigation department has been asked to start work immediately."