Villagers block road for erosion guard wall in Kalyani
Protesters sought 'immediate commencement' of construction of a protective dam, compensation and rehabilitation of about 40 affected families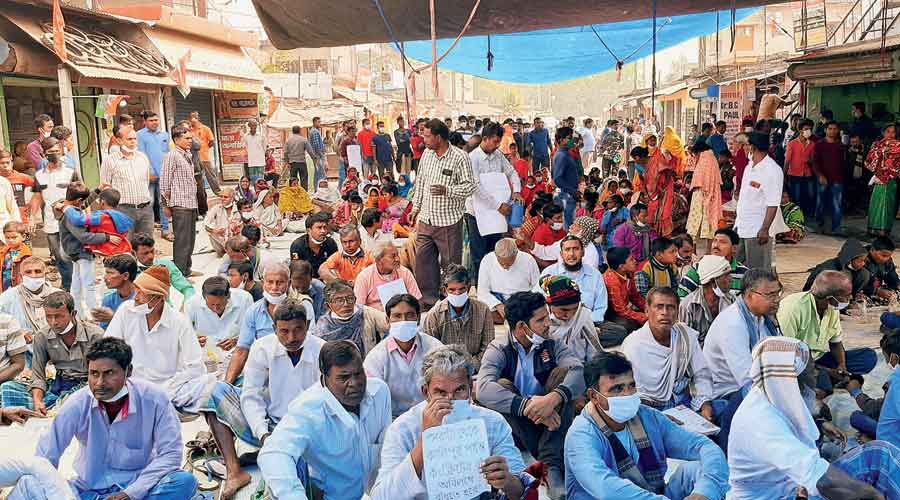 Villagers block the state highway near Kalyani on Monday
Ranjit Sarkar
---
Kalyani
|
Published 15.12.20, 01:38 AM
|
---
Over a thousand villagers from eight villages in Kalyani's Sarati panchayat on Monday launched an "indefinite" demonstration to protest alleged administrative apathy in starting the construction of a permanent guard wall to prevent the erosion of the Hooghly river embankment.
Villagers formed the Ganga Bhangan Pratirodh Committee, an apolitical platform, and under its banner also blocked the Kalyani-Ranaghat state highway at Ishwaripur near Kalyani town, suspending traffic for about 10 hours.
Protesters sought "immediate commencement" of construction of a permanent guard wall (also called a protective dam), compensation and rehabilitation of about 40 families who recently lost homes and farmlands to erosion.
The blockade was withdrawn for the day at  6pm after district officials said the matter would be looked into. Villagers, however, said their demonstration against apathy would go on till work on the 950m guard wall from Roydanga village started, adding that was a promise made last year by the administration.
In south Bengal, many areas adjacent to rivers like Hooghly, Malda, Murshidabad and Nadia are affected by erosion of the river embankment, attributed to the obstruction of the river's natural flow caused by the Farakka Barrage. This erosion, which started in the early 60s with the barrage project, is now termed a "long-term natural disaster" to which both the Centre and state have found no permanent solution.
Sukur Ali Mondal, joint convener of the villagers' platform, said: "Erosion eats up our homes and farms every day and our suffering is deepened by the cavalier attitude of the administration."
SDO Kalyani Hirak Mondal said the irrigation department's proposed 950m wall was waiting for the finance department's approval.