Victims family worry over carnage probe
CBI shifts documents, material related to Bogtui inquiry to Calcutta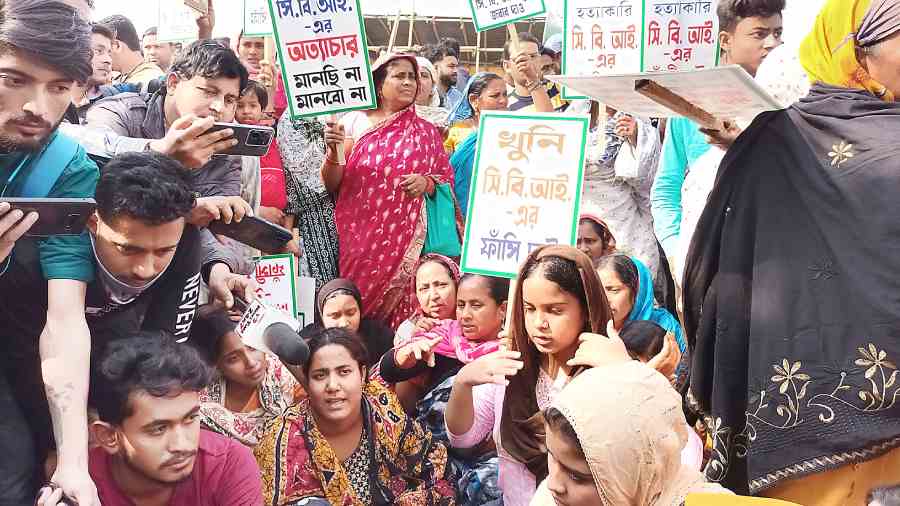 Family members of Bara Lalon Sheikh, who died in CBI custody on Monday, and villagers demonstrate outside the CBI's camp office at Rampurhat in Birbhum on Wednesday
---
Bogtui (Birbhum)
|
Published 15.12.22, 03:31 AM
|
---
CBI officials on Wednesday started shifting documents and materials related to the investigation into the Bogtui carnage from its Rampurhat camp office to Calcutta, prompting the families of those massacred on March 21 to wonder whether the guilty would be punished.
The move to shift the documents comes two days after the death of Bara Lalon Sheikh, one of the prime accused in the Bogtui carnage, in CBI custody and violent protests that started in the aftermath of the death.
Sources said on Wednesday morning that CBI officials started to shift documents and materials like hard drives and computers from its camp office, on the outskirts of Rampurhat town, fearing damage to those after Lalon's death on Monday sparked off protests and blockades by his relatives and villagers.
Although a large contingent of CRPF personnel is guarding the camp office, the CBI is not ready to take any risk with documents that are crucial for the progress of the Bogtui massacre probe.
"The developments (after the custodial death) have left us worried about the fate of the investigation. However, I have full faith in the judiciary and expect to get justice," said Mihilal Sheikh, who lost eight family members, including his wife, eight-year-old daughter and mother, in the carnage.
"I cannot forget what happened to my eight-year-old daughter and wife, along with other family members," he added. 
Police said after Lalon's death in the CBI custody, they had intensified security for relatives of all the victims of the Bogtui carnage. Mihilal is one of the prime witnesses in the Bogtui carnage case.
Sources said the CBI was desperate to get its hand on the hard drive of CCTV cameras installed at four corners of Lalon's house. Sleuths of the central agency believe visual images captured on those cameras would give critical proof of those involved in the March 21 carnage.
"Possibility of retrieving the hard disk has reduced considerably after Lalan's death. The CBI has made a costly blunder and we fear that those who carried out the carnage on March 21 would not be punished," said the relative of another victim. 
The mood in Bogtui was no different from what it was on Tuesday. Villagers, along with family members of Lalon, brought the body of the deceased in front of the CBI camp office and staged protests. Holding placards, they shouted slogans demanding the arrest of "guilty CBI officers" and left after half an hour.
Although people like Mihilal fear the probe might lose steam, a CBI source said it would resume the investigation once the situation turned normal.
A CID team probing the custody death reached the CBI camp office at Rampurhat on Wednesday afternoon. The team headed by senior officer Sunil Kumar Chaudhary stayed inside the camp office for over 45 minutes.
Sources said they had sealed the bathroom where Lalon was found hanging and inspected the CBI's infrastructure for keeping the accused persons in custody.