Unsung but unforgettable
Reminder from survivors of Partition-era violence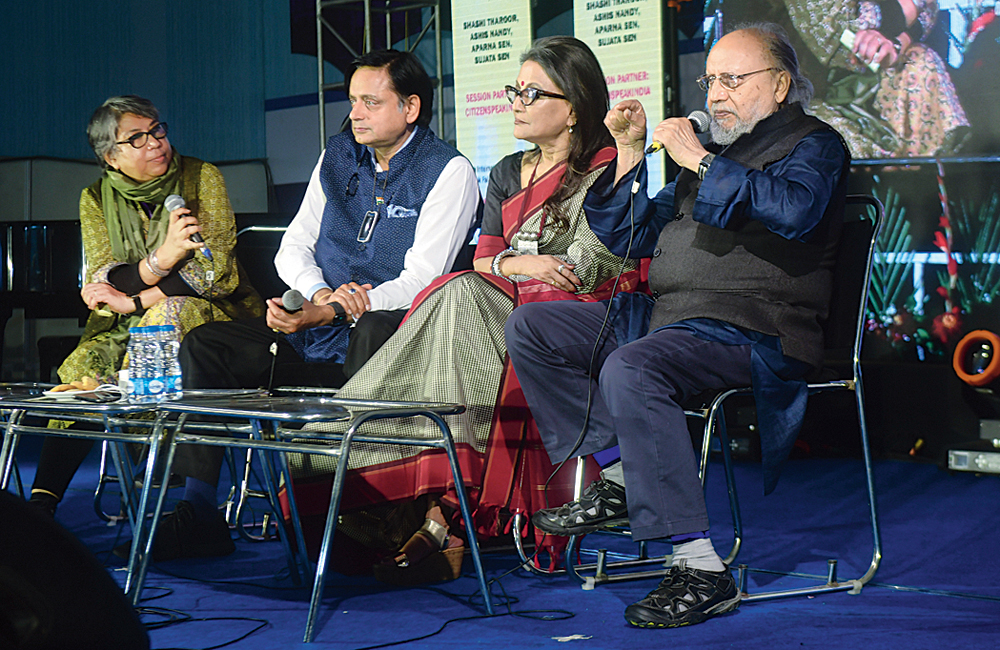 (From right) Ashis Nandy, Aparna Sen and Shashi Tharoor at the Kolkata Literature Festival on Saturday
Picture by Bishwarup Dutta
---
Calcutta
|
Published 08.02.20, 09:04 PM
|
---
Some lessons need to be told and retold when collective amnesia is on the prowl.
As many as 40 per cent of the survivors in a study on the Partition-era violence had said the members of the other community had saved them, a rare helping hand in the history of genocides, said Ashis Nandy, political psychologist and social theorist, in Calcutta on Saturday.
"I have been doing a very large study on the violence of Partition…. One of the findings I want to mention here. We found from the survivors of this violence that… many of them had their family butchered. Forty per cent of the survivors said they survived because of the help given by someone from the opposition side. A similar study was done by Ahmed Salim (of Islamabad's Sustainable Development Policy Institute) in Pakistan, which corroborated the findings in our part of the study," said Nandy, honorary fellow at the Centre for the Study of Developing Societies, Delhi.
The 83-year-old Nandy added: "If you can find any other instance of genocide anywhere in the world which can show a figure even as much as 4 per cent, please come and tell it to me. I shall be very, very surprised."
The audience responded with loud applause. None of the 600-plus seats in the auditorium was empty and scores were jostling for space to stand.
Nandy was part of a panel discussing "We are who we elect" at the Kolkata Literature Festival, held in association with The Telegraph at the Calcutta book fair venue in Salt Lake. The panel included MP Shashi Tharoor and filmmaker Aparna Sen.
Tharoor went back to his days as a diplomat to echo Nandy. "Firoz Khan Noon went on to become the Prime Minister of Pakistan. He and his wife were saved by Hindus. I think it (Nandy's account) is a very good example. I dealt with the Yugoslav civil war at the United Nations where neighbours with whom you would entrust your key when you went on a summer vacation were raping your daughter. There was simply no question of people helping each other," he said.
Nandy made a distinction between patriotism and nationalism during the discussion moderated by Sujata Sen, the CEO of Future Hope foundation and former director of the British Council in East India.
"Patriotism is a sentiment. Everybody has it. Even cats and dogs and birds have it — territorial. Their sentiment grows out of territoriality, which is biologically given. When it comes to the concept of nation, and nationalism, you are confronting not a sentiment but an ideology, which also specifies what enemies you should have. Who your enemy is and who is not. That creates a situation where the idea of nationalism begins to subvert the earlier patriotic beliefs," he said.
Tharoor weighed in. "(George) Orwell had a lovely distinction. Patriotism is when you love your country because it is yours, the way you love your mother. It doesn't matter if you are good or bad or anything. You love it because it is your country. Whereas nationalism is about claiming your country is the best and then you often have to do this in opposition to some other country or some other force. Nationalism is therefore negative because it is directed against an enemy," he said.
A person in the audience said he was "appalled to read about the death of a child at Shaheen Bagh".
"Do you think it is immoral for a mother to bring a child?" he asked.
Filmmaker Sen answered. "One has to take into account the desperation that they feel. They think of themselves as Indians. Suddenly, their citizenship is coming under question. Are they going to go to detention camps….? They are terrified. I think that it is very, very incumbent upon the ruling dispensation to come and talk to them. Find out what their problems are, what their feelings are. Reassure them. We can't just sit and judge them," she said.