Questions over protection for Trinamul deserters
Security cover for Trinamul turncoats irk Bengal BJP leaders
A party source said more than a dozen personnel provide security to former minister Rajeeb Banerjee, who is attempting to reach out to Mamata Banerjee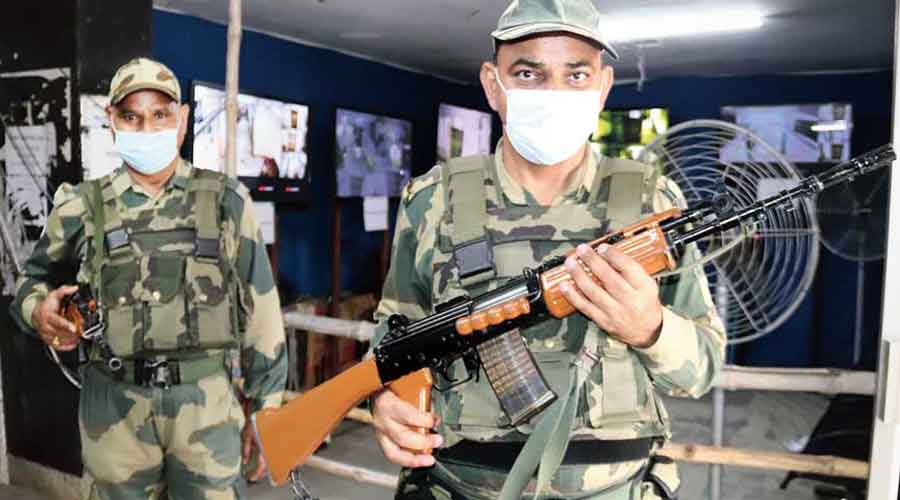 ---
Calcutta
|
Published 21.09.21, 01:31 AM
|
---
A section of top BJP office-bearers in Bengal is upset with the central leadership that many Trinamul Congress turncoats who have distanced themselves from the saffron camp after the Assembly poll continue to enjoy the security cover provided by the Union government.
"Our state unit was recently asked by the leadership in Delhi to assess the need for central security for 60-odd leaders, a majority of whom began disassociating themselves from the party after the Assembly election results. The state unit informed the central leadership that more than 50 per cent of these people do not need central security, but no action has been taken as yet," said a BJP insider.
The fact that most of these leaders who are either on their way to Trinamul or have already switched sides are still enjoying central security has become a talking point at 6 Muralidhar Sen Lane, the state headquarters of the BJP.
A BJP source has said more than a dozen central force personnel provide security to former minister Rajeeb Banerjee, who is apparently making all possible attempts to reach out to chief minister Mamata Banerjee and Trinamul all India general secretary Abhishek Banerjee to return to the party.
Similarly, Bishnupur MLA Tanmoy Ghosh, who had joined Trinamul last month, also has a couple of central force guards for his security, the source said.
"The list is long.… Almost everyone, who joined the BJP with Suvendu Adhikari was given central security ahead of the polls. After the elections, another set of people, including new BJP MLAs and some of their associates, got central security. The total number was not less than 180," said another BJP source.
According to the source, while some BJP leaders do face a threat perception, continuing to give central security to so many people even three months after the polls defies any logic.
First, it is a waste of tax-payers' money, said the source referring to the need for central security to leaders like Raiganj BJP MLA Krishna Kalyani or Karam Hossain Khan, a party leader in Suri in Birbhum, controversial leader of the port area Rakesh Singh or Shanku Deb Panda, the party's Calcutta zone co-convenor.
"I know that a Minority Morcha vice-president, who claims to be close to Adhikari, in North Calcutta, visits the gym everyday with his security guards, who help him in his workout. Is this proper utilisation of the force?" asked the source.
Speaking to this correspondent, Rajeeb claimed he had written to the CRPF authorities to withdraw his security detail, but that didn't happen.
Ghosh wasn't available to explain why he was still enjoying central security.
A senior state BJP leader admitted that there was no point in continuing with central security for so many leaders.
"But there is a process to withdraw.… The Centre has recently written to the state government to accord security to 61 state BJP leaders and may be that is the first step towards withdrawal of the forces," said the leader.
Dilip Ghosh, who was removed from the post of state president on Monday evening, said: "We had sent our views about the threat perception of the leaders when we were asked by our central leaders.… We did mention that many of these leaders didn't need security. The final decision, however, lies with the Union home ministry."