Travel woes for 50,000 in Siliguri as stream damages bridge
City's civic body sanctions Rs 2 lakh on an emergency basis and requests the state govt to provide relief materials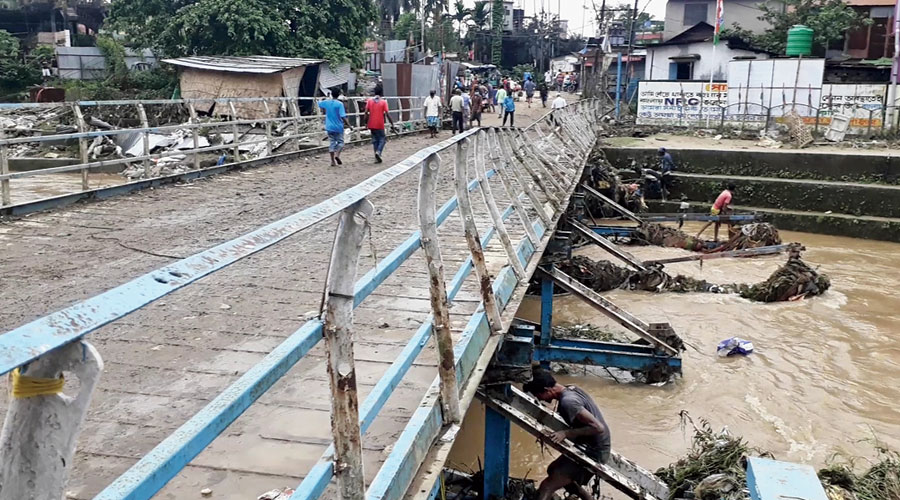 The bridge damaged by the Panchnoi stream in Siliguri.
Passang Yolmo
---
Siliguri
|
Published 29.07.20, 03:41 AM
|
---
A stream swollen in heavy overnight rain damaged a bridge connecting wards 1 and 47 of the Siliguri Municipal Corporation, inconveniencing more than 50,000 people. 
"Water level of the Panchnoi stream increased to such an extent that it drowned an iron bridge on Old Matigara Road between wards 1 and 47. The bridge as well as the approach road were damaged and are not fit for traffic now. We want the civic authorities to inspect the bridge and take up repairs," former ward 1 councillor Malati Roy said.
But the biggest problem, sources said, was the swelling of the Panchnoi, which gobbled up earth from under a bridge that is on NH55 at Dagapur near Darjeeling More. The bridge connects Sukna and is on the principal road that leads to the Darjeeling hills. 
After the water receded, local people blocked both ends of the bridge to avert accidents. As a result, direct connectivity between Pati Colony and BRI Colony in ward 1 and Siliguri Junction in ward 47 snapped. 
People travelling even on two-wheelers will have to take a turnaround route via Matigara-NH 31-Darjeeling More to reach Siliguri, said sources.
With the Mahananda rising, a road that runs along the bank was submerged, along with shanties. The water started receding from the road on Tuesday afternoon.
As the rain stopped, officials of the SMC visited different areas of the city to take a stock of the situation.
"While the low lying areas were flooded by the Mahananda and the Panchnoi, the rainfall led to water-logging in wards 1, 2, 3, 4, 5, 31, 42, 44, 45, 46 and 47. We are preparing a detailed report of the losses," said an official of the civic body. 
Asok Bhattacharya, the Siliguri MLA and the chairperson of the board of administrators (BoA) at the SMC, said he had asked the ward coordinators (ex-councillors) to keep a watch on their areas.
"The commissioner of the SMC has been asked to provide necessary assistance to the affected people. The civic body has sanctioned Rs 2 lakh on an emergency basis and requested the state government to provide relief materials," he said.
In the past 24 hours, it rained over 100mm in Siliguri. "While it rained around 115mm at some localities, areas like Champasari (that is in the northern end of the city) recorded a rainfall of 130mm," said a source in the Regional Met office of Calcutta.