Too few doctors, too many patients in Calcutta hospitals
NRS Medical College and Hospital with only 1,886 beds, had more than 3,500 patients in the inpatient wards on Friday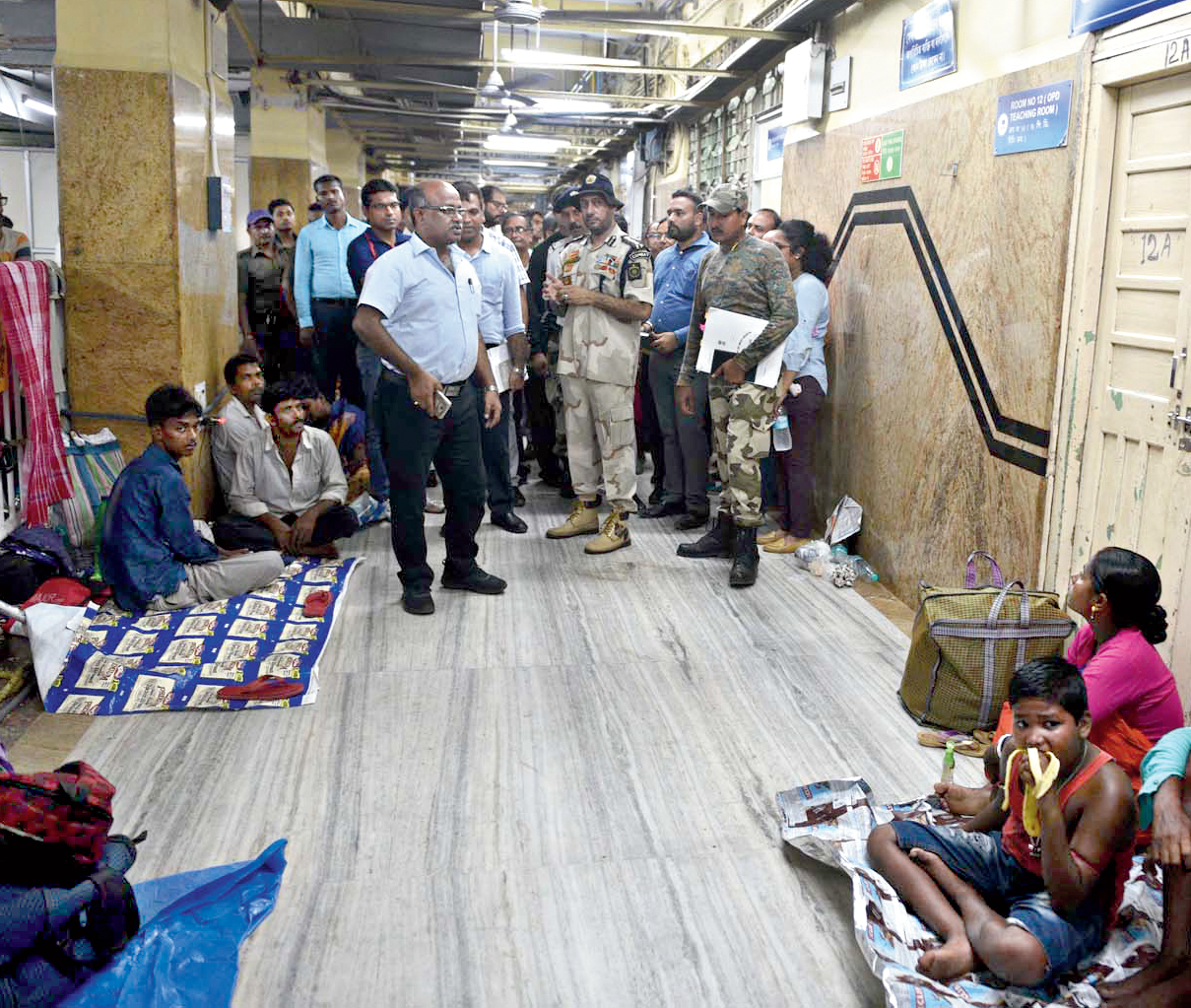 A team of officers from the health department and the Calcutta police at SSKM Hospital for a security audit on Thursday. Col Nevendera Singh Paul, deputy commissioner of police, combat battalion, led the team.
Picture by Gautam Bose
---
Calcutta
|
Published 28.06.19, 11:07 PM
|
---
A committee set up to assess security at hospitals following an assault on doctors has checked CCTV coverage, expressed concern over the presence of too many taxis and ambulances on the premises and suggested deployment of more guards at the gates.
There is, however, no attempt yet by the government to address the biggest problem: too few doctors for too many patients.
The NRS Medical College and Hospital, where two interns were attacked on the night of June 10 after the death of a 75-year-old patient there, has only 1,886 beds. On Friday, more than 3,500 patients were in the inpatient wards.
The head injury unit at NRS has 27 beds. On Friday, the last patient admitted was on trolley and had the serial number 111.
Officials said the hospital had around 400 senior doctors and 500-odd junior doctors, who work in three shifts.
At resource-starved hospitals such as NRS, allegations of negligence are bound to crop up against doctors, nurses and paramedics, health professionals said.
Most incidence of violence at hospitals stems from allegations of medical negligence.
At NRS, junior doctors were allegedly assaulted by family members and acquaintances of Mohammed Sayeed, a resident of Tangra who died at the hospital on the night of June 10.
Sayeed's relatives had said the doctors had refused to attend to him when he turned critical, an allegation the doctors denied.
The assault led to a ceasework by junior doctors at medical colleges across Bengal, which continued for a week and was withdrawn after chief minister Mamata Banerjee met the protesters at Nabanna on June 17 and promised to address their grievances.
The government set up the committee to review security at hospitals shortly after the meeting.
"The committee's mandate is to carry out a security audit," an official at the health department said. "Our primary focus is on security at medical colleges. Other issues, such as lack of enough doctors and other resources, will be addressed gradually."
Many senior doctors and heath department officials Metro spoke to, however, said any attempt at ending patient-doctor conflict at government hospitals must include steps to increase the number of doctors and upgrade infrastructure.
Officials said all medical colleges in Bengal had less than the adequate number of doctors.
"A large number of patients turn up at the outdoor of our diabetic clinic. We started at 10am today and could wrap up only at 7pm," a senior doctor at the RG Kar Medical College and Hospital said on Friday. "The interns and postgraduate trainees (PGTs) cannot handle this much load. It's beyond us."
RG Kar has 1,386 beds but around 1,600 patients were treated in the inpatient wards on Friday.
"Amidst the shortage of faculty, we have to send our professors as visiting faculty to other medical colleges," a senior official at the north Calcutta hospital said.
A team of officers of Calcutta police had visited RG Kar a week and a half back. The officers discussed with the authorities about CCTV coverage, training of guards and the number of exit and entry gates.
"We understand interns and PGTs are at the frontline, facing patients at medical colleges. The government is trying to recruit public relations officers at hospitals," a health department official said.
Senior doctors at the medical colleges are not sure whether the step would be enough to prevent flare-ups.
"The main block of SSKM Hospital alone has 750 beds. We told the police officers who visited the campus that the bed strength was little more than that of a sub-divisional hospital," a professor at SSKM said. "We have 22 outdoor units and around 600 patients turn up at each daily. That's our workload."
SSKM has 450 senior doctors and about 900 junior doctors.
According to health department officials, the patient footfall at all medical colleges has gone up 1.5 times since the state government made all medical services free. The doctor count, however, has not been raised accordingly.
"Recruitment takes time. Certain security measures can be taken immediately. We are taking one step at a time," the official said.