TMC marks Madhyamik for poll test
Across Bengal 10 lakh examinees will take the Madhyamik exam this year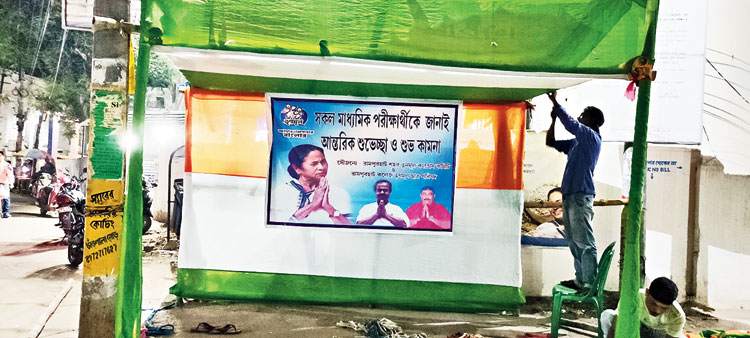 ---
---
When the time for poll test nears, the importance of board exams grows manifold for political parties who eye it as an opportunity to reach out to their voters — the guardians of examinees.
Taking the lead in the reachout programme in south Bengal districts is the Trinamul Congress.
The party has lined up several "freebies", including free Toto ride to the exam centres, kiosks to sell stationeries, water points and shelters for guardians, for examinees who will appear for the Madhyamik beginning tomorrow. To woo urban voters the reach-out programme will be rolled out for Higher Secondary examinees also. The Higher Secondary examination will start on March 1.
Across Bengal over 10 lakh examinees will take the Madhyamik exam this year, while around 8.5 lakh students will write the Higher Secondary examination.
Trinamul insiders said the decision to roll out "freebies" for Madhyamik and Higher Secondary examinees had come from the state leadership. One of the leaders said that the decision to help students in a big way had been taken with an eye on the upcoming municipal polls. Election to 109 municipalities in the state is likely to be held in May this year.
"We have directed our leaders in all wards of Bolpur municipality to make a list of the examinees and keep Toto ready to take them to the exam centres free of cost. The contact numbers of Toto drivers will be shared with the examinees in case need the service to return home," said a Trinamul leader in Birbhum.
The Trinamul has planned to roll out similar services in other towns such as Rampurhat, Suri and Burdwan.
Trinamul vice-president in Birbhum, Abhijit Sinha, said: "We have directed our leaders, mainly in urban areas, to ensure that examinees do not face any trouble to reach examination centres. We think it is part of our duty."
Party leaders said that Trinamul units have been advised to be in touch with the families of examinees and find out if they were facing any disturbances caused from local clubs or because of the use of loudspeakers.
"We are in touch with the families of Madhyamik and Higher Secondary examinees. We have stopped all sort of campaign so that the students who are preparing for the exams are not disturbed," a Trinamul leader in Arambagh said.
In West Burdwan, Trinamul has decided to set up camp offices near Madhyamik examination centres. The centres will be equipped with school stationeries such as pencils, pens, and erasers. These will come handy in case any examinee forgets to bring such important stationeries, said a Trinamul leader.
"It often happens during exams that many students forget to carry small things like pencils or pens. So, we have decided to open stalls near the venues for students to get those items," Jitendra Tiwari, Trinamul's West Burdwan president and Asansol Mayor, said.
To take the initiative beyond students and reach out to voters, the party will set up pandals where those accompanying students can take rest till the end of exam. The pandals will be equipped with drinking water, tea and biscuits.
"We will request the guardians or parents to wait at our camp and be served with a cup of tea or water," said Sushanta Mukherjee, Trinamul's town president in Birbhum's Rampurhat.