TMC launches music video to create awareness on Mamata Banerjee govt's welfare projects
Party activists will reach out to all households in the state in next 60 days to tell them about 15 or more social welfare projects, says party state youth wing president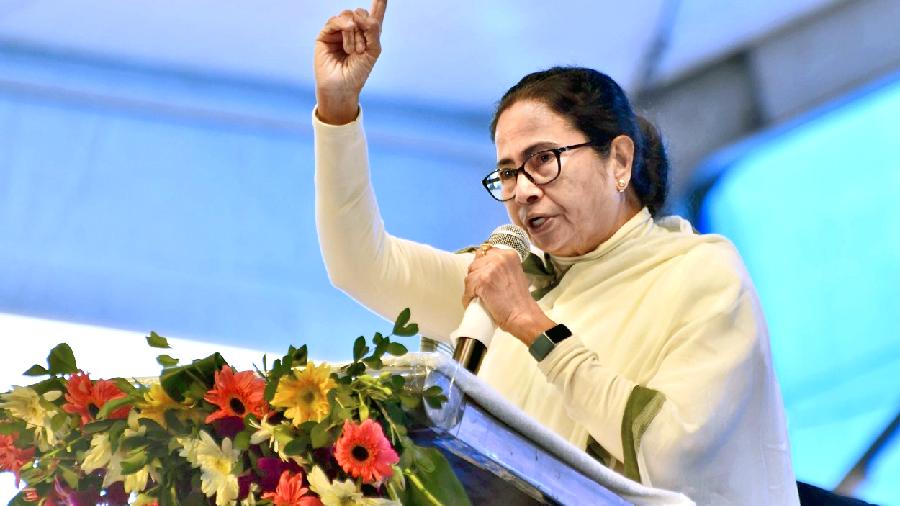 Mamata Banerjee
File picture
---
Calcutta
|
Published 29.01.23, 02:42 PM
|
---
The TMC, with an eye on upcoming panchayat polls and next year's Lok Sabha elections, launched a music video here on Sunday, which is aimed at connecting with the masses in West Bengal.
TMC state youth wing president Saayoni Ghosh told reporters that the music video – titled 'Didir Suraksha Kawach' (Mamata's shield for people's safety) -- has been created as part of her party's eponymous campaign to generate awareness about the state government's social welfare projects, such as Swasthya Sathi, Khadya Sathi and Lakshmir Bhandar.
"Music is a direct medium to reach out to 'aam aadmi' (common people), who always stand by the TMC. Party activists will reach out to all households in the state in the next 60 days to tell them about the 15 or more social welfare projects launched by (Chief Minister) Mamata Banerjee… This video will be shared on social media and played in campaigns everywhere," she said.
The actor-turned-TMC leader said the "hummable song" in the video projects the pro-people stance of party leaders and also offers glimpses of the state's rich cultural heritage and growth initiatives.
Well-known musician Jeet Ganguly has lent his voice for the song, the first two lines of which are 'Didir chokhe surya jakhon notun alor khonj, sabar haate didir suraksha kawach' (Mamata Banerjee shows new light, new era, everyone holds the shield given by her for their safety).
Banerjee, also the TMC supremo, is referred to as 'didi' (elder sister) in the state.
"This video has been created with a lot of passion. It is this passion that also drives our MPs, MLAs, panchayat representatives, and grassroots workers to connect with people, with 'Didir Doot' (Mamata's messengers) lending an ear to those in need. What we are getting in return is love. If they are venting out about road conditions or water availability, it is because they trust the TMC to solve the problem.
"This connection is being wrongly projected by the opposition and some media houses," Ghosh said.
The TMC leader was referring to reports of protests staged by locals in various parts of Bengal as 'Didir Doot' approached them.
Taking a jibe at the BJP, she claimed that the saffron party will never be able to match up to the outreach programmes launched by the TMC, no matter the state it rules.
"The BJP believes in making false promises before election and then forgets all about it. It is only the TMC, Mamata Banerjee and Abhishek Banerjee who deliver on their promises," the party's state youth wing president said.
TMC's state IT cell chief Debangshu Bhattacharya, who was also present at the programme, contended that 'Didir Suraksha Kawach' will be no less popular than the party's 'Khela Hobe' (let the game begin) video campaign that was launched ahead of the 2021 assembly polls.
The TMC boss, after launching the campaign recently, had said that around 3.5 lakh party workers will reach out to more than 10 crore people in the state over the next 60 days to ensure they get the benefits of her government's welfare projects.
Except for the headline, this story has not been edited by The Telegraph Online staff and has been published from a syndicated feed.