The lonely monarch
Read more below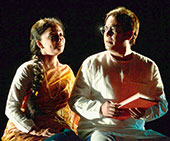 ---
---
Debshankar Halder and Senjuti Mukhopadhyay rehearse for Nihsanga Samrat
Calcutta, 1924. The owners of Star Theatre were quite sceptical of an inexperienced playwright's maiden attempt. Some of them turned up uninvited for the first show of Sita and sat in the audience. Thus was launched Sisir Kumar Bhaduri's first play. The rest, as they say, is history.
In the vibrant world of Bengali theatre, Bhaduri (1889 to 1959) came as a revolutionary. As a tribute to him, Paikpara Indra Ranga will stage Nihsanga Samrat at Star Theatre on June 22, at 6.30pm.
Based on Sunil Gangopadhyay's novel of the same name on the life of Bhaduri, the play has been dramatised and directed by Debesh Chattopadhyay with Debshankar Halder playing the legend on stage.
"To me, Sisir Bhaduri is an important character. He was born on October 2, the same day as Mahatma Gandhi. While Gandhi is seen as the father of the nation, I think Bhaduri should be looked upon as the father of modern Bengali theatre. After Girish Chandra Ghosh, it was Bhaduri who introduced realism and naturalism to Bengal theatre. From set design to acting — he brought in a revolution," said Chattopadhyay.
"After Sunilda wrote Nihsanga Samrat, one day over an adda at Lake Club, I told him that the novel could be made into a play. He was initially not sure about how a dramatised version of the novel would turn out, but after watching my play Debi Sarpamasta, he asked me to come over and discuss the play," added Chattopadhyay.
Several cultural icons of Bengali theatre are seen as characters in the play. "Sunil Gangopadhyay's novel ends with an interaction between Bhaduri and Satyajit Ray. My play ends with Bhaduri meeting Soumitra Chatterjee. It's like passing on the baton of theatre to the next generation. And with Debshankar playing the role, the baton continues to move ahead," said the director.
An audio CD containing songs of DL Roy and Rabindranath Tagore, along with dialogues from Bhaduri's plays — Alamgir, Sita, Chandragupta, Pashani, Tapati, Chirakumar Sabha, Prafulla and Soroshi — will be released on June 18 at Press Club.