Tajpur residents put dyke repair over politics
We don't want rations. We want this embankment and guard wall to be repaired immediately so that we can return home: villager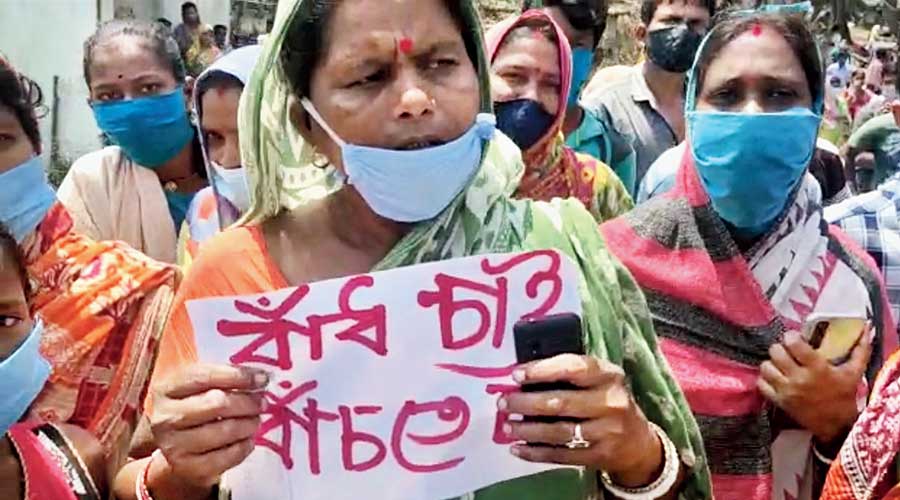 ---
|
Digha
|
Published 04.06.21, 01:15 AM
---
Over 1,000 disgruntled residents in East Midnapore's Tajpur on Thursday afternoon surrounded Trinamul's Diamond Harbour MP Abhishek Banerjee and demanded that a 3km stretch of embankment and guard wall, be repaired "immediately".
Abhishek had travelled by road to Tajpur around 2pm to inspect the damaged embankment and guard wall, which were devastated in Cyclone Yaas on May 26. The Telegraph had reported last Friday that several villages lying close to coastal Tajpur had been flooded and several homes ruined as a result of a high tide coursing through the demolished guard wall structure and embankment.
"We don't want rations. We want this embankment and guard wall to be repaired immediately so that we can return home," said Pritilata Majhi, 65, almost upbraiding Abhishek as he gave the crowd assurances of looking into it by the department concerned.
Abhishek, who was accompanied by fisheries minister Akhil Giri, had begun his interaction with the group of villagers asking whether they had received ration and relief materials but the interaction took a different turn with people demanding the embankment and guard wall repaired.
"You all know who the DSDA chairman and irrigation minister were till recently. Your district has lost everything in trying to protect one family," Abhishek said without naming Suvendu Adhikari and his clan. Trinamul turncoat Adhikari's father Sisir Adhikari was the chairman of Digha Sankarpur Development Authority (DSDA) till earlier this year. Adhikari, who defeated chief minister Mamata Banerjee in the Assembly polls in Nandigram by a slim margin, had earlier been irrigation minister briefly. So had the other Trinamul turncoat, Rajib Banerjee.
But Majhi was not interested. "We don't care about who did what. We just want our safety, you look into that," she told Abhishek, who was then assuring protesters that officials in the Digha Development Authority and the irrigation department, who were responsible for the embankment, guard wall and road cover, would face a probe.
It was clear that villagers did not care about political twists and turns when their survival was at stake.
The crowd of over 1,000 even had a few members carrying placards that said "Badh chai, bnachte chai (we want the embankment, we want to live)." The area is slated to witness high tide waves for the June 10 full moon.
Over 2,000 residents of Tajpur remain displaced for a over week owing to standing water after Cyclone Yaas.
Especially in places like Chandpur, Tajpur, Jalda and Shyampur, and loss of essentials during the sudden flooding that took place late last Wednesday. Some have even moved to nearby higher land and are living under tarpaulins.
"All we told him (Abhishek) is that we want our homes back, kitchen back. If I don't have a kitchen, where will I cook the ration," said homemaker Sabita Maity, 32, who had to shift to a relative's home with her two sons after the cyclone-induced floods.