Tagore hub in termite fear
Varsity officials said the usual practice before any long vacation was to carry out pest control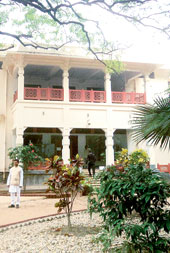 ---
---
The Visva-Bharati authorities are worried about the state of manuscripts, paintings and memorabilia of Rabindranath Tagore at Rabindra Bhavan, bard's five houses and other structures as the sudden lockdown did not give the scope to carry out anti-termite treatment at the buildings.
Varsity officials said the usual practice before any long vacation was to carry out pest control before sealing the museum, archives and houses of Tagore to ensure that insects didn't ruin precious collections. The fear is more as the buildings are very old and are vulnerable to termite attack.
"On March 22, Prime Minister and our chancellor Narendra Modi had called for 'Janata Curfew' and the state government declared a lockdown from the following day. We did not get the time for pesticide treatment. We had thought it would not be much of a problem as the lockdown was till March 31. Worries gripped us after the Prime Minister declared a complete shutdown for 21 days and we did not get time to seal those buildings after a pesticide and anti-termite treatment," said a senior varsity official.
The museum and the buildings have hundreds of Tagore's memorabilia, lakhs of manuscripts, hundreds of paintings, wooden furniture and many historical items. The worry is whether the old Tagore houses will be safe from termites if left untreated for long.
"Termites are the main threat. It can ruin archive materials, furniture and others precious collections. The authorities should carry out pest control before the damage is done," said another official.
The museum and Uttararayan complex, which houses all five homes of Tagore, remain closed for 10-12 days during the Puja vacation. At other times of the year, it remains open barring weekly offs.
"On the last working day before Puja vacation, we usually treat Rabindra Bhavana museum and other houses with pesticides for the safety of archival materials," said a former director of Rabindra Bhavan.
The officiating public relations officer, Anirban Sircar, however, refused to make any comment. However, an official said he would take up the matter with the vice-chancellor.
Birbhum district magistrate Moumita Godara Basu told The Telegraph: "I will definitely give permission if Visva-Bharati writes to us to carry out the job at the museum."