Supreme Court orders Bengal BJP worker release
Top court asks BJP youth leader to apologise over morphed Mamata picture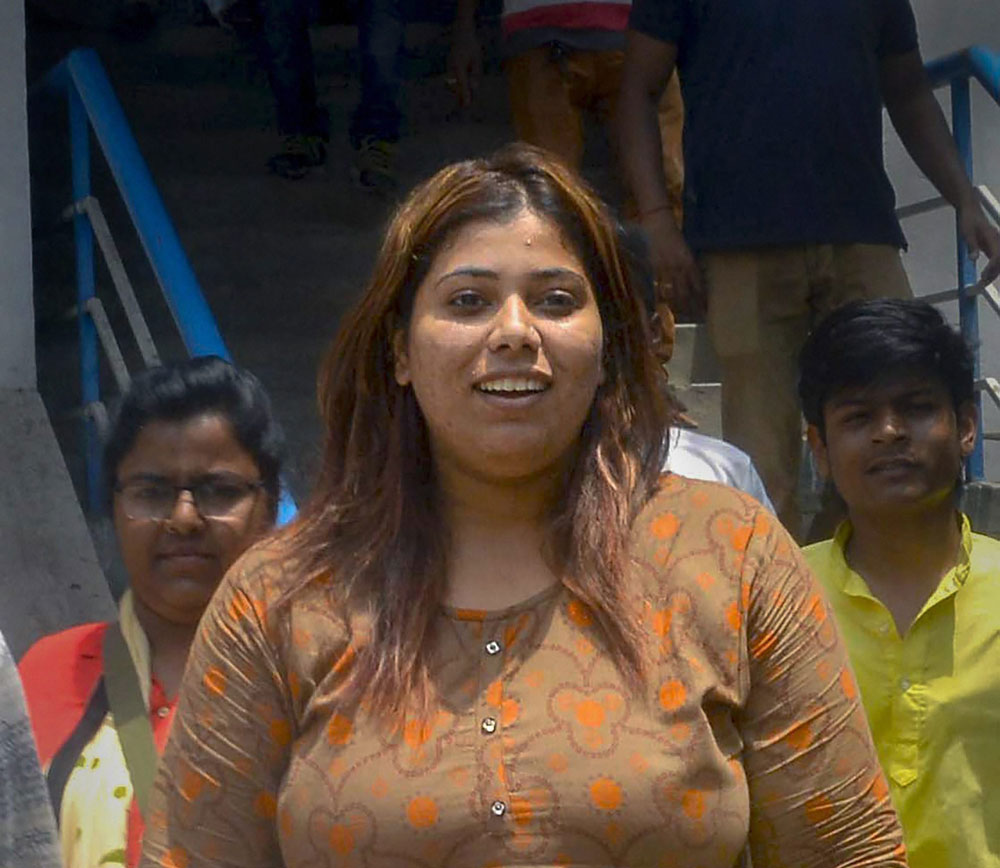 BJP worker Priyanka Sharma
(PTI)
---
New Delhi
|
Published 14.05.19, 08:45 PM
|
---
The Supreme Court has directed the Bengal government to free a BJP worker arrested for posting on Facebook a morphed photograph of chief minister Mamata Banerjee but said the accused must apologise at the time of her release.
Although the top court said freedom of expression was non-negotiable, it drew a distinction between a "lay citizen" and a member of a political party, and took into consideration that the picture was shared when elections are taking place.
"Had she been a common citizen, there would have been no problem," the court said, referring to the accused, Priyanka Sharma from Howrah.
On the request of the lawyer for Priyanka's family, the court has kept open the legal question of a citizen's right to post material on Facebook. The legal matters, including the validity of her arrest, will be decided after the summer vacation of the court.
Justice Indira Banerjee, who headed the bench whose other judge is Justice Sanjiv Khanna, said one's "freedom of speech and expression cannot infringe upon the rights of another person. You cannot put anything on Facebook as you want. It is wrong, it is wrong".
Senior advocate Neeraj Kishan Kaul, appearing for Priyanka's family, objected to the court order and pleaded that any "pre-condition" for grant of bail "would have a chilling effect on freedom of speech and democracy in the country".
The bench clarified that it was directing the release of Priyanka on bail and ordering her to apologise, considering the "special facts and circumstances" of the case but this could not be construed as a verdict on the merits of the case.
The court was dealing with a habeas corpus petition filed by Rajib Sharma, Priyanka's brother, challenging her arrest by Bengal police on May 9. The police had arrested Priyanka on a complaint lodged by a local Trinamul Congress leader accusing her of defaming the chief minister. Priyanka was sent to 14 days' judicial remand.
Kaul contended that Priyanka was not at fault as she had shared on Facebook a meme that had already gone viral on social media. He said she had later deleted the post.
"She is a member of a political party. Elections are going on. At this stage, we are not on the aspect of criminal law. We are asking for an apology because it is election time," Justice Banerjee said.
Kaul replied: "She is just a 25-year-old child. If such conditions are imposed that any person uploading such posts on Facebook can be arrested, put in jail and will be released on bail only if the person tenders an apology, it will have a chilling effect for the people and democracy."
But Justice Banerjee said: "We are not talking about the lay citizen. You are a member of a political party. Had it been by a common citizen, it would have been different…."