Sister Mary Joseph stresses need to protect India's communal harmony
She describes how, two years ago in the Motijhil slums, two Muslim boys had knocked at her door seeking help for a Hindu man they had found dying on a pavement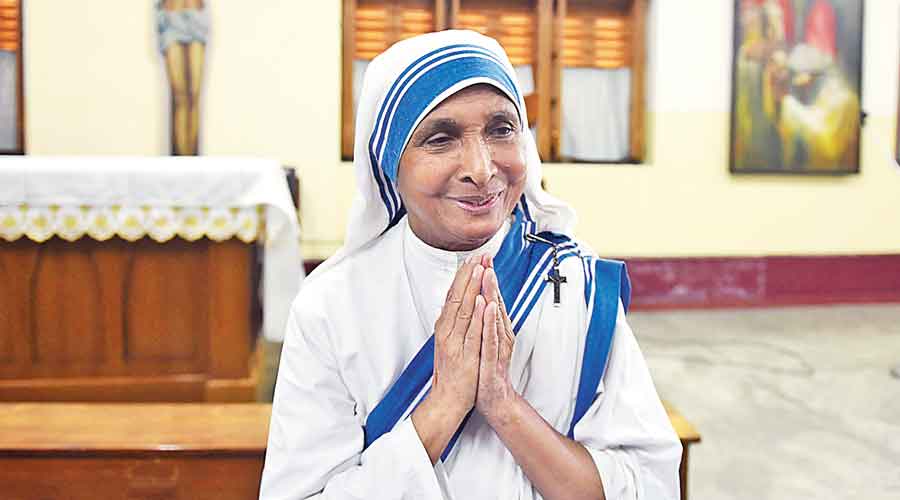 Sister Mary Joseph.
Sanat Kr Sinha
---
Calcutta
|
Published 20.03.22, 03:06 AM
|
---
The newly elected Superior General of the Missionaries of Charity, Sister Mary Joseph, on Saturday spoke of the importance of communal harmony, the right to wear the hijab, nuns choosing to work in war-torn Ukraine and how it feels to follow in the footsteps of Mother Teresa.
Sister Joseph, 69, born in Poyya village in the Thrissur district of Kerala, has taken over from Sister Prema who was Superior General for 13 years. Sister Joseph joined the order in 1971 in what was then Trivandrum, "impressed by the simplicity and joy" of two Missionaries of Charity nuns she had met.
Her formative years were spent in Australia. After taking her first vows in Melbourne, she served the poor in Australia and Papua New Guinea for five years before arriving in Calcutta.
In 2016, she was appointed the first Superior of the community in the Motijhil slums where Mother Teresa had begun her work among the poor.
Communal harmony
Sister Joseph praised India's tradition of communal harmony and stressed the need to protect it.
"It is a culture where we walk on the street (and) we see a temple, a mosque, a church and our people doing a pranam. And any people who pray, any people who worship, they discover that each… is a child of God, therefore my brother, my sister," she said.
"This is my dream for India. This is our heritage as an Indian because any true worshipper discovers that in prayer."
Sister Joseph described how, two years ago in the Motijhil slums, two Muslim boys had knocked at her door seeking help for a man they had found dying on a pavement. The man was a Hindu but the boys had not asked his religion, she said. They had helped arrange a taxi so that Sister Joseph could help him.
"This is the heritage of India, our common brotherhood, and we must do everything to protect that," she said.
Hijab row
"To me, a Muslim child, she has her rights. I must respect that," Sister Joseph said to a question about the wearing of the hijab. "I must respect that right. I can't change others."
Karnataka High Court has upheld a ban on the hijab at government educational institutions in the southern state, but the judgment has been challenged in the Supreme Court.Sister Joseph said she had to follow her "inspiration that you are a child of God".
"I must respect you. My project tells us I can't change the whole world. Mother has always been like that. There is a suffering, take care of that."
Nuns in Ukraine
Sister Joseph said that five Missionaries of Charity nuns were in Ukraine "out of choice" and that she had great "respect for their choice".
She said the nuns were in the war-ravaged country because they had taken a vow of service.
"They are actually in a basement. We are always in connection with them. We speak with them. There are 33 people whom they are taking care of," Sister Joseph said.
"Also, people from outside are asking for food, medicine, and the sisters are constantly serving them. These people are mainly destitute…. It is very cold, and sometimes when they are on the ground, their legs get frozen and then the leg is amputated and (they) cannot run…. So, our sisters are with them, taking care of them…. We have great respect for their choice."
Challenges
Sister Joseph said she had to follow the path that "Mother (Teresa) has taught", and to be faithful to that path because it was "divinely inspired".
"I must help my sisters and myself to be true to that…. She (Mother Teresa) brought us light and we must constantly challenge ourselves, including myself, (asking) 'Am I true to that challenge?'" she said.