Sonia Gandhi says social media platforms vitiate harmony
She alleged global companies like Facebook and Twitter are used increasingly to shape political narratives by leaders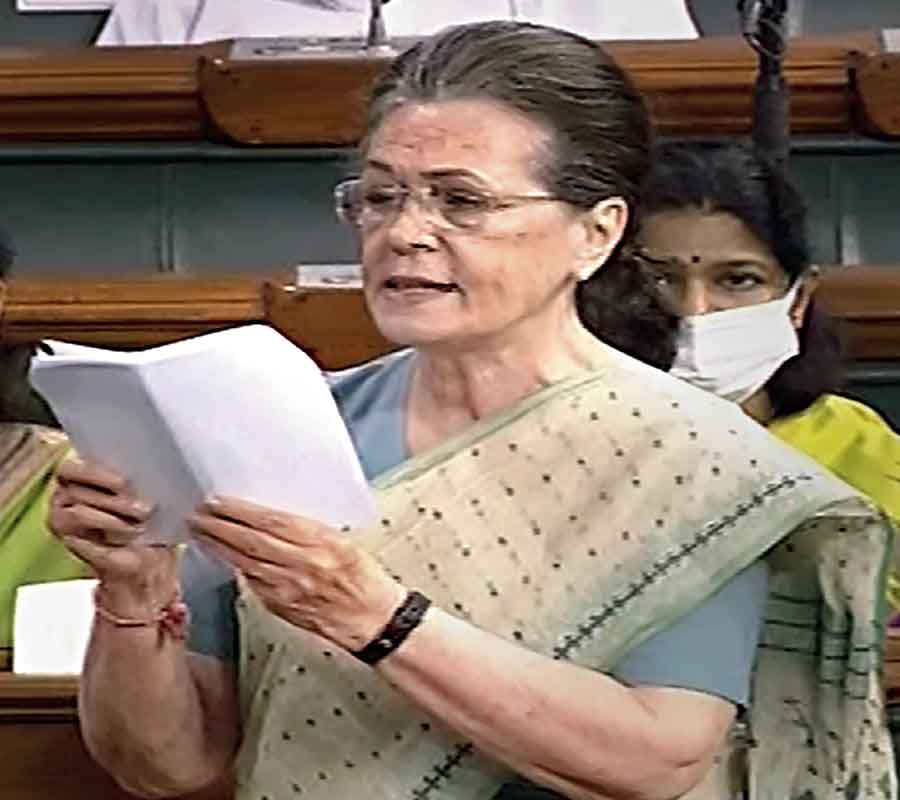 Sonia Gandhi in the Lok Sabha on Wednesday.
PTI
---
New Delhi
|
Published 17.03.22, 04:14 AM
|
---
Congress president Sonia Gandhi on Wednesday raised in the Lok Sabha the issue of global social media allegedly subverting Indian democracy, arguing that the manipulations didn't only disturb the level playing field but also vitiated social harmony.
Speaking during Zero Hour, Sonia said the rising danger of social media being abused to "hack our democracy" was of paramount importance and beyond partisan politics.
"We need to protect our democracy and social harmony regardless of who is in power. Global companies like Facebook and Twitter are used increasingly to shape political narratives by leaders, political parties and their proxies," the Congress president said.
She added: "It has repeatedly come to public notice that global social media companies are not providing a level playing field to all political parties. Last year, for instance, The Wall Street Journal reported on how Facebook's own hate speech rules are being bent to favour politicians of the ruling party.
"Recently, Al Jazeera and the Reporters' Collective have demonstrated how a toxic ecosystem of proxy advertisers posing as news media is flourishing on Facebook, bypassing election laws of our nation, breaking Facebook's own rules and completely suppressing the voice of those who are speaking up against the government."
Al Jazeera reported a few days ago that Facebook charged a lower amount from the BJP for its advertisements, putting other parties to great disadvantage. The report said the BJP had to pay Rs 41,844 ($546) for an ad to be shown one million times while the average payment made by the principal rival Congress was Rs 53,776 ($702), which was 29 per cent higher. Facebook also allegedly allowed a large number of ghost and surrogate advertisers for the BJP between February 2019 and 2022.
Rahul Gandhi also responded to the report by tweeting: "Meta-worse for democracy. While Facebook is owned by a company called MetaPlatforms Inc, metaverse is a virtual reality world where users can interact on social media platforms."
Sonia said in the Lok Sabha: "The blatant manner in which social harmony is being disturbed by Facebook with the connivance of the ruling establishment is dangerous for our democracy. Young and old minds alike are being filled with hate through emotionally charged disinformation and proxy advertising. Companies like Facebook are aware of this and are profiting from it. These reports show a growing nexus between big corporations, the ruling establishment and global social media giants like Facebook."
The Congress president urged the Narendra Modi government to put an end to this systematic influence and interference by Facebook and other social media giants in the electoral politics of the world's largest democracy. While Sonia's intervention has brought the issue into parliamentary records, the Congress has raised the matter with global social media firms on several occasions in the past.
In August 2020, the Congress wrote to Facebook CEO Mark Zuckerberg, warning of legal action if the American company continued to interfere in democratic processes to help the BJP and allow its social media platforms to spread communal hatred in India. The Congress wrote to Facebook after the Time magazine and The Wall Street Journal reported how Facebook had allowed hate posts by the BJP and even condoned violence-inciting uploads from the Hindutva ecosystem despite internal questioning.
Congress communications chief Randeep Surjewala said at a media conference on Wednesday: "Will some rich persons, a few global firms and the government be allowed to manipulate social media platforms to defame the BJP's political rivals and run government propaganda? A company called NEWJ runs a campaign to malign Rahul Gandhi and it is funded by Jio. Another company, Jupiter Capital, owned by BJP MP Rajeev Chandrashekhar, and several others do the same thing. Proxy advertising is a crime in India. It is also an electoral offence. The Supreme Court and the Election Commission of India should take suo motu notice and register criminal cases against these companies."