Stay civil: CM to pheyk do brigade
'Nobody should cross the Lakshman rekha. I would expect and advise everyone to stay within their limits'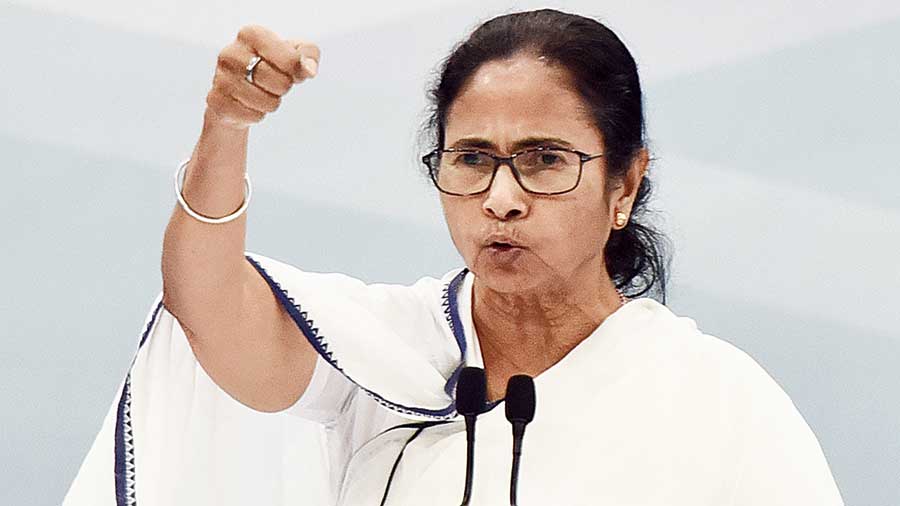 ---
|
Calcutta
|
Published 06.11.20, 12:52 AM
---
Mamata Banerjee on Thursday lashed out at the BJP and home minister Amit Shah without naming either, advocating "basic decency" in politics.
The chief minister, during an administrative review meeting in state secretariat Nabanna, broached the political subject hours after Shah attacked her in Bankura.
"Nobody should cross the Lakshman rekha. I would expect and advise everyone to stay within their limits," said the Trinamul Congress chief.
"If I want to say, I also can say a lot of things. My Hindi vocabulary is not that limited…. "Uthakar pheyk do (Lift and throw away)", I know what that means. If I say the same in reaction, will that be nice? Stay well, stay healthy, we wish the best for your families. Let good sense prevail before Diwali," she added.
Mamata was referring to the refrain of "Ukhadkar pheyk dijiye (Uproot and throw away)" that Shah and others in his party, such as its national president J.P. Nadda, resort to in rants against her government. Earlier in the day, Shah repeated the same in Bankura.
Mamata also fell back on the BJP versus Bengal-and-Bengali theme yet again.
"Always trying to defame Bengal, coming from elsewhere…. Everybody has regional, national pride. If that pride of Bengal is relentlessly attacked, people will not forgive easily," she said.
She accused the BJP-led Centre of intimidating IAS and IPS officers, referring to an alleged incident earlier this week when a BJP leader tried to intimidate a district magistrate and an SP from Bengal.
She also accused the BJP-led Centre of overstepping constitutional bounds and trying to dismantle the federal structure: "This is not civil."
State police, the state government, they have rights and powers in their jurisdiction. The Constitution forbids the state from interfering with areas under the Centre and the same applies to the Centre, with regard to areas under the state," she said.
"We have been noticing...through various agencies, various people are being disturbed…If there's anything according to the law that needs be done, there is a system in place, get in touch with the state police. Bringing police from the Centre and going on raids, without even informing us...this is unprecedented. This is not according to law, nor the Constitution. Both are elected governments," she added.
Mamata also attacked the Centre for delisting as essential commodities certain edibles, holding it responsible for surge in prices.
"They have passed bills and removed onion and potato from the list of essential commodities, causing a skyrocketing of prices…. The poor are being deprived of basic food items. I am going to write to the Centre on this," she said.
Senior officials in the agriculture and agricultural marketing departments said Mamata raised the issue of deregulating commodities such as cereals, pulses, oilseeds, edible oils, onion and potato (by introducing Essential Commodities (Amendment) Bill, 2020) to put pressure on the Centre in the backdrop of a sudden spike in prices of potato and onion.
"Earlier, the state could have ensured no hoarding of such items. The chief minister pointed it out that the state can't do anything after the Centre deregulated the items," said an official.
This, he said, was a smart move by the chief minister while her government was facing questions on the sudden hike in prices of agricultural produce.
"The chief minister told the administration to conduct visits to the markets to take a note whether hoarding of such commodities is underway," said a source.