Xavier's for pluralism, diversity
Students of Xavier's had on December 31 marched against police action at Jamia Millia and the CAA and the NRC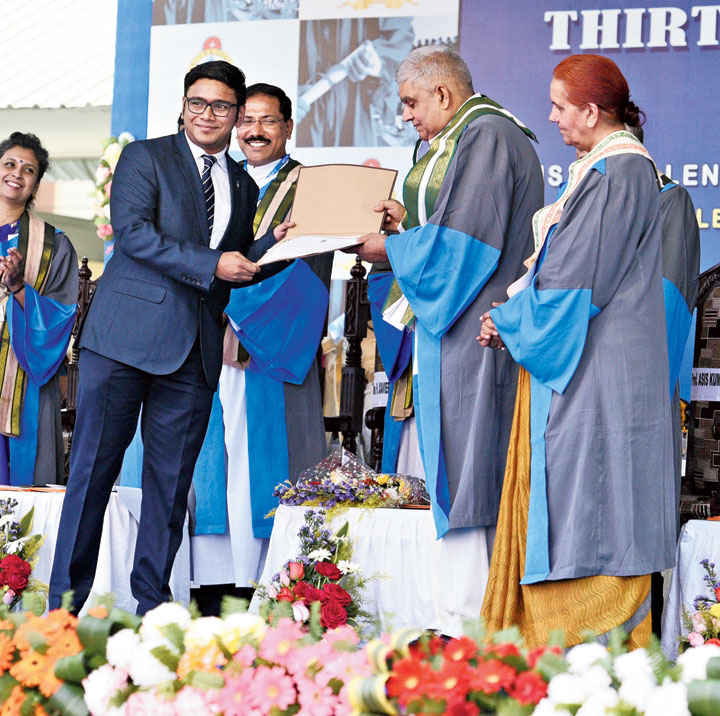 Subhojit Biswas receives an award from governor Jagdeep Dhankhar for spending 933 hours in the library last year
Picture by Gautam Bose
---
Calcutta
|
Published 16.01.20, 09:33 PM
|
---
St Xavier's College has always stood for "pluralism and diversity" and it is open to any culture, religion and language, Father Dominic Savio, the college principal, said on Thursday.
He underscored the institution's essence when asked about Calcutta University vice-chancellor Sonali Chakravarti Banerjee terming St Xavier's College "profoundly Indian and deeply cosmopolitan".
Savio was speaking on the sidelines of the institution's 13th convocation.
Chakravarti Banerjee was to deliver the convocation address on Thursday but she could not because she was unwell. She sent a message.
Asked how important it was for St Xavier's to maintain its cosmopolitan commitment when students across the country are protesting the Citizenship (Amendment) Act and the National Register of Citizens, Savio said: "St Xavier's has always stood for pluralism and diversity. It is open to any culture, any religion, any language. I am sure people can learn from that. Education is not about only studying. It's much more than that.
"How people can bond together... people of different religions, different cultures... and it has been like that and it will be like that. We continue to stand for the same. I am sure people can get inspired and learn from the 160 years of tradition — like we keep people together, pursue secularism. Principles like inclusiveness, plurality have been the hallmark of the cosmopolitan approach of the college."
The students of the college had on December 31 marched against police action at Jamia Millia Islamia and the CAA and the NRC.
Is the pluralism and inclusive approach India has been known for under threat?
"What is important is we don't divert from our approach, whatever may happen.... our approach will remain the same, that is secular approach," Savio said.
"Every one feels at home here.... Every human being is important. My first identity is we are humans. All other things can come later.... People from all states feel at home here. That is the value we give to them."
Asis Kumar Banerjee, former Calcutta University VC, received the Nihil Ultra award for "outstanding achievement in the field of education".
Governor Jagdeep Dhankhar was the chief guest at the convocation where 2,270 students received their degrees.
Some of the students said they were proud to have graduated from a college that advocated diversity. "As a Xaverian there is one thing I will take from here to the people outside: no matter where we come from, what we do, at the end of the day we are all the same and unity is what we have to preserve," Leah, who hails from Assam, said.