Sky's the limit for tourists to Araku
Tourism is on a high in the Visakhapatnam-Araku Valley region of Andhra Pradesh, quite literally.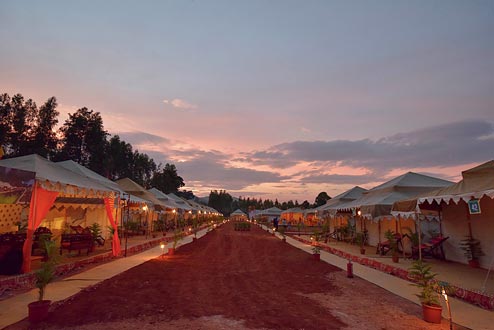 ---
---
Araku Valley: Tourism is on a high in the Visakhapatnam-Araku Valley region of Andhra Pradesh, quite literally.
The state, where 91 per cent of non-religious tourists are Bengalis, hosted its first balloon festival in Araku Valley from November 14 to 16 to promote adventure tourism.
Having lost several of its tourist attractions to Telangana, Andhra Pradesh is all geared up to explore new options and woo tourists. The balloon festival, which gave guests a glimpse of what's in store, was a step in that direction.
"We are trying to curate some unforgettable leisure experiences for the niche tourist - younger families with larger wallets and honeymooners -who previously had to venture outside the country for the same kind of fun," said Kaushik Mukherji, the chief consultant to Andhra Pradesh Tourism Authority.
Skywaltz, which has earlier organised balloon festivals in Jaipur, Agra, Lucknow and Pushkar, pegs hot air balloon rides as the safest family adventure sport.
"We host regular rides in Jaipur, where we get around 45 tourists daily," said Samit Garg, the founder-CEO of Skywaltz. "This was our first attempt in Andhra Pradesh."
"Indians account for 30 per cent of our balloon traffic," he said. A balloon ride could cost around Rs 13,000 per person.
A green patch, around 10km away from Araku town, was selected as the take-off point for balloons during the festival.
Guests were put up in 42 luxury camps set up at the location. The camps were equipped with modern toilets, hand-painted lamps, bright upholstery, lanterns, cushions and comfortable beds with electric blankets.
A live band playing pop picks, a huge spread of local and global cuisine, performances by tribal villagers and games for all completed the experience for the guests.
Bad weather played spoilsport with the balloon rides at the festival, but chats with hot air balloon pilots from 13 countries left visitors inspired to come back another time.
"Potential riders usually have a lot of questions from how safe the sport is to how the mechanism works," said Rick Walczak from New Zealand, who came with a kiwi-shaped balloon.
"You don't need to be of a particular weight or wear a life jacket for these rides," said Karimulla Syed of Guntur, one of the eight pilots with licence to fly hot air balloons in India. The community has also been exploring Bengal as a potential site for hot air balloon rides.
Nicole Bonanno from Italy said Araku, with its rustic scenery, provides just the right ambience for hot air ballooning.
"The luxury camps built around the venue offer us a glimpse of the colonial hangover," she said.
Other nearby attractions include Araku Valley, Borra caves and a coffee museum.