Shiv Sena pledges support to Mamata, will not contest elections in Bengal
'At the moment, it appears to be a Didi vs All fight'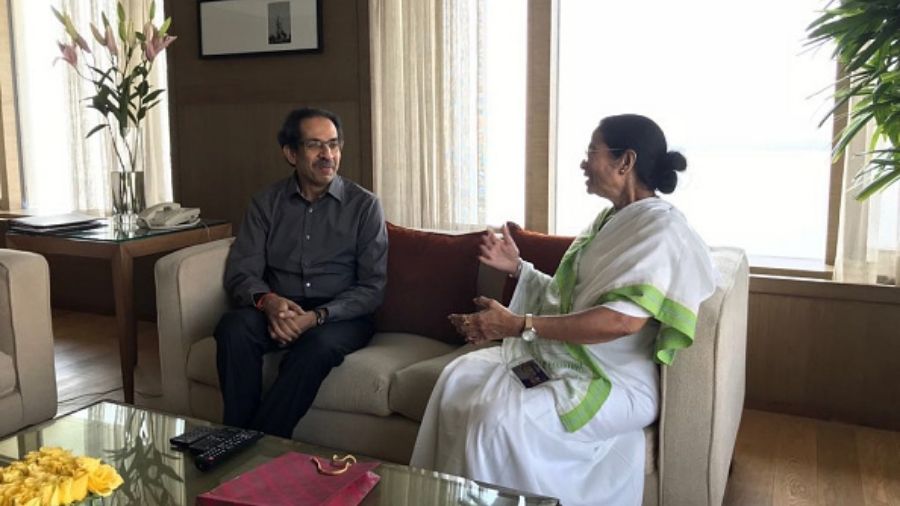 ---
|
Mumbai
|
Published 04.03.21, 03:38 PM
---
After the Rashtriya Janata Dal and Samajwadi Party (SP), the Shiv Sena on Thursday extended its support to TMC supremo Mamata Banerjee, and said it would not contest assembly elections in Bengal.
Hailing Banerjee as the "real Bengal tigress", the party, which had earlier said that it would join the electoral battle in the state, vowed to "stand in solidarity" with the TMC camp.
Senior Shiv Sena leader and Rajya Sabha MP Sanjay Raut, in a tweet, made the announcement and said that the decision was taken following discussions with party president and Maharashtra Chief Minister Uddhav Thackeray.
Raut took to Twitter and said "at the moment, it appears to be a Didi vs All fight".
"A lot of people are curious to know whether Shivsena is contesting Bengal Polls or not? So here's the update after discussions with Party President Uddhav ji Thackeray."
"All 'M's - Money, Muscle and Media are being used against 'M'amata Didi. Hence, Shivsena has decided not to Contest West Bengal polls & stand in solidarity with her. We wish Mamata Didi a 'roaring' success, 'cos we believe She is the real Bengal Tigress," he added.
On Wednesday, Samajwadi Party president Akhilesh Yadav said the party would campaign in favour of the TMC for the Assembly election, while accusing Uttar Pradesh Chief Minister Yogi Adityanath of misleading the people in Bengal.
In a statement, Yadav said the BJP wanted to come to power in the state by spreading "confusion and propaganda" during the Assembly polls. "The Samajwadi Party will not allow this conspiracy of the BJP to succeed," he added.
He alleged that Adityanath was "misleading" the people and appealed to the voters not to fall prey to the designs of the BJP, which "indulges in politics of hate".
"It's in the interest of democracy to be cautious of it (BJP)," the SP leader said.
Yadav said SP vice president and former minister Kiranmoy Nanda would conduct an election campaign in support of the TMC in the state.
RJD chief Tejaswi Yadav pledged allegiance to Banerjee on Monday.
"West Bengal is home to a large number of Hindi-speaking people from Bihar, Uttar Pradesh and Jharkhand," he had said, adding the RJD's stand is to provide "full support" to Banerjee.
The high-stakes elections in Bengal, poised to be a tough contest between the TMC and the BJP, will be held in eight phases between March 27 and April 29. Votes will be counted on May 2.